Shuffett wins Bank Shot Invitational
Youth was served at Louisville's Bank Shot Billiards on Jan 5, 2009 as 14 year old superstar-to-be, Landon Shuffett took the $1000 first prize in the invitational nine ball event. As always, promoter extraordinaire Truman Hogue, filled his 32 player field a week before the opening break shot. He also tweaked the format and raced to 6 on both sides with alternating breaks. Those changes plus Bank Shots' pre-pro cut Diamond pockets figured to produce some upsets, but no one was complaining when their $50 entry gave them a shot at the $2100 ($500 of it added) prize fund.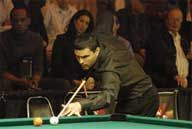 0
After a hugely successful inaugural year, the Predator 9-Ball Tour is ready to start the 2009 season with the addition of some big name sponsors and exciting new events.

We would like to thank The Predator Group for supporting this tour and making it possible to help the sport grow.
"œThe 2008 Predator 9-Ball Tour established a new standard in billiards tournament series," said Karim Belhaj, CEO of The Predator Group. "œWe look forward to growing the tour even more in 2009, through our collaboration with Tony Robles, by bringing together billiards' top pros and generating a new level of excitement in the United States."