Galveston World Classic Reaches Agreement with Versus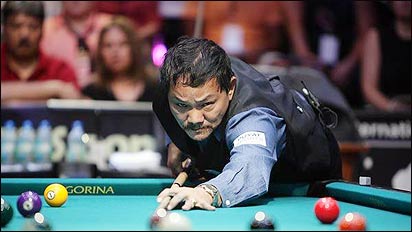 Galveston World Classic Reaches Agreement with Versus
(Houston TX, August 21)-Taylor Road Productions today announced five one-hour shows featuring the Galveston World Classic billiards tournament will air on VERSUS, the nation's fastest growing sports cable network now in more than 75 million homes, beginning Wednesday, November 11, at 6 p.m. ET.
The tournament, which will take place September 11-20 at Moody Gardens in Galveston, Texas, brings together top billiard professionals and thousands of amateur players as they compete in eleven events for a chance to win $1,000,000 in prizes. Top professional players who will be competing include Efren Reyes, Earl Strickland, Francisco Bustamante, Johnny Archer, Nick Varner, Jeremy Jones, Gabe Owen and Charlie Bryant.
The complete Galveston World Classic schedule on VERSUS follows (subject to change):
Wednesday, November 11 at 6-7 p.m. ET
Wednesday, November 18 at 6-7 p.m. ET
Wednesday, December 2 at 6-7 p.m. ET
Wednesday, December 16 at 6-7 p.m. ET
Wednesday, December 23 at 6-7 p.m. ET
Bobby Rone of Taylor Road Productions said, "We feel that this is a huge step forward for billiards. We look forward to the opportunity to increase the visibility of billiards by showcasing the Galveston World Classic to a national television audience."
About Taylor Road Productions
Taylor Road Productions is the producer and promoter of the Galveston World Classic from September 11-20, 2009, at Moody Gardens in Galveston, Texas. The Galveston World Classic features over $1,000,000 in prize money, will be streamed live online for free, and will be televised in dozens of countries.
The vision of the company is to produce pool and billiard events that promote the sport to a new level by large cash prizes, televised events, and high-profile events for all to experience. The company website is http://www.theworldclassic.com.
About VERSUS
VERSUS celebrates real competition across all platforms (VERSUS.com, VERSUS on Demand and VERSUS HD). Now in more than 75 million homes, the network is the national cable home of the National Hockey League (NHL), the Stanley Cup Playoffs and the IndyCar® Series as well as best-in-class events such as The Tour de France, the Professional Bull Riders (PBR), World Extreme Cagefighting (WEC) and Professional Boxing. The network also offers collegiate sports featuring nationally-ranked teams from top conferences such as the Pac-10, Big 12, Mountain West and Ivy League. VERSUS features the best field sports programming on television and is a destination for sports fans, athletes and sportsmen to find exclusive, competitive events and original programs, such as Sports Soup and FANARCHY, that audiences can't find elsewhere. VERSUS, a wholly owned company of Comcast Corporation (NASDAQ: CMCSA, CMCSK), is distributed via cable systems and satellite operators throughout the United States.