Viva la France! Stephan Cohen Shocks World as the New Predator World 14.1 Champion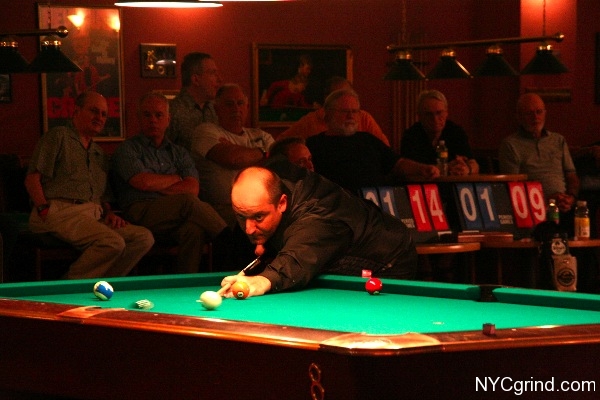 photos courtesy Jerry Tarantola
Cohen made history as France's first World Pool Champion
Ortmann looked the man to beat all week with his record four 100 + ball runs. But Mika Immonen had been Germany's Achilles heel. Immonen knocked out pre-event favorite Thorsten Hohmann and then in a dramatic match full of reversal of leads, he upsetted Oliver Ortmann. Mika took an early 60 ball lead against Ortmann, the first time Ortmann had trailed in any of his matches the previous 5 days. Ortmann came back though to take the lead. Mika then came back and re-took the lead, but relinquisehed the table again and it looked all over as Ortmann needed a 70 ball run to win, a mere formality it seemed compared to his other matches. At 181, Prtmann missed a combination a few inches from the hole, and Mika knew it would be his last chance. HE ran 55 and out to keep Ortmann at 3rd place and away from a second world title in 14.1.
"When Oliver was on his last inning, I knew if I ever got another chance that would be it. I decided to not try to be too cute, just play,"Immonen said after his match win.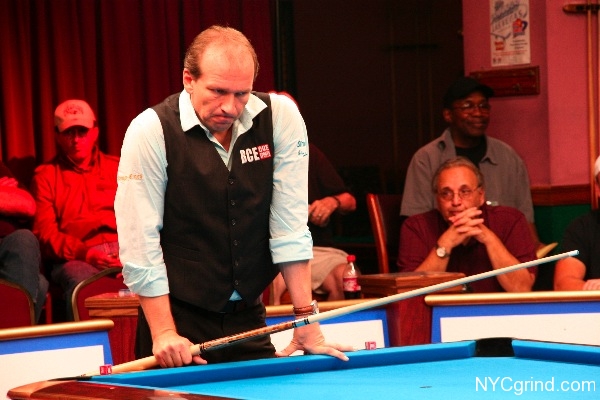 Immonen kept the heat on Ortmann in the semi-finals
In a lackluster and long 4 hour battle with USA's Johnny Archer, Cohen defeated Archer 200-104 . This was Archer's highest finish at the World 14.1, and he was USA's highest finisher this year. So far since 1990, a USA player has not made it to the finals.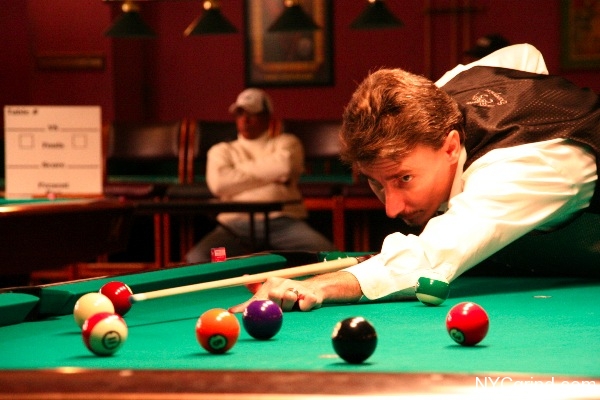 Archer finished a career high 3rd at the World Straight Pool
The final match would be a first, Finland vs France. To date, neither country had ever won a World 14.1 billiards title, and no Frenchman or woman, had ever claimed a world title in pool. The match started with the heavy favorite Immonen with a 97 ball run. He eventually held Cohen to a devastating 145-15, all in a matter of less than an hour. But you can't keep a good Frenchman down.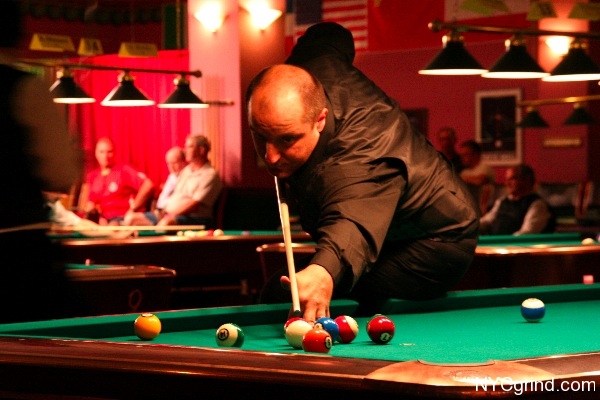 Cohen went undefeated throughout the entire event, and pocketed 1300 balls
Cohen clawed his way back with a couple small but helpful runs, and Immonen made two more errors. Eventually both players were very close, with Immonen leading 160-145. Immonen had another turn at the table and it seemed he would close out the match still as expected, but at 181 he left himself no good shot. A jacked up cutshot on the 4ball, or a kick shot on the 12ball. He opted for the kickshot but only managed to hit the ball and not threaten the pocket. Cohen came back and ran out. Cohen left himself a very tough backwards cut shot on the 4ball as the breakshot, but hit it beautifully. THis started his final run and he closed the match out 200-181 with a jubilant shout and fist in the air!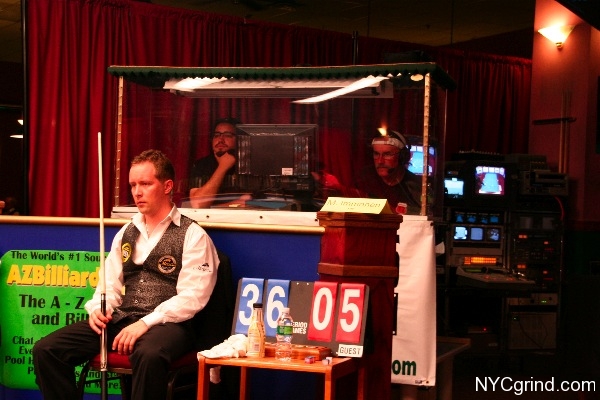 Immonen knocked out the German favorites, but fell short in the finals
"I really thought I was going to finally win one of these Dragon Promotions 14.1 events. It's hard to get so close again," said a dejected Immonen. Immonen, to his credit, made it to his 6th consecutive finals match in just 7 weeks. He won 4 out of the 7 finals matches.
An emotional Cohen squeaked out a few tears and went to Danny Diliberto,expert Accu-Stats commentator and former billiards champion, and embraced him.
"I owe this World title and everything I know of straight pool to this man. He gave me all his knowledge, and I wouldn't have won without him," said Cohen in his victory speech to the fans.
"Cohen came to me after his semi-finals win, and told me he had a problem. He booked his flight to leave tonight before the finals!",explained Charlie Williams, the co-producer of the event. "He laughed and told me he never thought he'd make it this far."
The awards ceremony re-introduced the final 4 players, and Oliver Ortmann gave an embrace and genuine congratulations to Cohen on his well deserved win. Cohen's name will be inscribed on the World Straight Pool Championship trophy alongside Niels Feijen, Oliver Ortmann, Thorsten Hohmann, and legends Mosconi, Mizerak, Greenleaf, Crane and many more.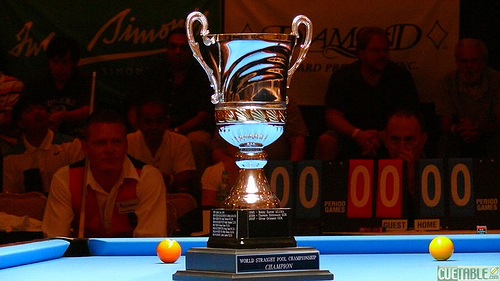 Stephan's Cohen name will be inscribed as the 69th Champion of the World 14.1 Tournament
The Mosconi High Run Award paid $500 bonus to Oliver Ortmann who's 150 and out stood as the top run. Hohmann's world record of 174 still stands. The high run prizes were sponsored by Jay Helfert of Los Angeles CA, and Louis Pannullo of Queens, NY. Mattana and Siegel are added an additional $1000 to any player that broke the world record of 174.
The 2009 Predator World Straight Pool Championship is proudly sponsored by Predator Cues, Comet Billiards, Brunswick Billiards, Simonis Cloth, Ozone Billiards, Laser Rack, Master Chalk and patron sponsors Stu Mattana and Harold Siegel of Excelsior Graphics. For more information on player registration, sponsorship, or if you would like to submit a comment, please email worldstraightpoolchampionships@gmail.com or contact Dragon Promotions at 1-407-782-4978.
Ozone Billiards has been providing pool players with top quality billiard products for more than eight years. Its commitment to customer service has helped Ozone Billiards grow to be one of the largest retailers of billiard supplies in the United States. For more information about Ozone Billiards and its product lines, visit www.ozonebilliards.com
Predator Group, an international billiards industry leader, is focused on bringing constant innovation and game-improving equipment to billiards players worldwide. Headquartered in Jacksonville, Florida, USA, Predator Group's core brands include Predator Cues – high-end (professional level) cues with revolutionary technology to enhance performance, Poison Billiards – recreational cues with cutting-edge designs and Predator engineering for best-in-class playability, and Uni-Loc® – precision billiards equipment manufacturer. For more information regarding Predator Group's products, visit www.predatorgroup.com.