Shooter's Family Billiards 11-18-19 8ball
29 players came out to Shooter's in Wane New Jersey to play 8 Ball. 8 ball is becoming a player favorite and always draws a crowd who love the game. Allison LaFleur from Queens would make the trip out solo but would return home with a crystal trophy in the passenger seat.
Allison, one of the Tour's Female Player of the Year in recent years would have a tough path to the finals. She would beat Adrian Daniel 5-4, newcomer Ranger Blanco 5-0. She would then fight it out with Vinny Mistry another of the Tour's top female players winning a double hill-hill battle 6-5. She would then match Michelle Brotons her long time friend 5-1. She would then face off with CJ Chey , local Shooter's player. This would be another hill-hill battle that CJ Chey would lose on a safety battle. This would send CJ to the one loss side where he would await Alfredo Altimarino whom he sent to the one loss side in the second round.
Alfredo Altimarino would start his day defeating Sabrina Sherman 5-2. He would then meet up with CJ Chey who would defeat him 5-3. Alfredo would then start a 6 round slog thru the one loss side. He would defeat Jonathon Castillo 5-3, Amanda Andries 5-2, Vinny Mistry 7-4, Mac Jankov 5-3, and Michelle Brotons 5-4. He would then meet room owner Chris Kemp who he would send home in 4th place 6-4. He would then rematch with CJ Chey and in stunning upset defeat CJ Chey 5-0 ending CJ Chey day in 3rd place.
As midnight had just passed and with long drives ahead of then Allison and Alfredo would decide to split and call it a night.
L2R-  1st Allison LaFleur  –   2nd Alfredo Altimarino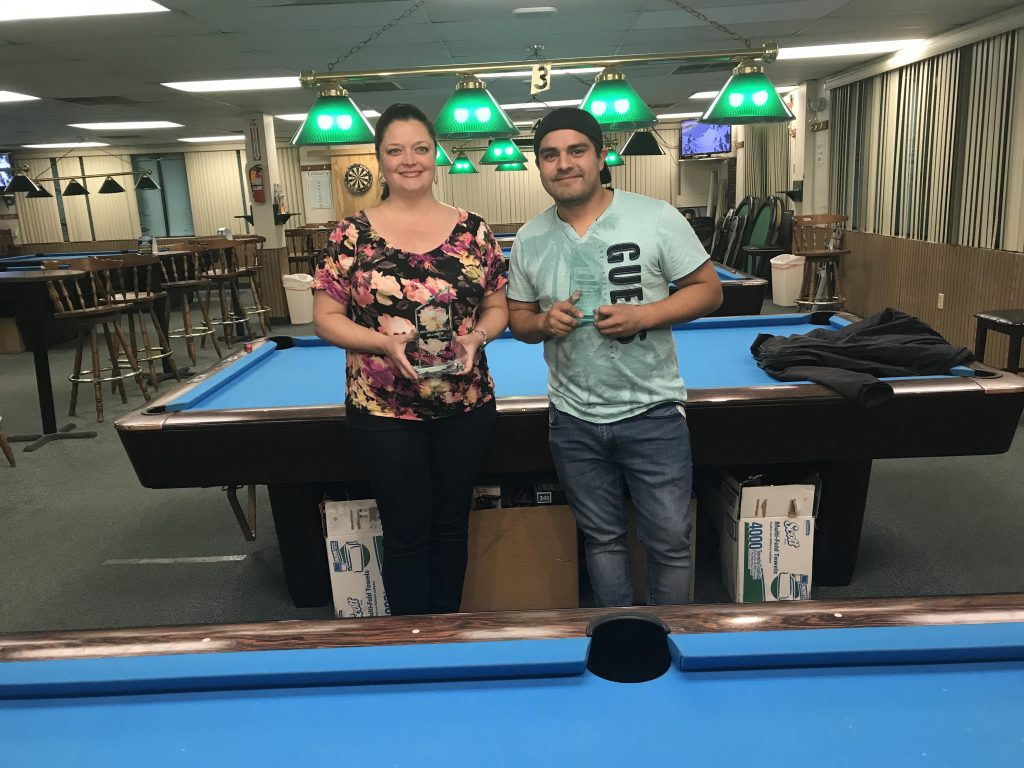 | | | |
| --- | --- | --- |
| Place | Player | Cash |
| 1st Place | Allison LaFleur | 525 |
| 2nd Place | Alfredo Altimarino | 305 |
| 3rd Place | CJ Chey | 200 |
| 4th Place | Chris Kemp | 125 |
| 5th/6th Place | Joe Mazzeo | 75 |
| 5th/6th Place | Michelle Brotons | 75 |