Six superstars will compete. Can you help "Make It Happen"?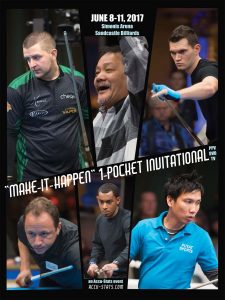 All six players have been invited and have accepted:
Efren Reyes – Defending MIH 1-Pocket Champion
Alex Pagulayan – 2016 DCC "All Around" Champion
Josh Roberts – Top Echelon 1-Pocket Specialist
Jayson Shaw – 2016 Player of the Year
Billy Thorpe – 2017 DCC "1-Pocket Champion"
Shane Van Boening – #1 Ranked U.S. Player
Six superstars will compete.
 Can you help "Make It Happen"?  
This four day round-robin event will be staged in the Aramith/Simonis Arena at Sandcastle Billiards in Edison, New Jersey. Everybody plays everybody and every match is of "finals" caliber.
Fifteen matches, all races to ten, will be played on the regulation 9-Foot Diamond Pro Am Table with Simonis 860 Cloth
and Pro Aramith Balls.
The best commentators in the business, Bill Incardona and Danny DiLiberto will be providing the play by play.
This is the tenth event in the "Make It Happen" series produced by Accu-Stats.
Please click on Pat's letter be see what you will receive by supporting this event. Or call Pat personally at 973-838-7089.
You can also email Pat at patscue@yahoo.com
For all the information please click here
to read a letter from Pat