Sayginer Captains World Team and Stuns Korea
Sayginer Captains World Team and Stuns Korea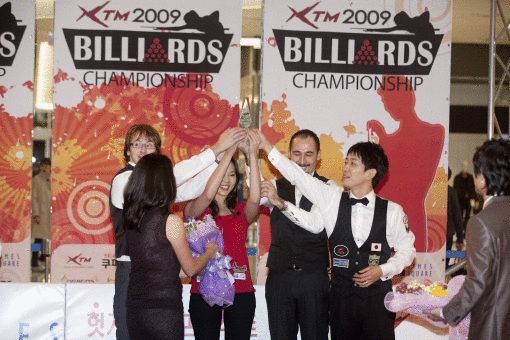 Seoul,Korea- Turkey's Semih Sayginer led the underdog World Team to a thrilling 3cushion victory over Team Korea in a 5-4 finale. This Dragon Promotion event took place at Times Sqaure in Seoul. The events will air on XTM and CJ Media Channels and are sponsored by www.Whois.co.kr, Takini Cloth, Min Tables, Predator Cues, Poison Cues, and Times Square Seoul.
Each team had 4 players consisting of 3 men and 1 woman. Team Korea was captained by recent King Of Carom Champion Jae Geun Kim and supported by Myoung Woo Cho, Shin Young Park, and woman's champ Yu Ram Cha. Team World captained by Semih Sayginer (TUR), Florian Kohler (FRA), Nobuyasu Sakai(JPN), and Amy Chen (USA).
From the very beginning both teams were fighting hard as Kim/Cha barely squeaked by Sayginer/Chen. Despite this being Chen's very first time playing 3cushion with a crash course training by Sayginer, they did exceptionally well. Korea won the match 10-9.
Next Cho/Park were heavy favorites against Kohler/Sakai due to Kohler's weak performance in the King of Carom and the language barrier between him and Sakai. But somehow the Frenchman and the Japanese pro made it work and won another nailbiter 10-9.
Next was the 4-on-4 and again another hill hill killer match with World Team meshed together well through the expert coaching of Sayginer to win 10-9. Now the World Team led 2-1 over Korea. Korea needed a win to keep the pressure on and J.Kim came through with a tough 15-13 win over Sayginer to tie team score 2-2. Cho then iced the cake with a 15-11 win over Sakai. Korea takes the lead back 3-2.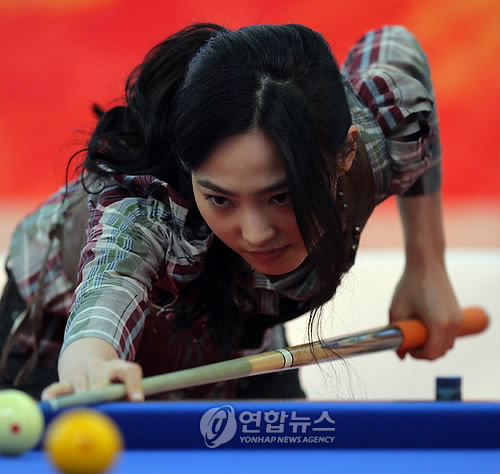 Queen of Carom Yu Ram Cha shows she is not just a pool player
Cho/Cha then were stunned by Chen/Sayginer in the mixed doubles match 10-5 to tie the score 3-3 again. Cha then gave Chen a near impossible mountain to climb as Chen lost 7-1 to the Queen of Carom Champion. Korea on the hill 4-3. World Team came back to win the 4-on-4 to push it to the final match!
Korea is home to millions of billiard fans as they line up for hours to meet the billiard stars
A re-match with J.Kim and Sayginer for the whole title! Both players were playing super hard and focused and you could see in their faces neither wanted to lose for their team or country. Points went back and forth till the very end….but it was Captain Sayginer who stood tall at the end and held his team together for a thrilling 11-9 win over Kim and a 5-4 victory over Korea!