Tri-State event on September 30, 2018 at BQE located at 70-02 34th Avenue, Jackson Heights, Queens, NY.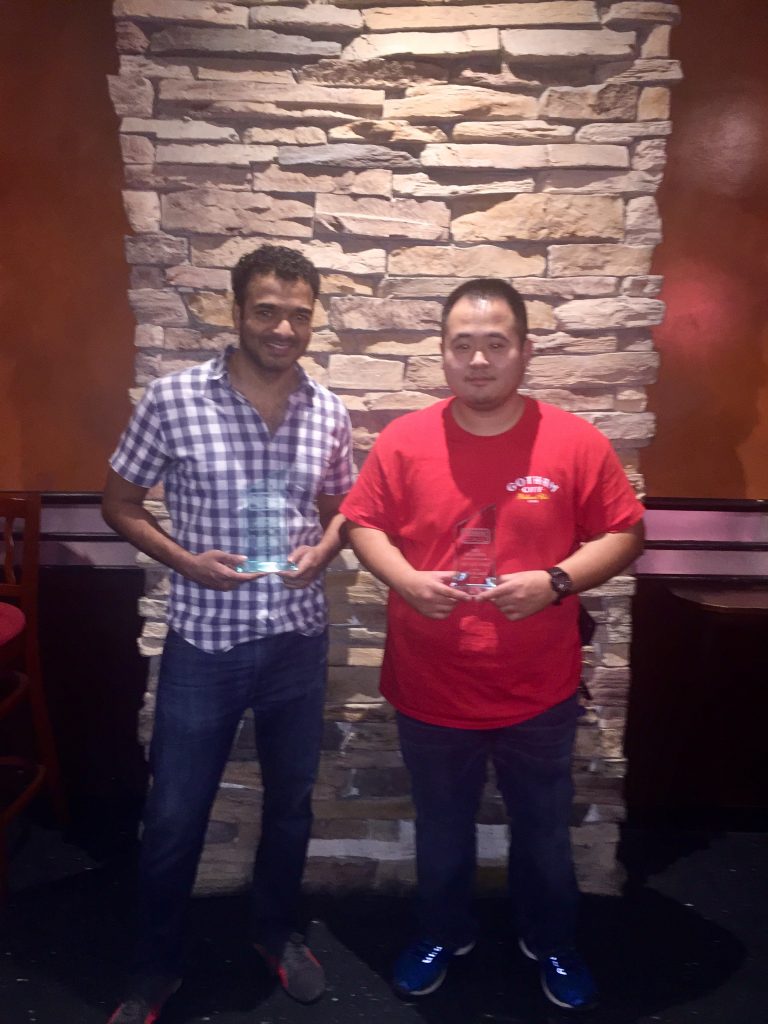 Left 1st Place Shivam Gupta: Right 2nd Place Ricky Deng
Shivam Gupta victorious in Tri-State at BQE's tournament in Jackson Hts., (Queens), NY . Shivam's tournament trail included wins over John Francisco 7 – 2 and Lidio Ramierez 7 – 6; before suffering a loss to Bob Toomey 7 – 4. Ricky Deng was also making his way through the winner's bracket, defeating Bob Toomey 6 – 1 for the Hot Seat. Shivam Gupta and Bob Toomey were poised for their rematch to reach the Finals. This time it was Shivam pulling the match out 7 – 6. During the Finals, Ricky Deng jumped out ahead 2 – 0, but Shivam rallied to pull ahead 3 – 2. From that point, Shivam managed to control the match with a 9 – 7 . The next Tri-State event will be 9 Ball on October 7, 2018, A-B-C-D 9 Ball at Steinway Billiards , Astoria, (Queen), NY. Please provide a thank you to Ozone Billiards, Sterling-Gaming, Kamui Tips, Phil Capelle, BlueBook Publishing, Human Kinetics , Pool & Billiards, Professor Q Ball,Bender Cues, and DIGICUE OB for their sponsorship leading to this event.
| | | | |
| --- | --- | --- | --- |
| 1st Place | Shivam Gupta | | 660 |
| 2nd Place | Ricky Deng | | 420 |
| 3rd Place | Bob Toomey | | 260 |
| 4th Place | Mike Garetta | | 150 |
| 5th/6th Place | Jaydev Zaveri | | 100 |
| 5th/6th Place | Daniel Decker | | 100 |
| 7th/8th Place | Jerry Almodovar | | 70 |
| 7th/8th Place | Nathaniel Raimondo | | 70 |
| 9th/12th Place | Lidio Ramierez | | 0 |
| 9th/12th Place | Shane Torres | | 0 |
| 9th/12th Place | Matt Klein | | 0 |
| 9th/12th Place | Luis La Puente | | 0 |
| | | | |