The Fourth Annual Marti Tracy Memorial 3 Cushion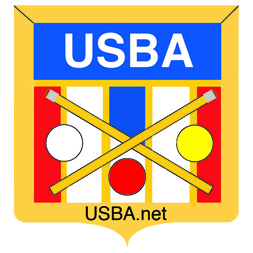 The Fourth Annual Marti Tracy Memorial 3 Cushion Billiard Tournament, a USBA B/C Tour Event, took place this year during the first weekend in October, at the Ashland Elks Lodge in Ashland, Oregon. This tournament had been held in July in previous years, but this year it was rescheduled to follow the 53rd Annual Southern Oregon Invitational 3 Cushion Billiard Tournament, a non-USBA team event that has been played annually since 1963. This new format allowed the participants the choices of attending both events over nine days, or just either the team tournament or the USBA singles tournament.
A full field of 32 players signed up for the Tracy Memorial USBA singles tournament (and nearly half of those players had also participated in the team tournament held earlier that week). Players were divided into four preliminary flights of eight players, with each flight containing four B or B+ players, two C+ players, and two C players (with one exception: one flight had only three B players and one additional C+). The tournament format called for the top two B finishers in each flight to move into an eight-person single-elimination final. At both the C and C+ levels, the top finisher from each flight at each level would move to a four-person round robin final.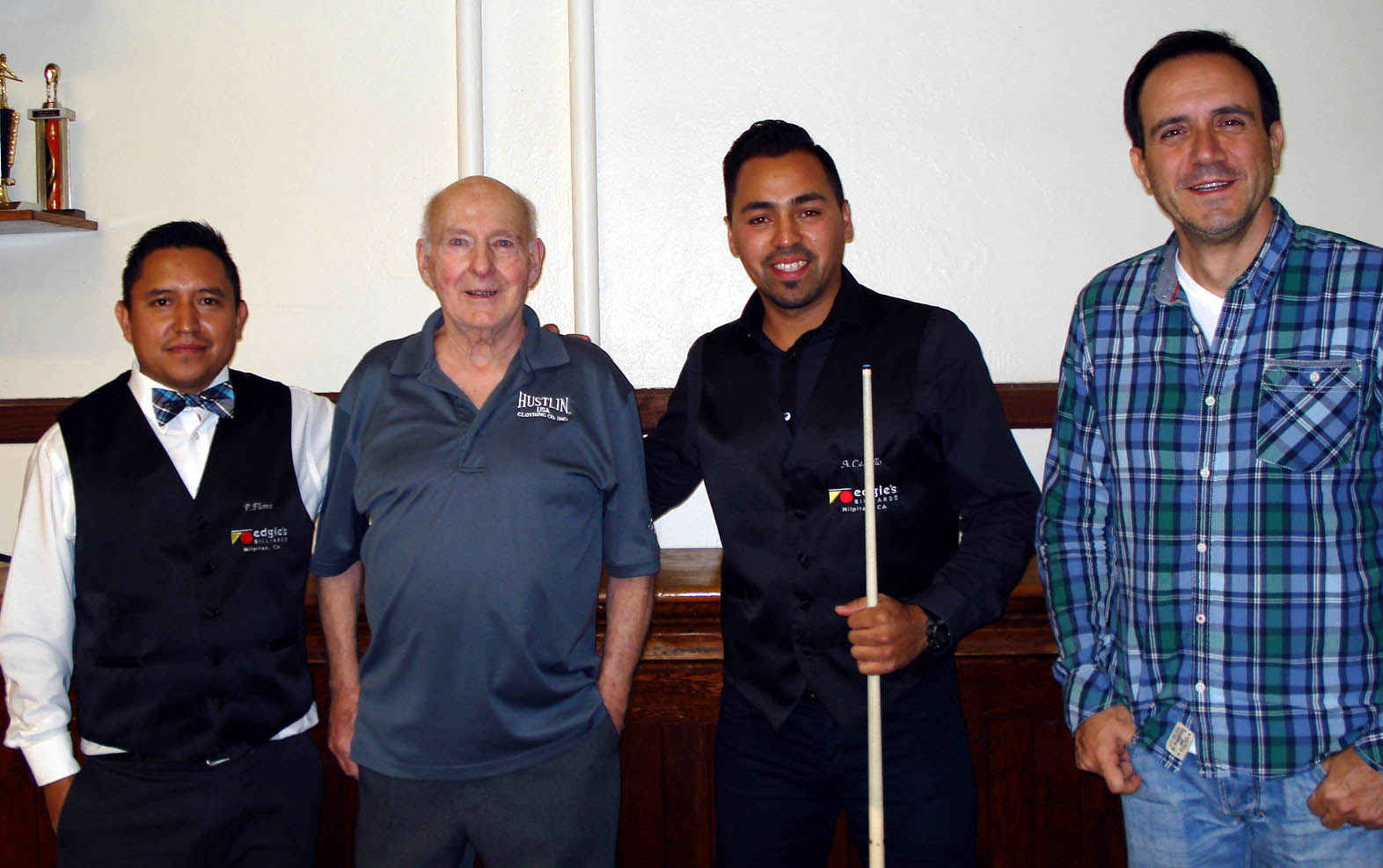 Final four B finalists, L to R: Pablo Flores, Bob Tracy, Allen Castillo, Ertan Tarhan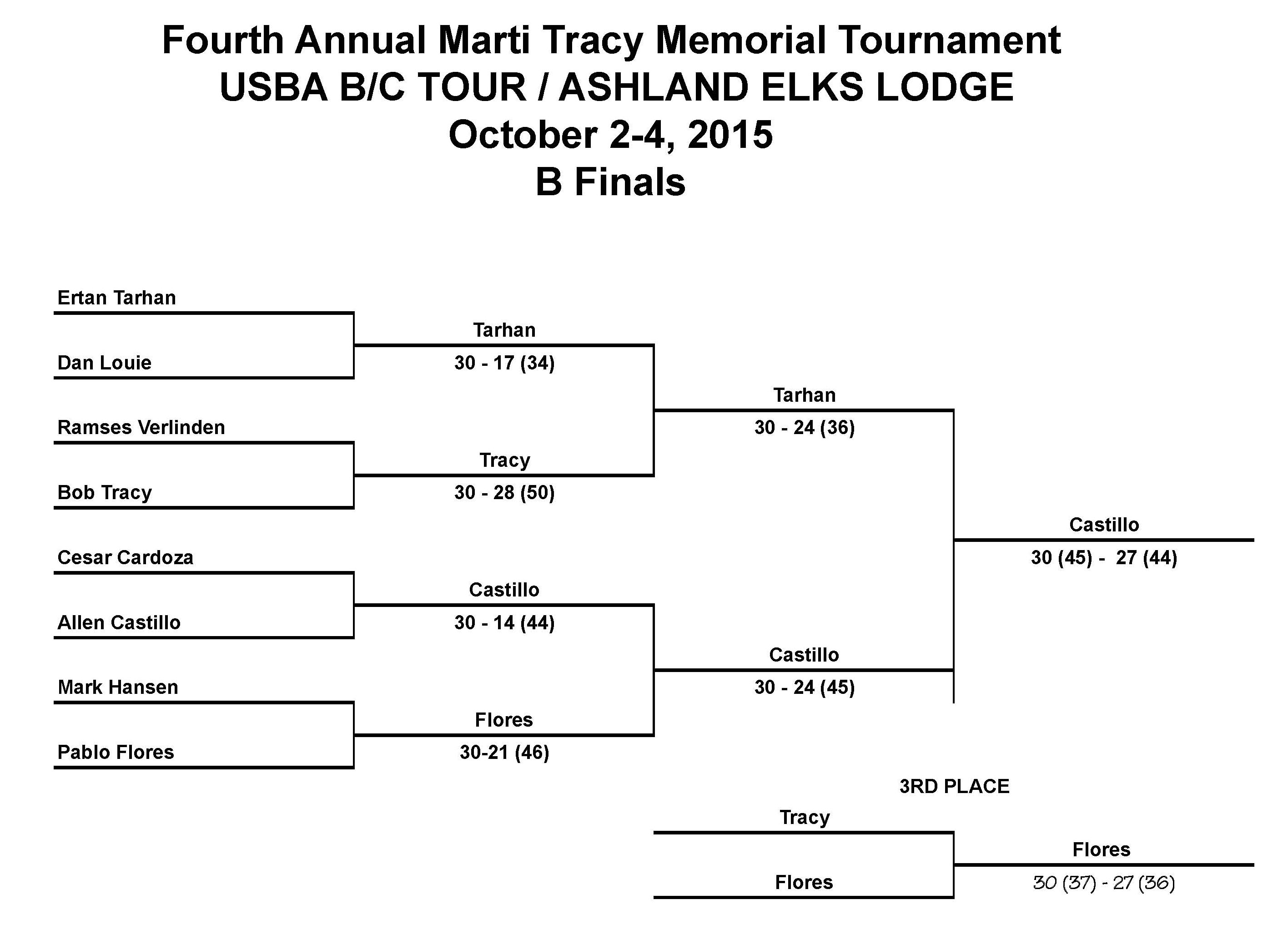 At the B level, this tournament drew many strong players from both the Pacific Northwest and Northern California. The B finals pitted accomplished, highly experienced players with up-and-coming young players, and it was very interesting to watch. In the first finals round, Ertan Tarhan, a fairly recent arrival to the Seattle area from Turkey, had a solid win over Dan Louie, a top professional pocket billiard player who plays an excellent 3 cushion game as well. Pablo Flores, a young player from the San Francisco Bay Area, a former winner of this tournament in the C+ category, beat out veteran Mark Hansen from the Sacramento area to advance to the final four. Bob Tracy, a veteran player from Oroville, CA who had played in the National Finals here in Southern Oregon back in 1972, beat out a very strong younger player from Portland, Ramses Verlinden.
And the other finals first-round match pitted experienced Bay Area player Cesar Cardoza against Allen Castillo, a very fine young player who plays at the same room. Tarhan went on to win over Tracy in one semi-final, and Castillo beat Flores by the exact same score to move into the final match. In the end, Allen Castillo won a tight game over Ertan Tarhan with a very close, exciting finish. Clearly both of these players have great potential to perform at the highest levels of our sport. The High Run prize in the B category was won by Homero Landa of Redwood City, CA, a former B champion of this tournament, with his run of 8.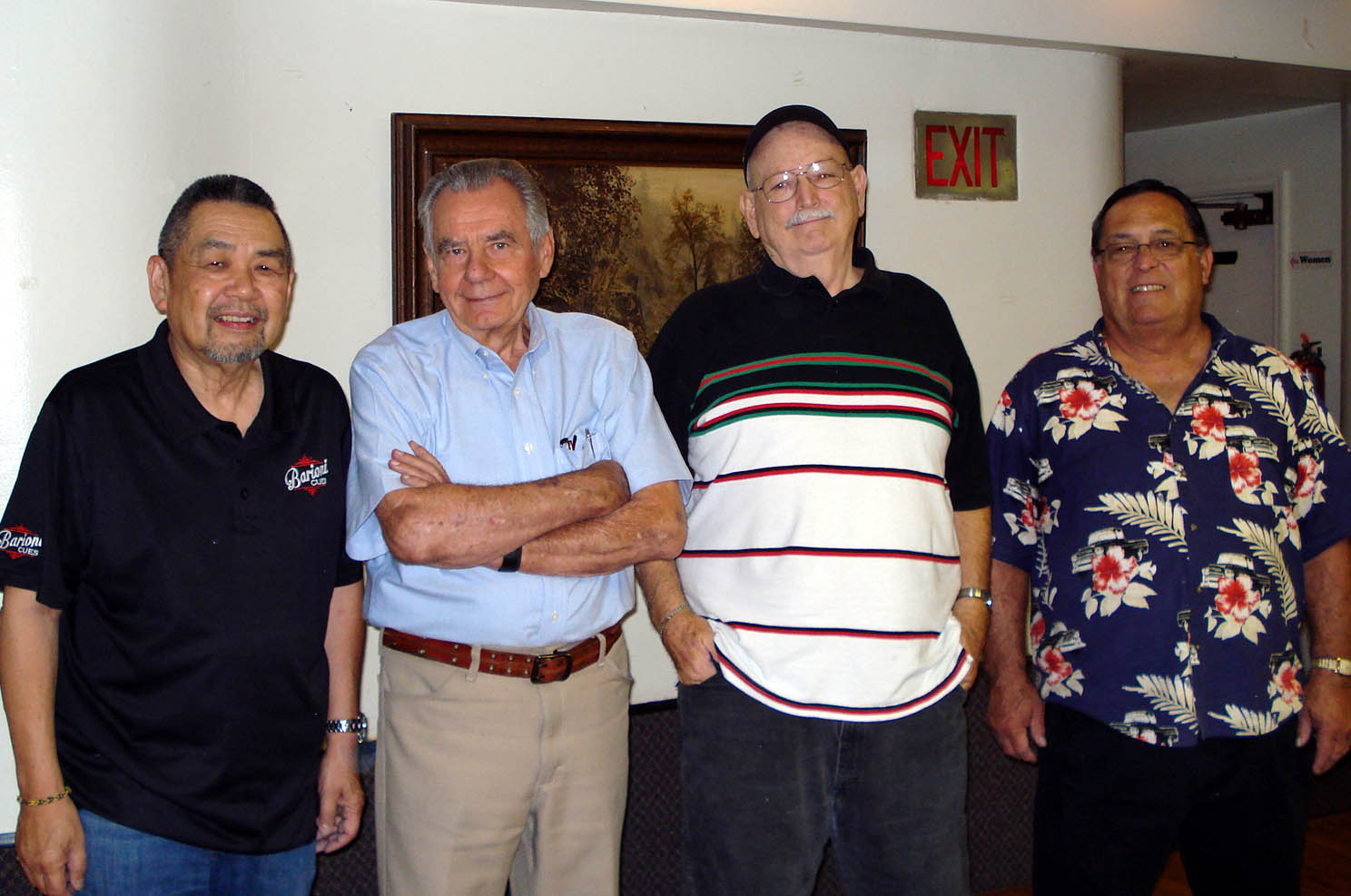 C Plus finalists, L to R: Galen Lee, Bob Horecky, JR Greenlee, Marc Smith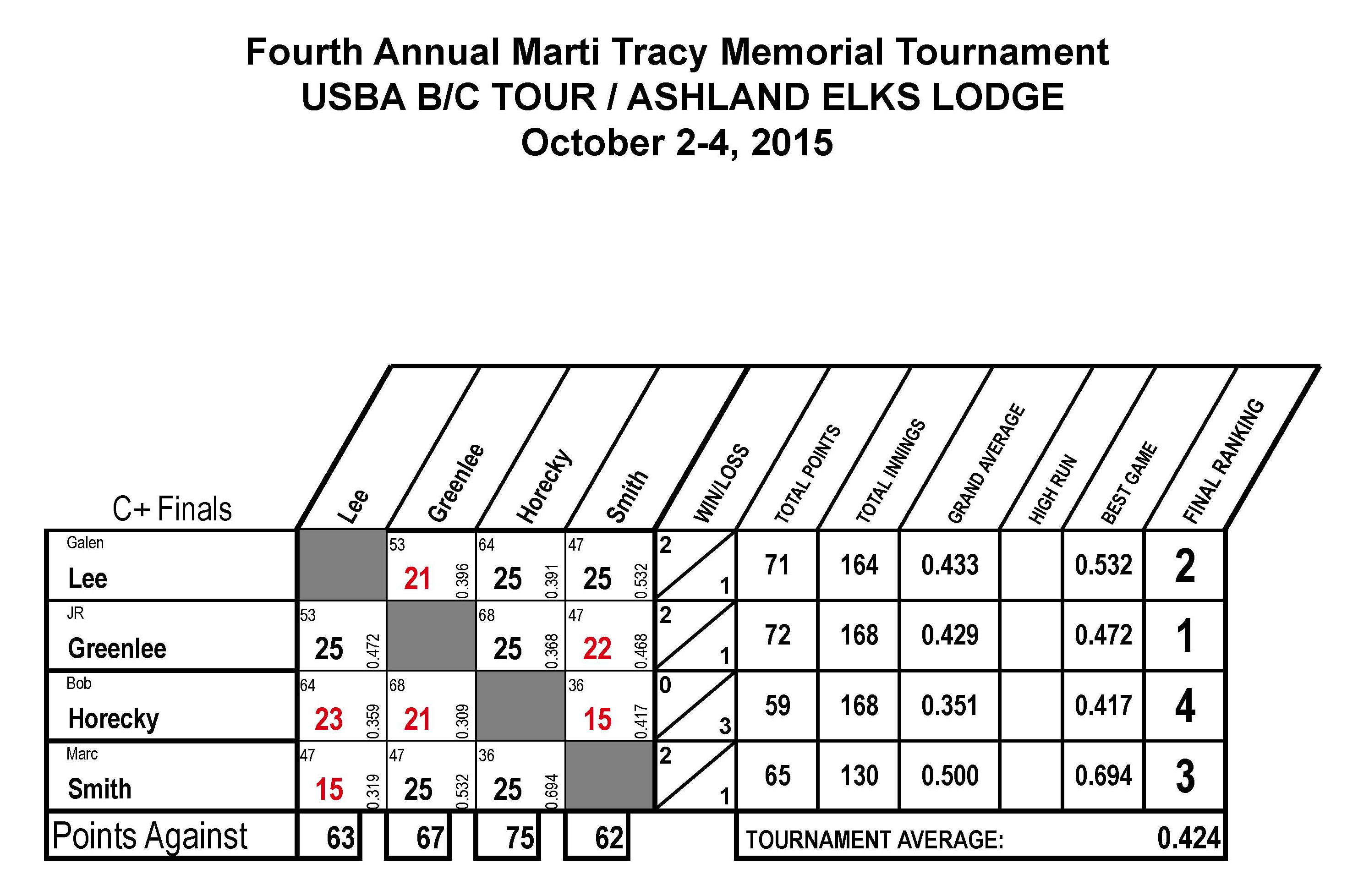 In the C+ finals, three players all finished with the same records of two wins and one loss, so the order of winners was determined by the points earned in the games that were lost. J.R. Greenlee of Medford, Oregon, ended up edging out Galen Lee of Union City, CA, for first place by just a single point in the final game of the round. Marc Smith of Grants Pass, Oregon, finished third, and Galen Lee also took home the High Run prize in the C+ category with his run of 5 early in the tournament that was matched many timesbut never surpassed.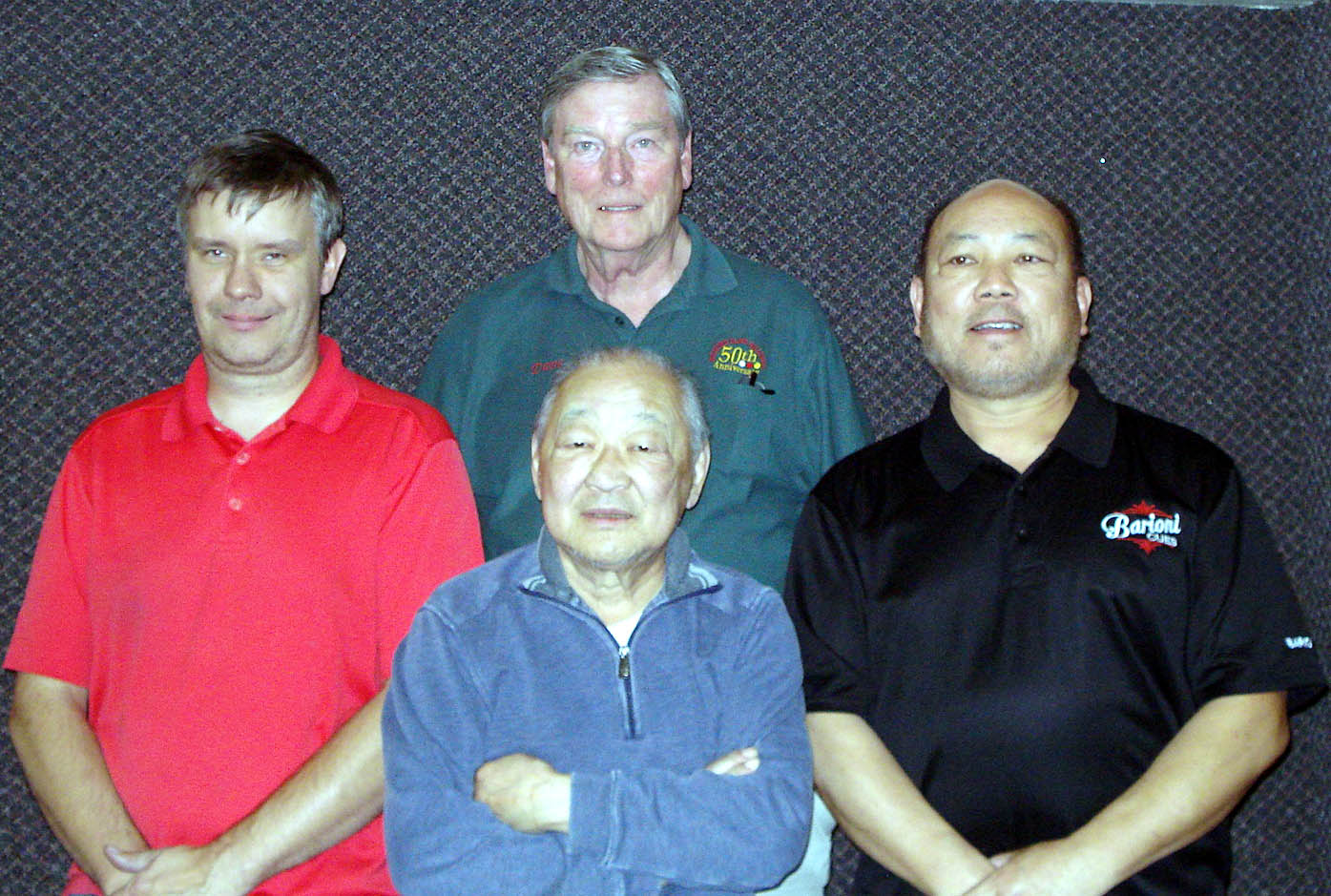 C finalists, Back Row L to R: Scott Pahl, Dave Ehlers, Victor Lee, Front Row: Toshi Moriguchi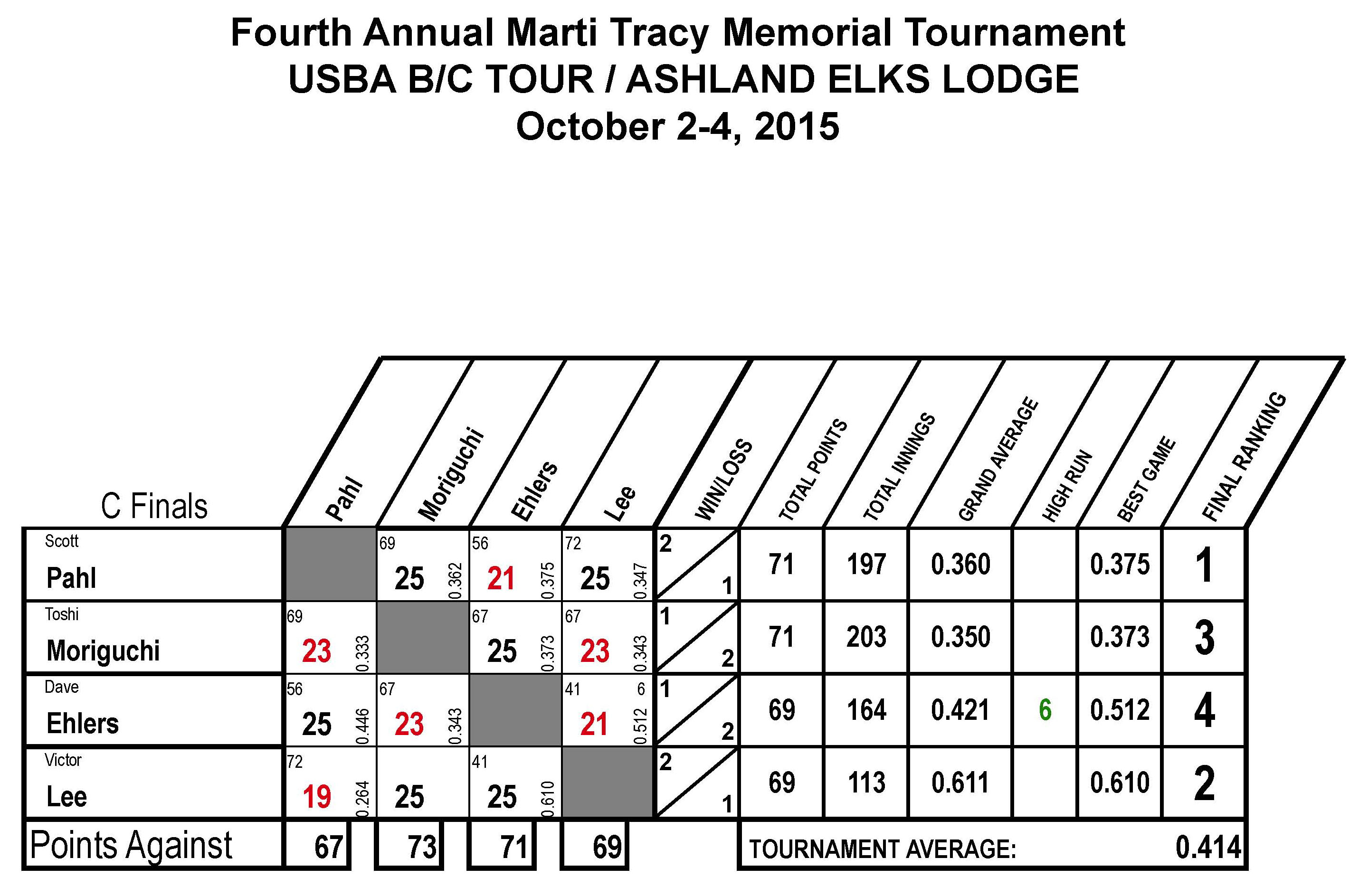 In the C finals, newcomer to the game Scott Pahl from the Portland area took first place, beating out three more experienced players. Victor Lee of Stockton came in second place by just two points, followed by Toshi Moriguchi of Seattle in third place. Fourth place finisher Dave Ehlers from the Seattle area won the High Run prize in the C category during his last finals game against Victor Lee by running a 6, beating the first 5 run by Victor that had stood since very early in the prelims. However, Victor was not quite finished, and with 19 points on the string, Victor ran his own 6 points, hoping to continue past the end of the game to beat Dave's earlier 6 run. But the two additional points Victor scored, while good for the soul, giving him a personal high run of 8, could not be counted, as the game had to end at 25 points.
Thanks to all the players who participated, and to the members, officers, and staff of the Ashland Elks Lodge who hosted the event and provided such a friendly, comfortable venue for our tournament. Much gratitude is also owed Bob Tracy, a continuing sponsor of this event, which is dedicated to the memory of his wife, Marti. Bob donated $3,000 to this year's tournament prize fund. Thanks are also due to Jim Shovak, Merrill Hughes, and Tom Paley, officers of the US Billiard Association, which sponsored this tour event and provided matching donations for the prize fund, trophies, a raffle cue, and new cloths and balls for the event. And finally, I personally want to thank all the players who pitched in to help me out with so many aspects of running the event, as I was recovering from wrist surgery and was unable to drive or to lift or carry much of anything.
Mark Williams,
Tournament Chairman