Florian "Venom" Kohler strikes, joins Team Cuetec.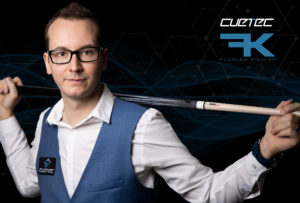 Hasbrouck Heights, NJ Cuetec and Imperial are proud to announce that famed entertainer and trick-shot artist Florian Venom Kohler has joined the Cuetec Team of Professional Players and Brand Ambassadors.
If there was one word that resonated with me the most after my initial conversation with Cuetec it was evolution. Cuetecs history and experience was of obvious importance, but where the company could go, and how I could be a part of that that was paramount in recognizing Cuetec was the best fit for me. So far, we are already off to a flying start and I can't wait to show-off some of the new gear Ive been using and the upcoming AVID technology in development. My very first cue was a Cuetec, and Im already in love with what is my first signature Cuetec AVID cue, said Florian Kohler when asked about making the move to Cuetec.
Florians first FK edition models of the all-new Cuetec AVID series will be arriving in February of 2021, with additional FK edition AVID utility cues arriving later in 2021.
Florian has the ability to connect with a very broad audience, beyond guys like me who are already in love with this game. He has charted his own course in many ways, and as Cuetec works on the next big leap, Florians vision for expanding peoples exposure to game is a perfect match. He has already been part of the development process for our new AVID platform, which will bring high-end performance and capability to the sub three-hundred dollar cue market,said Kyle Nolan, Cuetec Brand Manager.
Check out Florians latest videos here at:
https://venomtrickshots.com/videos/
About Cuetec
Cuetec burst onto the billiard scene in 1989, developing the composite cue. Today, Cuetec prides itself on offering the most technologically advanced wood and composite constructed cues and shafts, providing players with high-performance playing equipment at affordable prices. For more information, please visit www.cuetec.com. Follow us on Facebook: https://www.facebook.com/CuetecUSA
About Imperial
Imperial is the exclusive distributor for Cuetec in the United States. Imperial and Cuetec work together to maintain that professional quality players and cherish. Imperial is the premier distributor of billiards equipment and licensed products from the NFL, MLB, NHL and several high-profile colleges and universities. With over 60 years of experience, Imperial has made a name in the industry with some of the most well-crafted pool tables and accessories on the market with price ranges to fit any budget. Add a huge assortment of licensed product and there is no other company that you will need to look to for your game room, dorm room and man cave needs. For more information, visit http://www.imperialusa.com. Follow Imperial on Twitter, Facebook and Instagram @imperial_gameroom.