Kevin O'Brien wins his first Tri-State event at Steinway Billiards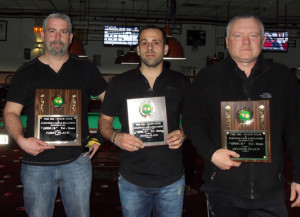 .
left :   1st Kevin O'Brien; center     3rd Owner-Operator Manny Stamatakis; rightmost 2nd Bogie Uzdejczyk
Kevin's tournament trail included wins over Pat Mareno   7 – 2; Jamiyl Adams 7 – 3; Daniel Dagotdot 7 – 3; Young Joo Kim  from Korea 7 – 5; Ying Yang 7 – 5 from Canada and lost to Bogie Uzdejczyk 7 – 4 for the Hot Seat. While Bogie was in the Hot Seat, both Manny Stamatakis and Open class Raphael DaBreo were making a bid to reach Kevin O'Brien for a shot at the Finals. Manny   got there with a 7 – 5 win over Raphael; however, fell short against Kevin, losing 7 – 4. In the Finals, Kevin O'Brien started out strong to go ahead 3 – 1 over Bogie Uzdejczyk . Bogie trailed the entire match, unable to win 2 games in a row to tie the match. Finally, Kevin closed the door winning 9 – 6.  Special recognition belong to Manny Stamatakis for his impressive 3rd place finish and a 7 – 2 win loss record; and Raphael DaBreo with a strong 4th place finish. The next Tri-State event will be held on January 3 – 4, 2015 at Gotham City Billiard Club in Brooklyn,NY.  Please provide a thank you to  Ozone Billiards, Sterling-Gaming, Qpod, Kamui Tips, Ron Vitello, Focus Cases by John Bartron, Phil Capelle, BlueBook Publishing, Human Kinetics , and Focus Apparel for their sponsorship leading to this event.
Payouts
1st
$950.00
2nd
$600.00
3rd
$400.00
4th
$290.00
5th – 6th
                                     $190/$190
7th – 8th
                                     $130/$130
9th – 12th
                 $100/$100/$100/$100
13th – 16th
                           $75/$75/$75/$75