Sung-Won Choi writes history with world gold
SEOUL – The main starplayer in Korean billiards has finaly his golden medal and Korean billiards, with its thousands of quality players, a world champion. (37) won the title this Sunday afternoon in the Seoul Olympic hall, against Swedish legend Swede Blomdahl To . A crowd gone wild, some 350 spectators in the stands, saw their favorite write history when he recorded a 40-37 win in twenty innings.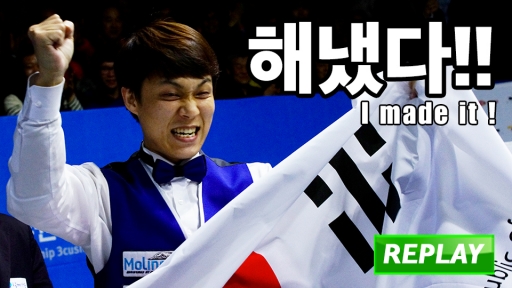 The best Korean of this golden generation gave the ultimate gift to the sport that has become so popular in his country. Sung-Won Choi claimed the title in a final that went neck and neck all the way. In the 20th inning, Blomdahl missed a round-the-table shot that would seal his fate. Under tremendous pressure, the Korean produced his last few, difficult points and started a roar of joy and cheers in the packed arena. Sung-Won Choi shouted out, embraced Blomdahl, bowed to the crowd in all four directions and relished in the festivities that ended this historic championship.
On the rostrum, he bowed his head for the Korean anthem, and as he looked up there were tears on the face of this, normally so stoic, billiard player. He was on the podium of the WC twice before, in 2010 in Sluiskil he came in 3d, and in 2012 in Porto he was runner-up to Eddy Merckx. He finished the long climb to the top in his home country, where he now triumphed.
Sung-Won Choi is not a typical crowd pleaser like Fredric Caudron, Blomdahl or Semih Sayginer. He is not theatrical, like Marco Zanetti or Sayginer, he is more the understated, disciplined winner, like Dick Jaspers and Dani Sanchez. Rarely does the first Korean world champion shine with matches far over 2.000 average, or does he produce ultra-high runs. And yet, he beat Dani Sanchez in the knock-out stage in 13 innings, ran 7 and out against Eddy Merckx (in 19) and got the job done in 20 innings against Rodriguez, Seo and Blomdahl.
The new champion is most of all feared as a cool finisher, a paragon of mental strength at the end of major matches. He was knocked out, last week, in the group stage of the Lausanne Billard Masters, where he lost to Martin Horn and Marco Zanetti. There he was focusing already on the World championship in Korea, where the whole country was eagerly looking for in the months before the start-off.
The overall average of Sung-Won Choi was the third best result in the history of the World championship after  Blomdahl in 1997 in Grubbenvorst (2.015) and Eddy Merckx in 2012 in Porto (1.983). The Korean winner finished now 1.951, like Fredric Caudron did in Antwerp last year. Since 2007, when Ryuji Umeda took the world title in Cuenca, Ecuador, Sung-Won Choi is the eighth (different) winner in eight years after Zanetti Kasidokostas Sanchez, Jaspers, Merckx and Caudron.
His world title win did not just make him the usual championship bonus of 4800 euro, he now belongs to the category of sportsmen who are eligible for a huge bonus from the Ministry of Sports or a monthly payment. The maximum of these bonuses (for example an Olympic title) is 100.000 euros in cash or a lofty salary for life.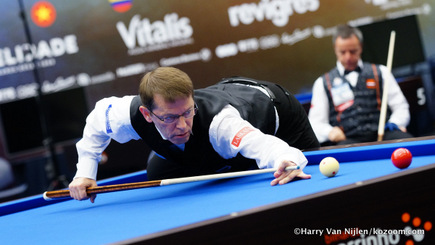 Seventeen years since his last world title,  Blomdahl once again fails to win this premium tournament. The 52-year old Swede, generally viewed as the best player in history behind Raymond Ceulemans, was beaten in a final where he just made one very expensive mistake in the final moments. It was a small miracle that he was in the final to begin with: he was odds on to lose the semi against Jean Paul de Bruijn who had a big lead, but got steamrolled in the closing 5 innings.
Blomdahl did not come up with monster averages either, in this tournament. He beat Papakonstantinou in 25, had his best match against Xuan Cuong Ma in 14, got the better of Quyet Chien Tran in 20, beat Jae Ho Cho in 22 and Jean Paul de Bruijn in 26 innings. But even if he missed out on the world title, he is once again the nr. 1 player in the world, replacing Caudron. The Belgian is now 2nd, Sung-Won Choi climbing to 3d.
The 67th world championship was also a battle between the two players who carry the flag for the Molinari cue brand. The final was attended by 350 spectators, with 11 cameras recording every shot.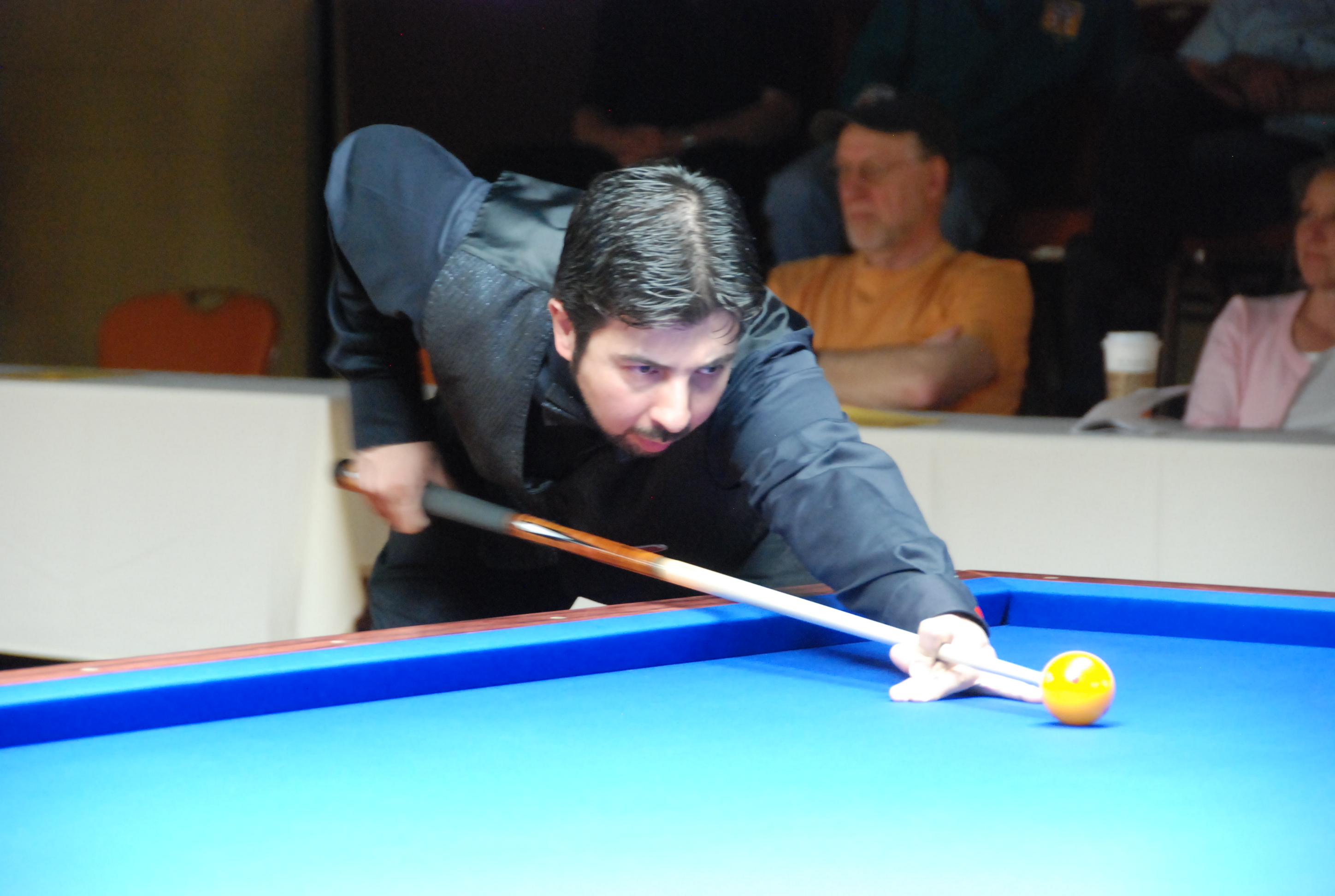 The tournament got underway when American Pedro Piedrabuena played a brilliant match against Turk Tolgahan Kiraz: 40-16 in eight innings helped by the highest tournament run of 18. Pedro's star turned out to be a supernova, because the former Uruguayan lost without a chance in the first K.O. round.
The final result of the 67th World championship:
1 Sung-Won Choi (South Korea) 12-1.951-10
2 Blomdahl (Sweden) 10-1.866-11
3 Jean Paul de Bruijn (Netherlands) 8-1.569-10
3 Hyun Min Seo (Korea) 7-1.598-9
5 Tayfun Tasdemir (Turkey) 6-2.026-13
6 Eddy Merckx (Belgium) 6-1.711-8
7 Ruben Legazpi (Spain) 6-1.600-10
8 Jae Ho Cho (South Korea) 5-1.622-12
9 Pedro Piedrabuena (USA) 4-2.333-18
10 Dick Jaspers (Netherlands) 4-2.200-10
11 Dani Sanchez (Spain) 4-2.080-9
12 Fredric Caudron (Belgium) 4-2.068-13
13 Jung Han Heo (South Korea) 4-1.621-12
14 Quyet Chien Tran (Vietnam) 4-1.549-10
15 Marco Zanetti (Italy) 4-1.537-8
16 Huberney Catano (Colombia) 4-1.195-8
17 Sameh Sidhom (Egypt) 2-2.172-8
18 Glenn Hoffman (Netherlands) -1864-11
19 Choong-Bok Lee (South Korea) -1657-9
20 Tolgahan Kiraz (Turkey) 2-1.647-5.
The new world ranking (+ up in the ranking, – down in the ranking):
1)  Blomdahl 411 (+1)
2) Fredric Caudron 389 (-1)
3) Sung-Won Choi 373 (+3)
4) Eddy Merckx 331 (-1)
5) Dick Jaspers 278 (-1)
6) Jae Ho Cho 268 (+4)
7) Dong Koong Kang 247 (+1)
8) Marco Zanetti 238 (-1)
9) Kyung-Roul Kim 232 (-)
10) Tayfun Tasdemir 222 (+1)
11) Filipos Kasidokostas 216 (-6)
12) Dani Sanchez 208 (-)
13) Quyet Chien Tran 194 (+2)
14) Jean-Paul de Bruijn 183 (+5)
15) Jerey Bury 176 (-2)
16) Roland Forthomme 173 (-2)
17) Choong Bok Lee 158 (-)
18) Murat Naci Coklu 143 (-)
19) Nikos Polychronopoulos 139 (-3)
20) Ruben Legazpi 136 (+10)
21) Sameh Sidhom 135 (+1)
22) Quoc Nguyen Nguyen 132 (-)
23) Jung Han Heo 123 (-)
24) Cenet 123 (-3)
25) Eddy Leppens 120 (-1)
26) Hyung-Bum Hwang 114 (+1)
27) Henry Diaz 112 (+2)
28) Riad Nady 109 (-3)
29) Dinh Nai Ngo 102 (-3)
30) Christian Rudolph 101 (-2).