Warren Kiamco, Champion of the Johnny Archer Classic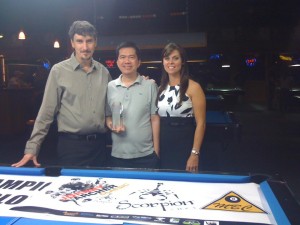 Johnny Archer and his beautiful wife Melanie congratulates Warren, the new champion of the Scorpion Cues Johnny Archer Classic!
photos courtesy of Dragon Promotions
Marietta, Georgia-  Long time veteran Warren Kiamco did what so few players have ever been able to do, completely dominate America's top player Shane Van Boening in the finals. Van Boening who is so accustomed to winning on US soil, was completely hammered by the smooth, finesse style of Kiamco.  The Scorpion Cues Johnny Archer Classic is a Dragon Promotions production and sanctioned by the Association Of Billiard Professionals as an ABP International Points Ranking Tournament and hosted by the Marietta Billiard Club.
The event was supported by Fat Boy Productions Co. and Steve Florentino Billiards. Heavy hitter companies are getting behind the event for the first time as well such as Ozone Billiards and Championship Cloth who will be supplying all the tournament tables Tour Edition 3030 cloth. Billiards Digest, Pool & Billiard Magazine, and Inside Pool Magazine are also sponsoring the event. The tournament is an official ABP Pro Tour sanctioned points tournament for pro rankings. Please visit www.facebook.com/ABPpros for updates and to join the ABP Pro Tour.
The Scorpion Cues Johnny Archer Classic is a pro 10-Ball tournament open to all amateurs, semi-pros, and professionals. Full info and updates can be found at http://www.facebook.com/JohnnyArcherClassic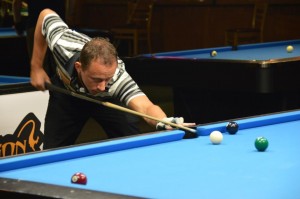 Shane won many matches but ran out of gas at the end
Kiamco jumped to a quick 3-0 lead at the start of the match. And Shane was not able to recoup from there. Warren utterly dominated the entire match and worked to a 9-2 lead within less than an hour in a fast paced match. Shane was able to gain one more game, but fell 11-3 in the finale.
Incredibly, Kiamco never had a close match nor a loss the entire event, though the field was filled with stud players such as Rodney Morris, Thorsten Hohmann, Corey Deuel, Shannon Daulton, Charlie Williams, Mike Davis, Johnny Archer and so many more. His closest opponent got to 6 games in the races to 9.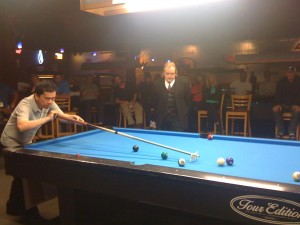 Kiamco shoots under the watchful eye of tournament director John Leyman
"I got tired. Warren played great. That's pool. I can't win them all", said Shane afterwards.
"I really am very happy to win this event. I told my good friend Jeremy Sossei before the match, I'm not wishing for Shane to not make a ball on the break. I'm only wishing he doesn't have a shot!" laughed Kiamco as the crowd laughed with him. "I really want to thank Johnny Archer , he has such a great poolroom. And thanks to Charlie and Dragon Promotions, I hope you do many more events for us."
Players had a fun and superb time with the staff at Marietta Billiard Club keeping them company as well as the fans
Archer wore many hats during the event as commentator, poolroom owner, President of the ABP, host , and top player
Special VIP sponsors attended such as Shawn Gargano the President of Ozone Billiards. Mike Serra, the VP of Championship Cloth and Chairman of the Billiard Congress of America also attended. Serra presented the runner-up award to Van Boening.
"Listen, this is terrific. I'm really enjoying coming to these events and meeting the fans and players. The sporting side is very important to me and I'm going to observe and learn more on how to help", said Serra. Just this year alone Serra has attended the Super Billiards Expo, the World Tournament of 14.1, the Johnny Archer Classic, and this week he will fly to his own sponsored Championship Cloth Pro Classic in Louisiana.
"The management and staff at Marietta Billiard Club all said the numbers this weekend were way above normal. Bottom line, the event was a financial success for the poolroom and that's good news. Means hosting pro pool can be a money maker, and we need more locations to come talk to us and add more events to the ABP Pro Tour calendar", said Charlie Williams, the event producer from Dragon Promotions.
"I just want to thank everyone here for coming and supporting this event and me. I promise everyone we will make next year even bigger and better", said Archer in his closing ceremony.