Wolford & Hunkins Dominate Juniors Divisions at Super Billiards Expo
Wolford & Hunkins Dominate Juniors Divisions at Super Billiards Expo
By Ricky Bryant
April 18, 2013 (Englewood, CO): On April 7, 2013, 13-year-old Shane Wolford of Virginia and 11-year-old Kaiden Hunkins from Wisconsin both went undefeated through their respective fields in the juniors events of the 2013 Super Billiards Expo  (SBX) in Edison, NJ. Wolford, was one of the youngest players in the 64-player 17 & Under division, defeating Zachary Hampton in the finals. Hampton is the reigning 14 & Under Junior National Boys Champion. In the 48-player 12 & Under division, Hunkins defeated 12-year-old April Larson, who represented the US at the recent Junior World Championships.
Both Wolford and Hunkins proudly earned the coveted SBX juniors trophies, the top two finishers from each division received custom black onyx Qpods emblazoned with the event logo and finish-ranking, and the top four finishers from each division also received paid entries into the upcoming BEF Junior National 9-Ball Championships, along with a range of prizes donated from many of the show exhibitors.
"We're excited to see such a great turn out for the Juniors events, these kids are the future of our game – and some very talented players. Hopefully everyone had a great time, and the winners of the 2013 Junior National entries go on to do well in that event also! Another big thanks to the parents for encouraging their children to participate in these events and making the plans and travel required to do so. Best of luck to all of you," said event promoter and Hall of Famer, Allen Hopkins.
Complete Results:
17 & Under Division
1st – Shane Wolford
2nd – Zachary Hampton
3rd – Drew Clark
4th – Mikey Evans
* Sierra Reams also earned a paid entry into the 2013 Junior Nationals for being the top finishing girl in her division.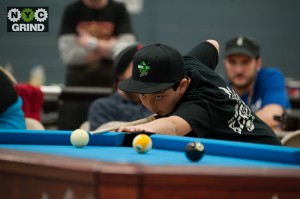 12 & Under Division
1st – Kaiden W. Hunkins
2nd – April Larson
3rd – Jake Miosi
4th – Luca Tomassetti
The Super Billiards Expo is a pool & billiards tradeshow that is open to the public, produced annually by Allen Hopkins Productions and has become the largest consumer orientated show in the history of billiards. Visit their website at superbilliardsexpo.com.
The Billiard Education Foundation (BEF) was formed in 1993 as a 501(c)(3) nonprofit charity committed to promoting a lifelong love of pool and building the next generation of players through youth programs and academic scholarships. Visit billiardeducation.org or call (303) 926-1039 to learn more about junior billiard programs in your area.