Reyes vs Appleton in Semi-Finals of Predator World Tournament of 14.1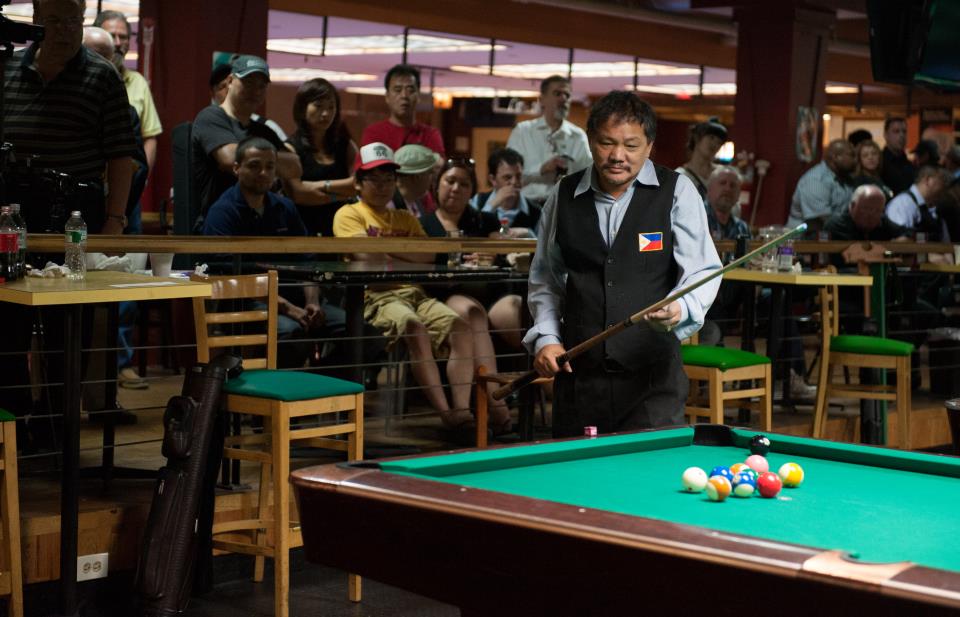 Efren Reyes has made it to the semi-finals and assured a Bronze medal in his first debut at Predator 72nd World 14.1
photo by www.charleseamesphotography.com
Queens, New York-  The 57 year old Filipino cue master has gone undefeated thus far in 8 consecutive matches in his first ever World 14.1 competition. Though not a student of the game and having not played straight pool in decades, no one doubted that he would not perform well as the world's most creative player. Still, making it to the semi-finals is quite a feat.
"Efren likes to win new big tournaments the very first time he plays in them. That's why he has such big historical event titles if you look at his history of wins. It's amazing as much as he has done, he still finds the motivation", said Charlie Williams, fellow pro player on tour.
"He is absolutely my favorite player to watch. I just love watching him play, whatever game he is shooting", said Tim Malloy, long time pool fan and local New Yorker.
Reyes defeated USA champ Corey Deuel to reach the semi-finals. On the other side, England's World Champion Darren Appleton crushed France's Stephan Cohen to reach the semis.
Thus far, Efren has pocketed 1050 balls to stay undefeated and reach the final 4. If he wins, he will face USA fan favorite John Schmidt, a former US Open 9-Ball winner.
A new World 14.1 Champion will be crowned today.
The 2012 Predator World Tournament takes place July 29th – August 3rd. The event is produced by Dragon Promotions & Dr.Michael Fedak and proudly co-sponsored by Championship Cloth, Olhausen Tables, Amsterdam Billiards, Aramith Balls, Pool & Billiard Magazine, Championship Tour Edition Chalk, and straight pool aficionados Dr.Louis Pannullo of NYC, Stu Mattana of NYC, Ralph Rubin of MD, and Tom Gleich of NC. Co-contributors Dr.James Heller, Drew Thomas, and Charles Eames.