2012 TAP Vegas Masters 8-Ball Team State Championship
2012 TAP Vegas Masters 8-Ball
Team State Championship
The 2012 Vegas Masters 8-Ball State Championship & National Qualifier concluded on August 5th.  It was a record year for this annual tournament with 36 teams and a total of 188 players.  Congratulations to the: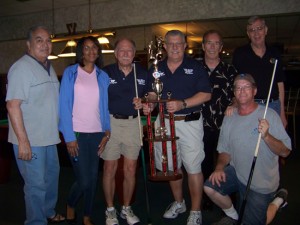 Vegas Masters 2012 State Champions, The Good, The Bad & The Ugly, featuring Marcel Macias, Yvonne Thompson, Howard Dameron, Jim Eisenberg (Captain), Jerry Lerner, David Hanson and Keith Parker.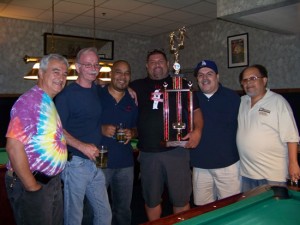 2nd Place, Spanky & The Gang featuring Luis Lugo, Robert Armstrong, Gerald Branham, Luis "Jr" Crespo (Captain), Abe Henderson and Alex "Spanky" Pernas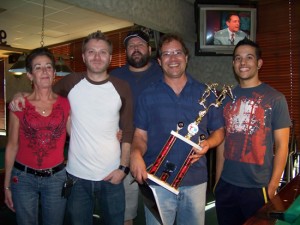 3rd Place, Felt Up featuring Teresa Howard, Kelly Seeley, Gordon Graham, Brian Erle, Captain and his son, Michael Erle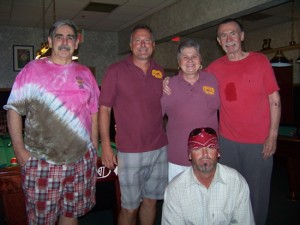 4th place, Cheers II featuring Hal Robertson, Mark Ketchum, Donna & Jan Schwitters (co-captains) and Jason Larreau.
The first weekend of the tournament was awesome! On July 28th and 29th, teams competed in a round robin tournament with a chance of earning 15 points by winning matches against other teams and players. The weekend ended with Spanky and the Gang and Pool Junkies on top earning 12 points out of a possible 15!  Earning a very close second with 11 points, were Cheers II, Put Your Balls in the Hole and 14 Balls & A Hole.
The top 20 teams (who earned 8 points or more) in the round robin advanced to the Championship Tournament for a chance to advance once again and compete at TAP League Nationals. The bottom 16 advanced to the Best of the Rest Tournament to win a total purse of $1,000.
Both the Championship and Best of the Rest tournaments began Saturday, August 4 and concluded on Sunday, August 5. The Championship tournament ended with The Good, The Bad and The Ugly being undefeated and being crowned TAP Las Vegas' 2012 8-Ball State Champions.
Interestingly enough, this will be the second year that The Good, The Bad and The Ugly will be competing at TAP Nationals, but the first year they will be traveling. Last year, with a slightly different roster, they took 3rd place in the Vegas Masters. They went on to compete at Bally's in Las Vegas in the 2011 TAP League Nationals. They finished in the top 16 and won $900! A couple of the other players are no strangers to Nationals either. Gerald Branham competed in the team tournament in 2010 and at Rally in the Valley in 2011. Alex Pernas competed in singles and placed in 2010 and 2011.
The top 3 teams received prize packages totaling over $12,000 and will be advancing to TAP League Nationals to compete on all Diamond tables in Charleston, South Carolina from November 2 through 6!  Should any one of those teams be unable to attend, Cheers II will be joining the other 2 teams.
As the Best of the Rest tournament came to a close, the Hideaway Hustlers and Faded 8's were undefeated. In the end, in an amazing show of good sportsmanship, the two teams split the $1,000 purse and were home in time for dinner. They shook hands and even hugged, as they called it a day.
The Faded 8's features Glen Ivy (Captain), Brad Huffman, Marilyn Kamealoha, Ray "Baby Ray" Galaviz and Ray Jones.  The Hideaway Husters features Larry "Buggs" Grillett, Maria Juarez, Omar Ortiz, Raymond Mattison, Thelou Tepait (captain), Romeo and Romel Ancheta.
A very special thanks to Robin, Shawn and Steve at Mickey's Cues & Brews for their hospitality and contribution to our tournament. There pool room is amazing. Thanks also to Grant Gilbert, Scott Moden, Greg Cottle and Mark Mahon for volunteering to referee. All of these people are key to the success of our event and are greatly appreciated!
See all of the photos on Facebook in high resolution
Round Robin DAY 1 – DAY 2 – 2nd Weekend