STEFANO PELINGA INDUCTED INTO THE NATIONAL ITALIAN AMERICAN SPORTS HALL OF FAME
SPORTS HALL OF FAME
CHICAGO, ILLINOIS, November 17, 2012 — Stefano Pelinga, a 5-time World Champion in Artistic Pool, has been inducted into the National Italian American Sports Hall of Fame.  In the presence of approximately 500 VIP guests and many sports stars such as Tommy Lasorda, Mike Piazza, Tony Esposito and Ray "Boom Boom" Mancini, Stefano has been awarded this honor, becoming a member of this group of legendary Italian Americans.  Also inducted that evening were former World Boxing Middleweight Champion Vito Antuofermo, World Series Champion John Smoltz, Stanley Cup champion Mark Recchi, Olympic Medalist Alicia Sacramone, New Jersey Devils CEO and GM Lou Lamoriello, GM of the Los Angeles Dodgers Ned Colletti, President of Comcast SportsNet Chicago Jim Corno and the Venturini Family (Venturini Motorsports).  All of them, together with Stefano, are extremely proud and humbled to represent the Class of 2012.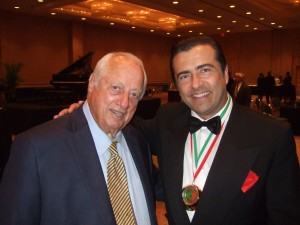 Tommy Lasorda & Mr.Pelinga
Past NIASHF Hall of Famers include Joe DiMaggio, Rocky Marciano, Jake LaMotta, Mario Andretti, Lou Ferrigno, Franco Columbu, Vince Lombardi and Willie Mosconi"¦to name a few!  This year was a special occasion for NIASHF as it celebrated its 35th anniversary since it was founded by George Randazzo in 1977.
Stefano, now residing in Las Vegas, Nevada, hails from Rome, Italy, where he has served since 1985 as a police officer for the Italian government (Polizia di Stato), until his retirement in 2011.  He began to play pool at the age of 12, drawing inspiration from his favorite singer and actor, Dean Martin.
Stefano, currently a 5-time World Champion in Pool Trick Shots, won several titles in Italy in straight pool and nine-ball throughout the late 1970s and 1980s.  In 1990, he devoted himself entirely to "Artistic Pool," commonly referred to in its practice as "Trick Shots."  In a few years, Stefano became not only the reference point but a true idol for fans of this exciting game worldwide, earning the names of "Mr. Trick Shots" and "Il Maestro" from his loyal fans.
Stefano has given the sport considerable international exposure by performing exhibitions, organizing competitions and raising funds for a variety of charitable organizations with his personal appearances.  He has been featured for over ten years in the prestigious ESPN's televised tournaments, as well as in articles and on the covers of many pool and billiards publications around the globe.
In addition to having won several international titles, Stefano's achievements have been numerous and remarkable in other facets of the sport:  he produced best-selling instructional videos and he was appointed official instructor of cue sports by FIBIS (Italian Billiards Federation) and CONI (Italian Olympic Committee).  He was also awarded the honorary title of Professor of Sport Games by the University of Kharkov (Ukraine).
Stefano has the largest repertoire of Trick Shots and is able to execute more than 1,000 unique and "fancy" shots.
Due to his outstanding achievements, Stefano is recognized worldwide as one of the greatest Trick Shot champions in the history of the sport, and has also earned a spot in ESPN's Trick Shot Magic Hall of Fame.
TITLES/ACHIEVEMENTS
2012 Inductee, National Italian American Sports Hall of Fame
2011 ESPN World Cup Champion, Team Europe (Captain)
2010 ESPN World Cup Champion, Team Europe (Captain)
2007 ESPN World Cup Champion, Team Europe (Captain)
2007 ESPN Trick Shot Magic Champion
2005 ESPN Trick Shot Magic Champion
2004 European Artistic Pool Champion
2003 U.S. Open Champion
2002 World Champion, Massé Shots
2002 World Champion, Jump Shots
2002 World Champion, Prop & Novelty Shots
1984 High-run of 179 balls in straight pool
20 consecutive times Italy's Trick Shot Champion (1991-2010)
WORKS
"Amazing Trick Shots Made Easy," Instructional DVD, 2007
"More Amazing Trick Shots Made Easy," Instructional DVD, 2007
"Even More Amazing Trick Shots Made Easy," Instructional DVD, 2007
"Ultimate Trick Shots," Instructional DVD, Volumes I & II, 2005
"The Magic Of Trick Shots," Instructional Video, 1999