Jeanette Lee to Speak at BEF JR Nationals
June 2, 2014 (Englewood, CO): "‹This year's BEF Junior National 9-Ball Championships plans to be a real treat for all attendees as "The Black Widow" Jeanette Lee, the most recognized face in billiards, plans to speak at the event's luncheon on June 24th in Louisville, Kentucky in conjunction with the BCA Summit.
"I've always had a passion for kids and I'm so honored to speak at this year's Junior Nationals.  I've watched and supported the Billiard Education Foundation throughout my career and I love the work they do and the commitment they make for our kids.  I can't wait to be there to share some time with the future champions of our sport!" said Lee.
Lee has been working hard to organize the Black Widow Juniors Camp designed for young intermediate to advanced level players age 14-18. Though the camp has been postponed until 2015, it has not stopped her from promoting youth in billiards.
There are still spots available in all four age divisions at this year's junior nationals. If you're interested in participating in the tournament or if you're interested in attending this year's banquet, contact executive director Samm Diep-Vidal at (303) 926-1039 or visit the website at billiardeducation.org.
The Billiard Education Foundation (BEF) was formed in 1993 as a 501(c)(3) nonprofit charity committed to promoting a lifelong love of pool and building the next generation of players through youth programs and academic scholarships. Visit billiardeducation.org or call (303) 926-1039 to learn more about junior billiard programs in your area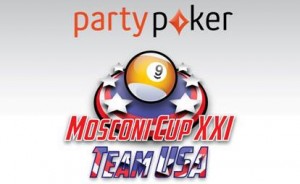 Team USA set for BCA Summit
2014 Mosconi squad to visit industry expo
WITH THE ANNUAL billiards industry gathering set for the Kentucky International Convention Center in Louisville from 25th to 27th June, American PartyPoker Mosconi Cup captain Mark Wilson is delighted to announce that his team will be in attendance for the duration of the event.
Wilson, who competed in the first two years of the event, has been charged with reinvigorating US fortunes in the annual transatlantic pool showdown, and will be on hand along with team members John Schmidt, Justin Bergman and Justin Hall.
All the interaction will take place at Booth 649 and team members will be available for challenge games – giving everyone the opportunity to win an "I Should Have Been Picked for the Mosconi Cup" T-shirt.
Commented Wilson, "We are there to engage with the billiards community and promote our journey to the 2014 Mosconi Cup. The Junior Nationals are being held simultaneously and Team USA will support and interact with those players who are the future of the game.
"Included with the festivities will be the use of a radar gun, the opportunity for pictures and autographs. The coaching staff will handle specific training questions. Everyone will meet special team member and retired Navy SEAL, Amir Pishdad.
"We expect this to be the most fun booth in the entire show and we will generate a lot of interest, excitement, and support, for both the Mosconi Cup and the future of the sport. This is a "grassroots" effort to stimulate interest by all that attend.
"I envision that we can aid unity with the billiards community and simultaneously do something good for the sport. This is an important step to re-establishing pride regarding the sport that we love," he added.
Taking place in Blackpool, England from 1st to 4th December, the Mosconi Cup is now in its 21st year and features two five-man team doing battle over four days in what is pool's Ryder Cup.
Wilson has also announced that Lieutenant Commander (retired) Amir Pishdad Jr has joined his coaching staff as he leaves no stone unturned in his efforts to inspire and rejuvenate US hopes.
A former Navy SEAL, Pishdad has graciously offered to give Team USA an up close and personal view of the SEAL's secrets of success – dedication, hard work, "no excuses," relentless positivity, and honor above everything.
Commented Wilson, "Our players were so impressed with his message that we made him part of our team.  If we can dedicate even a fraction of the effort that Amir gave for our country, we will be well on our way to improving the sport.
"Amir is a man that has lived a life of dedication, hard work, and sacrifice.  He has graciously offered to share that experience with our team; and the sport will be much better for his efforts."
Both Pishdad and Captain's Assistant Don Wardell will be in attendance in Louisville and the whole squad will be available to discuss all things pool, Mosconi Cup and Team America as well as offering information on Pool Awareness Week (November 2nd through 9th, 2014) – an initiative that everyone in the industry will want to support.