South Shore Midwest Pocket Billiard Championships
The Greater Midwest Poolplayers Association
South Shore Midwest Pocket Billiard Championships Oct 9th – 13th, 2013
LOCAL TEAM; TAP HOUSE WINS THE MAIN EVENT!!!
The inaugural South Shore Midwest Pocket Billiard Championship was held at the beautiful Majestic Star Casino and Hotel in Gary Indiana Oct. 9-13 recently. Players from seven Midwest states attended. There were ten singles events, a scotch doubles, and four team events. Spectators were invited as there was free admission for all. Eight-time World Champion Nick Varner performed five shows as compliments of the Majestic Star Casino.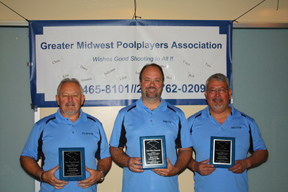 'Tap House' in Lake Station, Indiana.
From left to right Clayton Shepard, David Machaj, Hector Guajardo.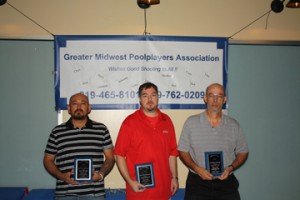 Runner-up 'Always Late' from the South Bend area.
From left to right, Jose Loera, Jeremy Edwards, Al Weir.
The event kicked off with a bang on Wednesday with nine-ball singles. In the Open tournament Illinois master champion, Ike Runnels took top honors, followed by runner-up Jim Jeffers from Griffith Billiards. Women nine- ball singles was won by Will County Illinois native Ann Mason, followed by another Illinois favorite, Jessica Talerico. The Sportsman nine-ball was won by Brandon Bright representing Minnesota, runner up was Paul Scott of Antioch, Illinois.
Thursday October 10th saw a lot of action as Ed Lattimer from Chicago worked his magic to take the Senior eight-ball singles crown with a hard fought battle besting Dave Darnell of Kouts, Indiana. Arron Kasper, Chesterton, placed third. The Women Senior Singles was won by Donna Whitcomb over her good friend Nancy Beadel both from Iowa travelling together. The women Open eight-ball event saw a lot of great action as Gina Negrelli, the local hot-shot from Schererville clawing her way to victory over runner up Nancy Beadel while Kim Demkovich from Portage placed third. The men 'B' Division eight-ball was won by Roy Schueler, Antioch, Il., with James Moran placing second, and Ric Sherard, Valaparaiso in third. The 'A' Division eight-ball singles was won by veteran champion Don Lamken, La Porte, Indiana, with Brandon Bright second, and Scott Grant Winamac, Indiana placing in the third position. The Masters singles saw local pool wizard Troy Johnson of East Chicago take the top prize of all singles play as he shot past Paul Scott, second, and Tony Gong of Chicago third, Danny Garza of Chicago, fourth. Well noted; Molly Bontrager of the South Bend area was the only female player to finish in the awards in a fifth place tie with Bill Springer, Portage. The Sportsman eight-ball singles had Bob Ball, Portage and his son Sam, Hobart in the first and second spots with Mark Bontrager, Michiana, and Todd Grant, Chesterton tied for third. Scotch Doubles team of Gina Negrelli/Bill Brown took honors over Brandon Bright/Donna Whitcomb.