Ouschan & Villarreal Strike First Blood at Predator International 10-Ball Championship
Ouschan & Villarreal Strike First Blood at Predator International 10-Ball Championship
By Sally Lee
Among the full field of 112 players at the 9th Annual Predator International 10-Ball Championship, there are 15 women who have decided to brave up against the vastly male fielded event. On Day 1 of the event, two ladies struck first blood against the men. Jasmin Ouschan of Austria and Vivian Villarreal of USA both overpowered the male counterparts in the first round.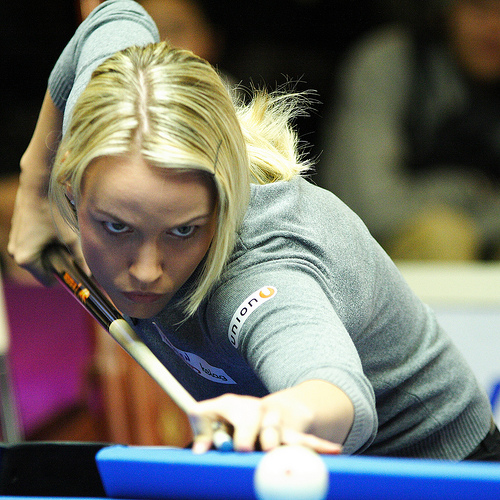 Photo courtesy Sandor's Album
Ouschan, former World Games Gold Medalist, commanded the match against Portugal's Antonio Neves 10-4 while Villarreal took down USA's Tommy Hernandez. Ouschan has been a proven threat to the men as she has defeated several top notch men such as World #1 Mika Immonen, World Pool Masters Champion Thomas Engert, and World Champion Oliver Ortmann. Both ladies are top ranked in the women's pro tour.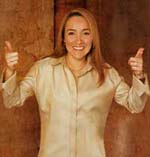 photo courtesy WPBA
Not all the ladies faired as well. Jeanette Lee of USA faired badly against Japan's top 10 ranked Kenichi Uchigaki 10-5, Melissa Little of USA dropped her match to Filipino star Alex Pagulayan 10-3 while Tiffany Nelson-Crain of USA lost control of her 5-2 lead on Stevie Moore to lose 8 games straight falling 10-5. Amalia Matas of Spain gave Jose Parica of Philippines a run for the money at 10-7. Katrine Jensen of Denmark lost 10-6 to Chile's Alejandro Carvajal while Russia's Anna Majirina lost 10-4 to USA's Kurt Kobayashi.
Tuesday's marquee matches with the women versus the men will include 3x Women's World Champion Allison Fisher of England against USA's George Breedlove, former top pro and husband of famed Jeanette Lee. Fisher was the most successful woman of last year's event placing 25th. Yu Ram Cha of Korea will take on USA's Pete Kelly, Chinahov of Russia against Angel Paglia of USA, and George Ramirez of USA versus Cristina De La Garza of USA.
On winner's side round 2 action, Top 10 USA pro Shawn Putnam will face Vivian Villarreal. Reno Open Champion Mike Davis takes on 2008 WPBA Player of the Year Kelly Fisher, and Jasmin Ouschan will face "Little Giant Killer from Tokyo" Goh Takami.
Live scoring and brackets can be followed at www.predator10ball.com