Pedro Wins USBA Tour Open in Houston
It's official… the winner of the USBA Tour Open at Paris Bida in Houston Texas is Pedro Piedrabuena.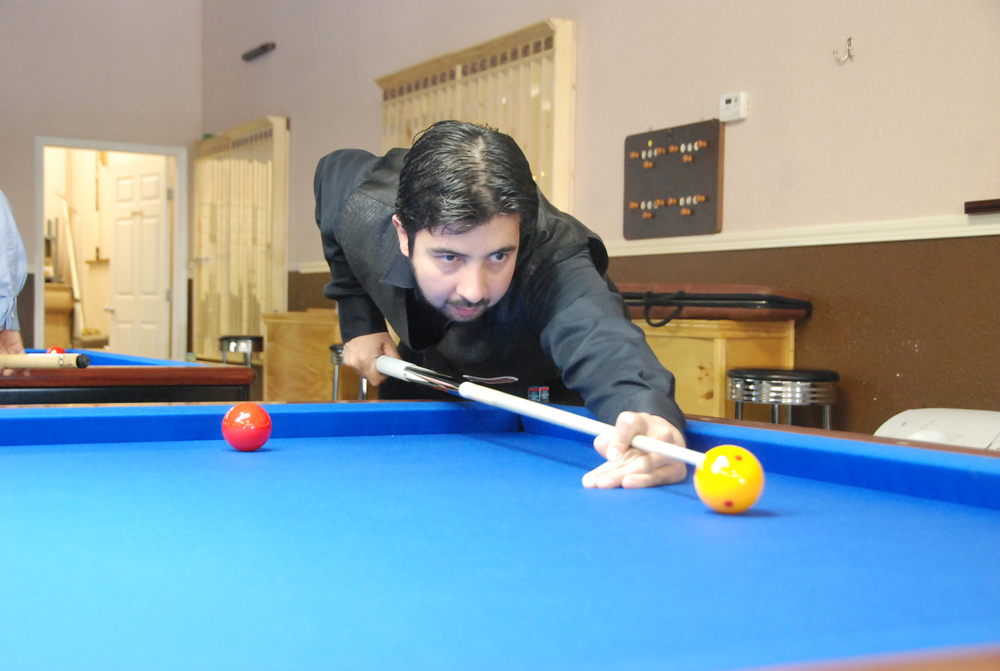 From Friday October 19, 2012 to Sunday October 20, 2012 eleven players from outside Texas joined 15 local players and two from Dallas Texas to vie for the $7500.00 in added prize money. The event represented the first time a USBA Tour Open tournament had been held in Houston, so everyone was working hard to ensure success!
And what a success it was! The players and more than 100 spectators who joined us were treated to some of the finest displays of three cushion skills they have seen in a while. And the best surprise of all was that quite a bit of the exciting play came from many of the home town players who fought hard in this premier event. From the upsets in early rounds… to
the great semi-final and final match… the Gabriels tables at Paris Bida provided the perfect surface for these masters of the game to work their magic.
The final match was Live Streamed on ustream.tv in spite of the technical challenges of low Internet bandwidth and low light conditions. The effort yielded a very exciting match whhich was recorded and can be seen (in parts due to the up and down conditions) at http://www.ustream.tv/channel/dogloose-ch1.
The tournament format was also a rarity for the USBA. After a preliminary round of four flights of 7, 16 players were matched in a single elimination final which proved to be as exciting as anyone could have hoped. With every game meaning life or death in the tournament the crowd and the players held their collective breath on almost every shot.
In the final match we were treated to the great skills and competitive spirit that have so often been demonstrated by our two great champions – Pedro and Hugo. As was expected the points were tight and the lead was always up for grabs. As the game progressed and the billiards mounted there was no way to know who would end up on top. Hugo had the lead at 21-18 when Pedro scored an impressive shot that brought a roar from the crowd. He followed that up with another and another to lock it up at 21. Then came two more to take the lead at 23-21 before his run of 5 would end. After making but one, Hugo sat down and Pedro took over once again. And this time he would not let up. While Hugo could only sit and watch, Pedro ran 6 to get to 29 before he would miss by the smallest of margins. Could Hugo match this effort? But the bank shot to the corner would not make, and Pedro returned for what would prove to be the final billiard of the tournament. This time it was Pedro who played the bank shot to the corner to make the final score Pedro over Hugo 30-22.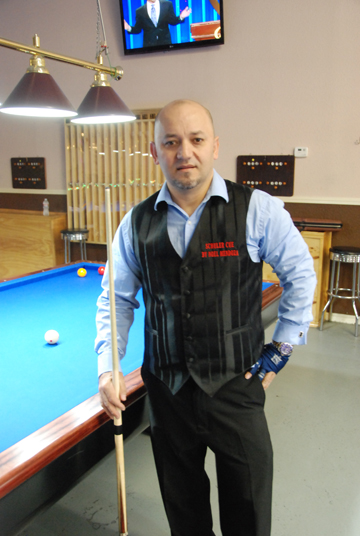 Hugo Patino
The final standings for the tournament are as follows (Note: Players who exited the brackets at the same round were awarded equal position and prize money by decision of the tournament director.
The first semi-final game saw two former Colombian National Champions meet to decide who would move on to play for the 1st place prize. Hugo Patino a former US National Champion and Andres Naranjo were both in top form as the lead in the match see-sawed back and forth. The break through came when Hugo managed two late runs of four to get to 28. With Andres back at 19 the pressure took hold. After a few misses Hugo sealed the deal 30-19.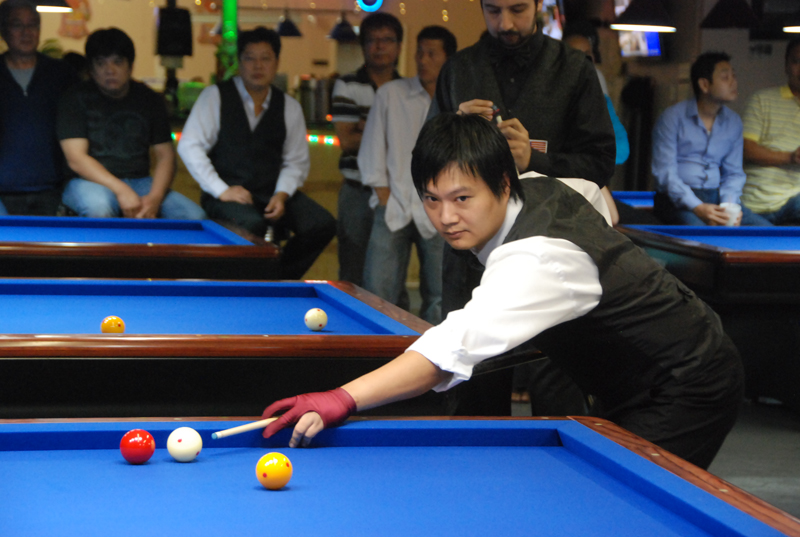 In the most exciting game so far in the tournament, Pedro Piedrabuena, the current US National Champion met Kim Hoang, a local player who performed brilliantly in the first two rounds of the single elimination final 16. Early on Kim was able to take the lead and Pedro was forced to battle back. Each time Pedro came even Kim inched away again. That pattern continued until Pedro took the lead for the first time at 16-14. Then it was Kim's turn to catch Pedro… and he did when he re-gained the lead at 19-18. But the lead for Kim was again short lived as Pedro eased ahead 23-21 after a run of 4. After a miss by Kim Pedro returned and did what he has done many times before. With a crushing run of 5 to get to 28 he put the question to Kim. Although he managed a few more points, it was not to be. Kim would have wait for another day to catch lightning in a bottle in his home town. Pedro wins it 30-25. Everyone agreed… Kim Hoang made himself and all of Houston proud as he showed his brand of skill and determination of the three cushion billiard players in Houston.
Pedro moves on to face Hugo in the final match of the tournament.
3rd round (semi-final) results:
Pedro Piedrabuena 30 vs. Kim Hoang 25
Andres Naranjo 19 vs. Hugo Patino 30
The second (quarter-final) round at Paris is over and with it another upset victory that has electrified the room. The semi-final round will begin with a field that includes Kim Hoang, the surprise of the tournament, a local favorite who adds Michael Kang to the list of those he has bested in this exciting event. In the other games in the round Pedro Piedrabuena and Andres Naranjo advance as expected. The final game between Mazin Shooni and Hugo Patino was another cliff-hanger. Mazin took and early lead, but watched it slip away as Hugo fought back to even at 23. Mazin took back the lead at 27-25 only to see Hugo go five and out to advance.
Here are the results of the second round matches and the pairings for the semi-final round.
2nd round of 8 players results:
Pedro Piedrabuena vs. Jamil Isreal 11
Andres Naranjo 30 vs. Joel Rivera 21
Mazin Shooni 27 vs. Hugo Patino 30
Michael Kang 20 vs. Kim Hoang 30
3rd round (semi-final) of 4 players:
Pedro Piedrabuena vs. Kim Hoang
Andres Naranjo vs. Hugo Patino
The first round in the USBA Tour Open at Paris Bida in Houston Texas is over. The players made some incredible shots and the crowd was held breathless as they watched the final game in the round between former US National Champion Sonny Co and local player Kim Hoang. When the final billiard was made it was an upset victory for Kim Hoang who advances to the final.
Here are the results of the first round matches and the pairings for the next round.
1st Round: Single Elimination:
Pedro Piedrabuena 30 vs. Ellis Lawrence 2
Andres Naranjo 30 vs. Jim Shovak 18
Mazin Shooni 30 vs. Peter Nguyen 15
Michael Kang 30 vs. Patrick Tran 14
Sonny Cho 27 vs. Kim Hoang 30
Hugo Patino 30 vs. Thanh Vu 17
Joel Rivera 30 vs. Dung Nguyen 19
Jamil Isreal 30 vs. Cong Nguyen 22
2nd round of 8 players now set:
Pedro Piedrabuena vs. Jamil Isreal
Andres Naranjo vs. Joel Rivera
Mazin Shooni vs. Hugo Patino
Michael Kang vs. Kim Hoang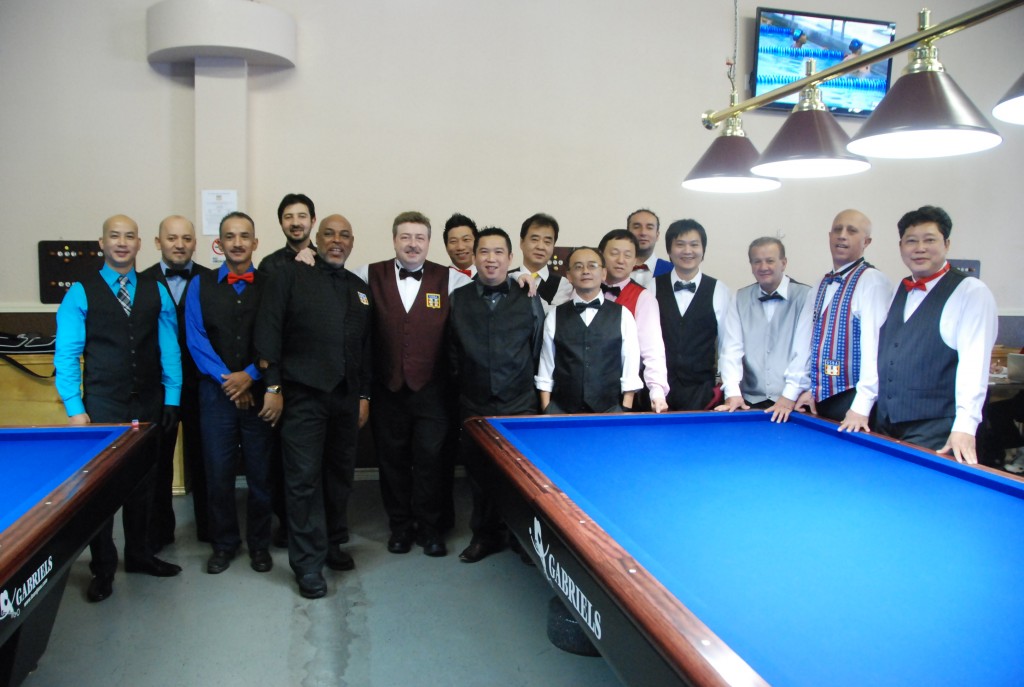 16 Finalists
The Preliminary Rounds are over at the Paris Bida USBA Tour Open. Nine players from out of Houston will join seven local players in what will be an exciting 16-man single elimination final round. The format means that in the first 8 matches half the field will be elimiated as only the winners will move on. Anything can happen and as we saw in the preliminaries it often does.
Here are the Final standings and the order of finish for pairing in the final round. Joining the 14 players who qualified will be Jim Shovak and Ellis Lawrence who won the lottery for the final two spots.
Seedings:
Player:                                    Finished          Record          Points         PtsAgainst
1) Pedro Piedrabuena             1st                   6-0                 150             75
2) Andres Naranjo                  1st                   6-0                 150             81
3)Mazin Shooni                      1st                   6-0                 150             82
4) Michael Kang                     1st                   5-1                 147             92
5) Sonny Cho                        2nd                  5-1                 146             102
6) Hugo Patino                       2nd                  5-1                 142           87
7) Joel Rivera                         2nd                  5-1                 141           106
8) Jamil Isreal                        2nd                  5-1                 138          114
9) Cong Nguyen                     3rd                   5-1                 140           97
10) Dung Nguyen                   3rd                   4-2                 141            121
11) Thanh Vu                         3rd                   4-2                139            118
12) Kim Hoang                       3rd                   4-2                  134           127
13) Patrick Tran                     4th                   3-3                 126            122
14) Peter Nguyen                    4th                   3-3                 122            121
15) Lottery: Jim Shovak          4th                   2-4               127          132
16) Lottery: Ellis Lawrence      7th                   1-5                 92        143
1st Round: Single Elimination:
Pedro Piedrabuena vs. Ellis Lawrence
Andres Naranjo vs. Jim Shovak
Mazin Shooni vs. Peter Nguyen
Michael Kang vs. Patrick Tran
Sonny Cho vs. Kim Hoang
Hugo Patino vs. Thanh Vu
Joel Rivera vs. Dung Nguyen
Jamil Isreal vs. Cong Nguyen
 CLICK ON LINK TO SEE PRELIMS CHARTS
What an exciting day for Houston's billiard community. For the first time the USBA would hold an Open Tournament attracting some of the best players in the country including current US National Champion Pedro Piedrabuena. Twenty-eight players prepared to do battle over three days with the promise of an extremely excting final. The preliminary rounds to be played Friday and Saturday would consist of four flights of seven in round robin format. The top three from each group plus the best two 4th place finishers would advance to the finals. They will all be joiined by two lottery winners for the final group of 16. Best of all, the tournament will climax with a 16-man single elination. The prize fund includes $3000.00 added by the gracious hosts of Paris Bida, one of the premier billiard rooms in the country featuring 8 Gabriels tables. USBA tour sponsors contributed $4500.00 for a total of $7500.00 added. Here are the list of players subscribed. We will keep you updated each evening with the results. And look for our announcement about live streaming of the finals.m
28 Players List
Mazin Shooni
Hugo Patino
Dung Nguyen
Thanh Vu
Michael Kang
Sonny Cho
Jim Shovak
Jamil Israel
Nacho Galindo
Kiet Nguyen
Joel Rivera
Lan Vo
Pedro Piedrabuena
Cong Nguyen
Ellis Lawrence
Phuc Le
Richard Ton
Jim Spears
Duc Dao
Peter Nguyen
Paul Frankel
Tom Rossman
Dung Truong
Toan Nguyen
Duy Tran
Andres Naranjo
Kim Hoang
Patrick Tran
2012 USBA TOUR OPEN in Houston, TX
Paris Bida Billiards
11810 Bellaire Blvd, Suite A
Houston, TX 77072
Added Money : $7,500.00
Prize Fund : $15,000.00**
First Place: $4,000**
| | | |
| --- | --- | --- |
| 1st $4000 | 5th $1250 | |
| 2nd $3000 | 6th $1000 | |
| 3rd $2000 | 7th $800 | |
| 4th $1500 | 8th $600 | |
9th through 16th place each receive $100
**$15,000 prize fund is based on 28 players (8 "A" players + 20 "B" or "C" players) + expected lottery proceeds. 100% of money received from lottery is added to the prize fund. The prize fund distribution may change depending on the number of players inscribed in the tournament & lottery proceeds.
Entry Fee: "A" Players (.800+ average) = $335*
"B" or "C" Players (below .800 average) = $235*
*If you show your current USBA Membership Card, you receive a $25 discount
Entry fees are refundable up until the start of the player's meeting.
The top USBA-ranked "A" players (which may include foreign players) will be seeded into the Qualification groups, one per group. The remaining players will be assigned by random draw. 28 players divided into 4 Groups of 7 players-playing round robin. Matches will be 25 points. The top 3 finishers from each Group plus the two-best 4 th place finishers advance to the FINALS along with two Lottery winners. 16 players total in the FINALS.
Finals Format
16 players will play SINGLE elimination with matches to 30 points.
Dress Code: FULL DRESS ATTIRE: dress shirt, black slacks, black shoes, formal-wear tie and vest.