Jasper's Wins The Verhoeven Open

Dick Jaspers master class in metropolis New York
Posted by Frits BAKKER on July 27, 2015
Dick Jaspers master class in metropolis New York
© Kozoom/Korea
Dick Jaspers shows his joy after he won the final against Tayfun Tasdemir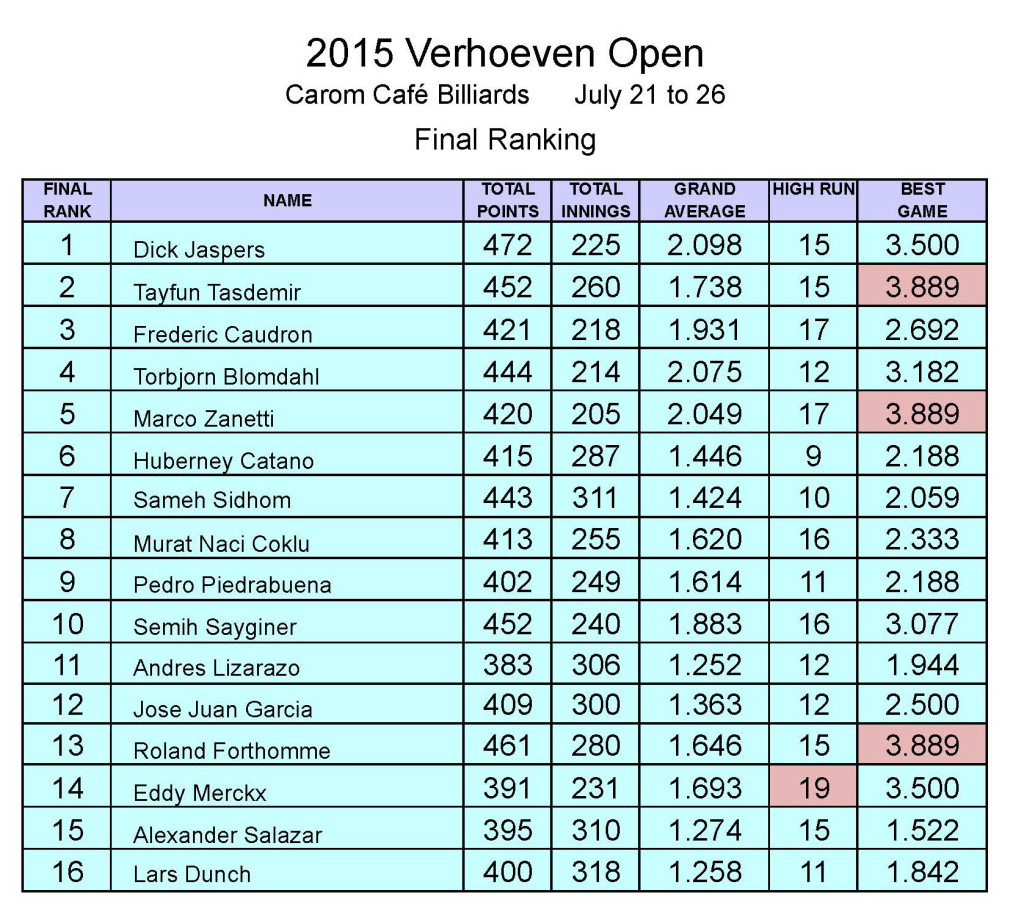 NEW YORK РThe man at the top of his game, 50-year old Dick Jaspers, has marked the milestone in his life by one of the greatest victories in his career. The Dutch world class player, triple world champion, won the Verhoeven Open tournament in the metropolis New York, where almost all the star players battled for the trophy and the 8000 dollar main prize. Dick Jaspers defeated in the final Tayfun Tasdemir 40-33 in 13 innings. In the run-up to the final, the Dutchman had showed his superior form against Alexander Salazar (40-24 in 22), Marco Zanetti (40-26 in 16) and Fr̩d̩ric Caudron (40-21 in 15). Tayfun Tasdemir reached the final by wins over Lars Dunch (40-35 in 36), Murat Naci Coklu (40-28 in 18) and Torbj̦rn Blomdahl (40-32 in 14).
The Open Verhoeven brought sixteen finalists in the spotlights at the end of the tournament and looked back to a very high quality event. The only bad luck at the start was the withdrawal of two strong Koreans Sung-Won Choi and Dong Koong Kang, who had to show up for a tournament in Korea.
The organization in the Carom Cafe reduced the format from eight to six seeded players, of whom Jaspers, Caudron, Blomdahl, Zanetti and Merckx qualified for the knockout round. Raymond Ceulemans, the legend, got stuck in the semi-finals.
The final match was a real masterpiece between two players, who were in balance for a long time, launched by a fifteen-run of Jaspers and averages in the first part over three. Dick Jaspers opened the attack after the break, as he had done before with Salazar, Caudron and Zanetti with a lot of ball feelings, positional play, well timed high runs, a solid defense, showing his strong mental power at the table.
The Dutchman put up a fight to close a small gap in the middle of the match when Tasdemir showed himself the great fighter who refused to give up. But then, eventually, Jaspers decided the match, leading 32-30, running out to 39-32 and then closed the game with a magnificent winner.
The crowd in the Carom Cafe cheered for the two finalists: Dick Jaspers, who received 8000 dollars for the main prize, showed his touching joy with the cue in the air and thanked the organization and the audience during the ceremony for a great week in Michael Kangs' billiard palace.