2011 PartyPoker.net World Cup of Pool Super Germany are World Cup champs!
Super Germany a re World Cup champs!
Final Result
Germany 10 – 4 Thailand
GERMANY became the first ever European winners of the PartyCasino.net World Cup of Pool as they made light work of shock finalists Thailand to record a superb 10-4 victory and claim the gold medals, trophy, $60,000 and more importantly the title at the SM Mall North in Manila.
Thorsten Hohmann and Ralf Souquet put in an inch perfect performance to run away with the match in sharp contrast to their semi-final game earlier in the day when they laboured to a pedestrian win over Korea.
They clearly gave themselves a good talking to between matches as they returned with the type of form that has made them two of the most feared players in the world. For Souquet it was a culmination of a magnificent seven days that saw him win the PartyPoker.net World Pool Masters last Monday and his total haul for the two events has been $50,000.
"It's still hard to believe and it hasn't sunk in yet. We really worked hard for the title and held ourselves together," said a jubilant Souquet.
"We had a really hard semi-final that could've gone wrong and I played awful against Korea but Thorsten carried me to the final.
"I always said you can only lose as a team and we certainly won as a team. Playing here in Manila in the Philippines is the best thing that has happened to pool."
The Thailand pair of Kobkit Palajin and Nitiwat Kanjanasri can be justifiably proud of their efforts. Surrounded in South East Asia by powerhouse pool nations like Taiwan and the Philippines, the unheralded Thais played superbly throughout the tournament.
Their semi-final showing, defeating Taiwan 9-3, was one of the best performances of the event, but the Germans were unstoppable in the final. Thailand had never got beyond the first round in previous appearances in the event but opened up with a decent win over Holland. They beat Estonia in the next round before outplaying Poland in the quarters and the two Thais receive $15,000 each for their efforts.
Souquet and Hohmann had opened their account with a whitewash against Australia and then beaten Malaysia in the second round. They put out Filipino legends Efren Reyes and Bustamante in fine style in the quarter final before scraping through against Korea in the semis.
"There were 32 great teams and this is definitely one of the highlights of my career and I am very proud to be on Ralf's side," said an emotional Thorsten Hohmann.
The PartyPoker.net World Cup of Pool features 32 two-player teams representing 31 nations – hosts Philippines have two sides. The total prize-fund is $250,000 with $60,000 going to the winning pair.
The 2011 World Cup of Pool is sponsored by PartyPoker.net, the world's leading online poker school. Cloth is supplied by Iwan Simonis, Super Aramith balls by Saluc, tables by Star Xing Pai and the Official Cue is Predator.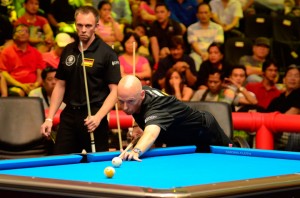 Results to date –
Semi  Finals
Germany 9 – 7 Korea
Thailand 9 – 3 Chinese Taipei
Losers receive $16,000
Quarter Finals
Thailand 9 – 6 Poland
Chinese Taipei 9 – 8 Philippines A
Korea 9 – 5 Sweden
Germany 9 – 1 Philippines B 9
Losers receive $10,000
Last 16
Taiwan 8 – 7 Italy
Philippine 8 – 6 Canada
Germany 8 – 3 Malaysia
Korea 8 – 6 Japan
Thailand 8 – 4 Estonia
Poland 8 – 3 Singapore
Sweden 8 – 6 Switzerland
Philippines B 8 – 5 India
Losers receive $5,000
Round One
Chinese Taipei 8 – 4 Russia
Italy 8 – 6 Hong Kong
Singapore 8 – 7 USA
Philippines A 8 – 2 Austria
Estonia 8 – 6 England
Thailand 8 – 4 Holland
Germany 8 – 0 Australia
Malaysia 8 – 6 France
India 8 – 7 Finland
Philippines B 8 – 4 Kuwait
Korea 8 – 5 Spain
Japan 8 – 3 Croatia
Switzerland 8 – 5 China
Sweden 8 – 7 Indonesia
Losers receive $3,000
Luke Riches, Matchroom Sport: luke.riches@matchroom.com  +44 7785 395688
Notes: Matchroom Sport are one of the world's leading producers of televised sport and are responsible for over 1,100 hours of original programming across a range of sports. Based in the UK and chaired by charismatic founder Barry Hearn, the World Cup of Pool is one of a stable of pool events that include the World Pool Masters and the Mosconi Cup.