Van Boening Earns Fifth US Bar Table 9-Ball Champion title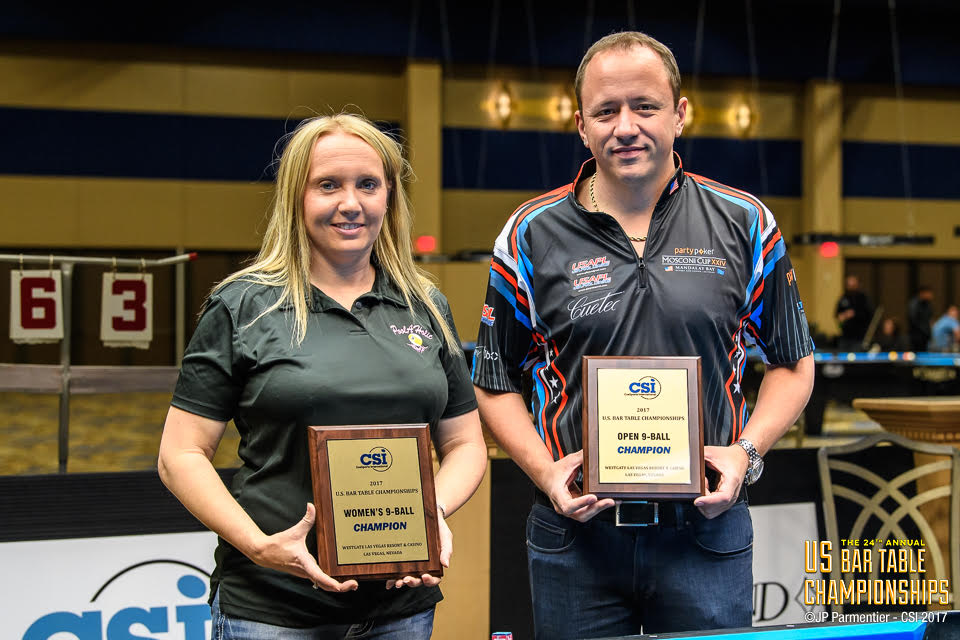 CueSports International, Henderson, NV (Dec. 14, 2017) — Shane Van Boening of South Dakota added a fifth US Bar Table 9-Ball Championship to his resume Thursday at the Westgate Las Vegas Resort & Casino, beating James Aranas of the Philippines in the finals, 9-2.
Van Boening went into the finals undefeated, posting wins over: Abrin Schaad, 9-6; Ernesto Dominguez, 9-3; Oscar Dominguez, 9-7; Billy Stephan, 9-1 and Mitch Ellerman, 9-4. Van Boening beat Aranas to earn the hot seat, 9-7.
Aranas' path to the finals included beating: Donald Weatherby II, 9-3; Jeremy Edwards, 9-7; Jason Klatt, 9-6; Sky Woodward, 9-8; and Amar Kang, 9-7. After losing the hot seat match, Aranas beat Jesse Engle, 9-2, to earn a place in the finals.
Van Boening kept control in the final match from the start, jumping out to a 4-2 lead. In the seventh rack, the players traded safeties until a kick by Van Boening left the one ball open for Aranas, who then uncharacteristically missed a six ball to let Van Boening back to the table. They traded safeties again until Aranas made a good hit on the seven ball and then scratched, giving Van Boening the game. Van Boening then broke and ran, to go up 6-2. Aranas scratched again in the next rack, giving up another game. Van Boening broke and ran again, then ran out the final rack after Aranas broke dry.
Van Boening, player representative for the USA Pool League, previously won the 9-Ball Division at the US Bar Table Championships in 2015, 2014, 2013 and 2010. On Tuesday, Van Boening earned second place in the 10-Ball Division.
Payouts:
Shane Van Boening $3,500
James Aranas $2,100
Jesse Engel $1,400
Amar Kang $900
Mitch Ellerman $600
Shaun Wilkie $600
Josh Smith $400
Sky Woodward $400
Ernesto Dominguez $225
Billy Stephan $225
Demetrius Jelatis $225
Abrin Schaad $225
Mark Wissman $150
Vinnie Calabrese $150
Oscar Dominguez $150
Dave Strachan $150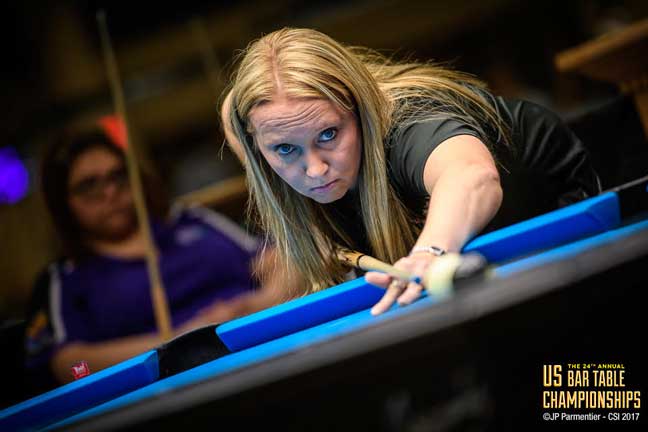 In the Women's Division, Jessica Frideres added the title of USBTC 9-Ball Division Champion to her resume, to complete a trifecta of USBTC titles. Frideres, of Fort Dodge, Iowa, won the USBTC 8-Ball Division in 2013, and the USBTC 10-Ball Division in 2016. Frideres' went into the finals undefeated, having bested Molly Oliver, 7-3 and Rachel Lang, 7-5, before beating Heather Cortez for the hot seat.
Cortez's path to the finals included wins over: Trinh Lu, 7-4; Amanda Stevens, 7-1; and Rhonda Moses, 7-1, before Frideres sent her to the B-side of the bracket. Cortez then beat Trinh Lu, 7-4, to earn her place in the finals.
But Cortez's efforts in the finals weren't enough to beat Frideres, who beat Cortez 7-3 to earn the title.
Payouts: 1. Jessica Frideres, $825; 2. Heather Cortez, $425; 3. Trinh Lu, $250
The 24th US Bar Table Championships kicked off Sunday at the Westgate Las Vegas Resort & Casino. The 8-Ball began Thursday and continues through Saturday, Dec. 16.
For more information, contact Mary Coffman, CSI Marketing Manager, at 702-719-7665 or by email at mary@playcsipool.com.