Kline and Ladin Win Arizona State Junior Championships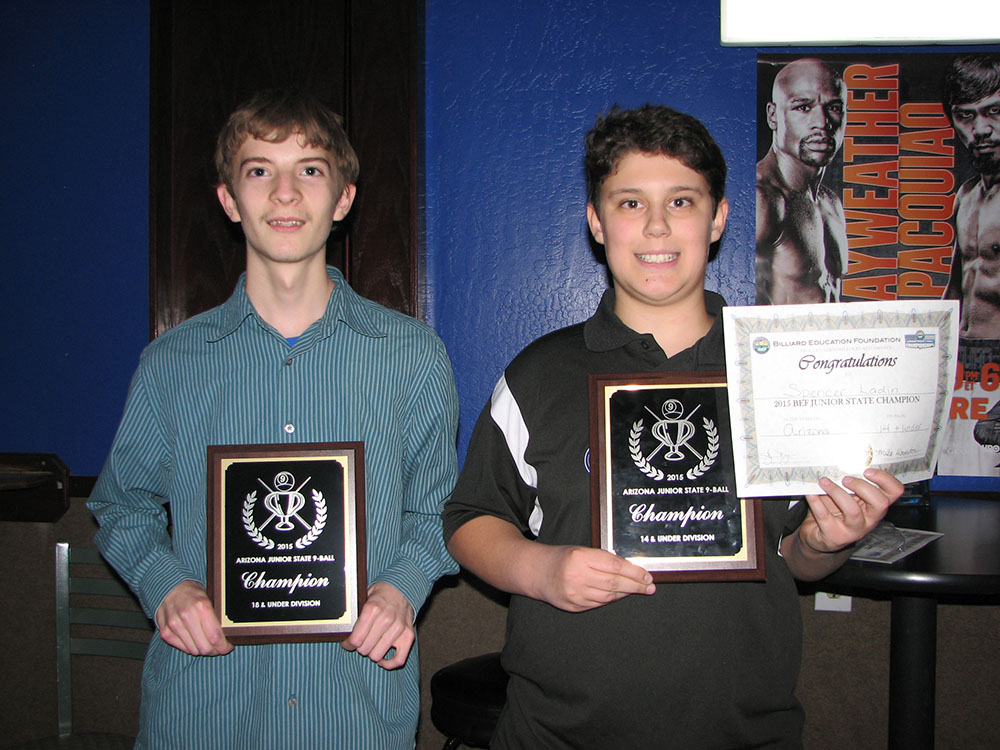 Story Courtesy of Arizona Billiard and Dart News
June 4, 2015 (Denver, CO): Nick Kline and Spencer Ladin won their respective divisions to earn crowns at the 1st Annual Arizona State Junior 9-Ball Championships at Bull Shooters Sports Bar and Grill in Phoenix Arizona on May 16th.
While the 18 & Under open division was won by early favorite Nick Kline, the win was not easy for the 17 year old player. Kline took the hot-seat with convincing wins over Oscar Avila Jr, and Mark Avalos, but he would be tested before his final victory. On the one loss side, Avila Jr followed up a hill-hill win over Mike Dale with a 7-2 win over Avalos for his spot in the finals. The first set of the double elimination finals went to Avila 7-6. Parents and fans watching the finals were treated to another hill-hill match in the second set, this time won by Kline.
The 14 & Under open division saw California's Spencer Ladin race to the hot-seat with wins over Tory Conley, Jaden Lord and Jaynythan Craig. Ladin's opponent in the finals was James Diaz, who bounced back from a first round loss to win three straight matches. The first set of the finals saw Diaz score a 7-4 win to force a second set, but Ladin came back to win the second set by an identical 7-4 scoreline.
Tournament staff thanked Bullshooters owner Mike Bates and his staff for hosting yet another great event. Thanks were also given to parents Donna Dale and Candi Kline for their help in putting put the event together.
18 & Under Division
1st Place
Nick Kline, age 17
Prescott, AZ
Custom Plaque, Certificate, Paid Entry to 2015 BEF Jr Natls
2nd Place
Oscar Auila, age 17
Phoenix, AZ
3rd Place
Mark Avalos, age 15
Anthem, AZ
14 & Under Division
1st Place
Spencer Ladin, age 11
Phoenix, AZ
Custom Plaque, Certificate, Paid Entry to 2015 BEF Jr Natls
2nd Place
James Diaz, age 14
Phoenix, AZ
3rd Place
Jahnythan Craig, age 11
Phoenix, AZ