The Inaugural Atlanta Billiard Show
The Inaugural Atlanta Billiard Show
By Rick Doner  Tournament Director
Amateur and professional players descended on the Atlanta area for the inaugural Atlanta Billiard Show, held October 1st through the 3rd 2010.  Dawn Hopkins of Dawn Hopkins Promotions put together a great show and event for pool players from all as far away as Montreal Canada.
Along with exhibitors, The WPBA was in town for the WPBA Atlanta Classic, the Ultimate Trick Shot Tour "Southeast Classic", the American Poolplayer's Associations Southeast 8 and 9 Ball Singles Regional.  Five Open Amateur events, including Open Men's, Open Women's, Open Senior, with two Junior National Qualifiers (18 & Under and 14 & Under) made this a fantastic first time event.  All in all there were over 1200 players involved, playing on 90 diamond tables.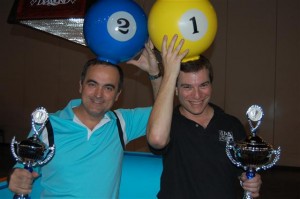 The WPBA and Trick Shot players kicked things off on Wednesday September 29th with a charity challenge event with all money raised going to educational scholarships for the Junior events and the Billiard Education Foundation who helps promote juniors events for the next generation of pool players.
Thursday September 30th saw the opening rounds of the WPBA Atlanta Classic and the Ultimate Trick Shot Southeast Classic. In the finals on Sunday Jasmin Ouschan came back from being down 5-2 to beat Monica Webb in the finals 7-6 in a great hill-hill match.
Thursday was also the day that the amateurs started descending on Atlanta.  APA and Open events began Friday, with play ending Sunday.  Strong fields came together in both the APA and Open events in Modified Single Elimination play.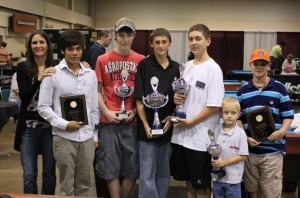 The Junior players were particularly impressive, with many of the 18 & Under players also entering the Open Men's and Women's events.  Skylar Woodward assured himself of appearing in yet another Junior National tournament by winning the 18 & Under Division.  Long time Junior Girls participant Chelsea Hardwick was the highest finishing girl in the 18 & Under Division and also placed 5th-8th in the Women's Open. 
Seven year old Jewell Wilder took the 14 & Under Junior Nationals girls qualifying spot in her first ever tournament, with Nick Evans winning the 14 & Under Division.
The Men's, Women's and Senior Open events also saw some great play.  When the dust had cleared Nicholas Vita had taken top honors in the Men's Open and Josh O'Neal held on for second.  Shelly Harrison was the top player in the Women's Open, with Borana Adoni taking second. The Seniors endured the marathon of play over the weekend and played some great pool.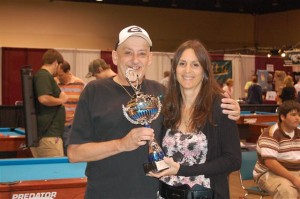 In the end Billy Tyler was the top finisher in the Seniors.
Kim Bennett took second.
Olhausen Billiards and Bobbleball.com sponsored a Bobble Ball 9 Ball Tag Tournament.  First Place Winners: Masters/Pro Division $500: Bryan White – Amateur Division $500: Curtis Hale – Junior Division $200: Tyler Mayfield