Surprise Final Four: Summary of JBETpoker.net Women's World 10-Ball Championship
Surprise Final Four: Summary of JBETpoker.net Women's World 10-Ball Championship
By Sally Lee
Manila, Philippines- The event has winded down to the final 4 players of the original 48 women that began at the JBETpoker.net Women's World 10-Ball Championship . The final four countries represented will be Japan, Taiwan, Austria, and surprise entrant Philippines. Below is a highlight re-cap leading up.
The three day round robin featured a few upsets as local favorites such as Iris Ranola(PHL) and Americans Sarah Rousey and Melissa Little failed to qualify. On the other hand, surprise entrant to the next round were 11 year old Gillian Go (PHL). Heavy favorites such as Allison Fisher, Jasmin Ouschan, Kelly Fisher, Karen Corr, Shin Mei Liu, Jeanette Lee, and Yu Ram Cha breezed through to make the top half cut. Karen Corr finished undefeated as the #1 seed into the final 24.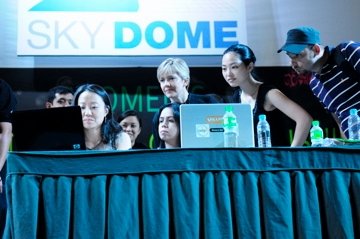 Players anticipate the Re-draw and final seedings of the top 24
The first 16 players would advance to play a #1 group seed player, who received a bye into the final 16. Not many surprises here as Cha easily defeated Go 8-3, Ouschan cruised by Ticoalu (IND) 8-3, Chou defeated Punchoo(RSA), and Taiwan's Lin over Cawahara. The biggest upset was 2x World Champion Ga Young KIm dropping a 8-6 loss to relatively unknown Charlene Chai of Singapore.

A view of the Skydome Arena at SM Mall North Edsa
Up until the final 16, the Taiwanese women looked near invincible. But in reaching the final 16, the flawless Taiwanese women saw chinks in their armor. First Karen Corr dismantled Yuan Chun Lin to 9th place, crowd favorite Amit overcame the strong Hsiang Ling Tan, and then Kelly Fisher annihilated Chieh Chou 8-2. Only Shin Mei Liu made it to the quarter finals with her convincing 8-1 domination of Chai.
Yu Ram Cha of Korea continued to make her mark with wins over Shin Mei Liu in the round robin 5-4, and then defeated Go 8-3, before a marquee match up with the Duchess of Doom Allison Fisher. Cha commanded the match to a 7-3 lead before Fisher made a comeback to 7-7. Fisher attempted a tough combo on the 10-ball, missed and left Cha a missable 10-Ball combo herself, which she made under the pressure and eliminated one of the events biggest favorites to 9th place.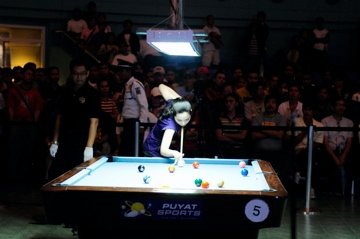 Over a 1000 fans packed the amphitheatre to glimpse at Cha vs Fisher as well as many other matches
Jasmin Ouschan defeated Japan #1 Fuke 8-5 and then took on Cha in the quarter finals. This was a spectacular match as both women look determined to win, and neither giving up many errors. In a high quality match, Ouschan was able to close out at 9-7 when Cha missed the 7ball to run out and tie at hill hill. Cha finished 5th, a dramatic improvement from her last world championship a year ago where she finsihed tied for last.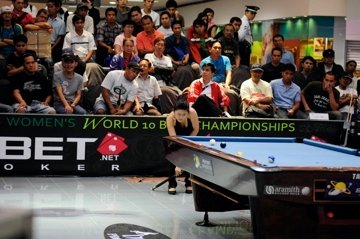 Ga Young Kim eyes a tight shot
In a long match that lasted over 3 hours, Kajitani of Japan narrowly defeated Corr 9-7 in a match where both players blew numerous opportunities. In another match of errors, Liu of Taiwan missed a 9-ball to win the match against Kelly Fisher and later the hill hill case game missed an easy 8-ball with the 9 and 10 open for the win. Fortunately luck was with her as she left Fisher tough cut. Fisher missed and sold the game to Liu who advanced 9-8.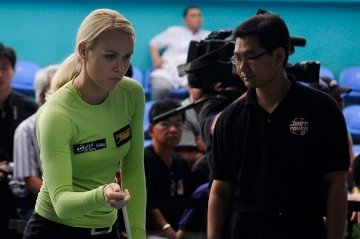 Ouschan feeling ill for the first days, got back into her groove
And finally the popular Jeanette Lee found herself the underdog in the crowd rooting as she faced Filipina Amit in her home Manila crowd. TRailing 4-0, Lee mounted a comback to take her to 6-4 lead. Then Amit came back and the match see sawed to 8-8. In the final game Amit made a tricky out to earn her win to the roaring eruption of the applause of the fans.
"We win!" the fans cheered.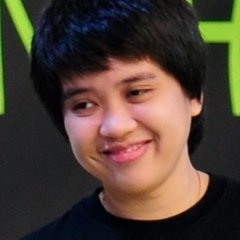 The soft spoken and likable Amit will have the whole country behind her in the final day
Today's semi final matches will be Amit (PHL) vs Kajiatani (JPN) and Liu (TPE) vs Ouschan(AUT). Races to 9 and all filmed live for ABS-CBN and ESPN Star Sports.
Complete group updates and results can be found at www.womensworld10ball.com
The historic event is considered to be the biggest women's sporting event of the year for the Philippines, and one of the biggest in Asia as it draws massive media attention with 40 hours of match coverage going to over 40 countries with 20 hours live on ESPN and equally in its local partner ABS-CBN, the leading TV channel of the Philippines. 48 women from around the globe will attend the event vying for $20,000 (1M) 1st place prize out of the $75,000 (3.75M) purse available.The event is produced by Dragon Promotions and takes place in Manila, Philippines at the SM Mall North Edsa June 2-6,2009. 48 top women pros from around the world are vying for gold to become the Jbetpoker.net Women's World 10-Ball Champion. The historic event is supported by JBETpoker.net, ABS-CBN, SM Mall North Edsa, Magic 89.9, Crowne Plaza Galleria Manila, Predator Cues, Takini Cloth, Puyat Sports, Philippines Star, Bugsy Promotions and recognized by the BMPAP. www.WomensWorld10Ball.com will feature the latest news and results of the Women's World 10-Ball Championship. It will also feature interviews, pictures, and all the info of complete player roster,prize money and match-ups.
"Billiards, the sport of the Philippines. The sport of the people."
For more info email womensworld10ball@gmail.com