Shane Van Boening captured the Players Championship in Valley Forge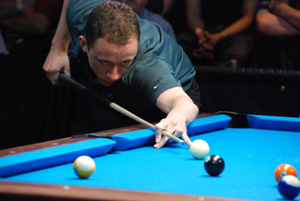 Allen Hopkins Super Billiard Expo in Valley Forge, Convention Center, Pennsylvania now in its 18th year was bigger then ever. With a whopping 179 Diamond Pool Tables and plenty of deals on billiard merchandise with over 130 vendors to choose from.
The Super Billiards Expo has earned its reputation as the largest consumer tradeshow in the industry by continually bringing you the finest manufacturers, retailers, and custom cue makers in the billiards world. Plan ahead for next years Super Billiards Expo 2011 date is March 10-13
March 18 – 21, 2010
Open 10-Ball Professional Players Championship
Valley Forge Convention Center King of Prussia, Pa
Van Boening New Players Champion
Shane Van Boening captured the Players Championship in Valley Forge at the Super Billiards Expo by coming back from the one-loss side in the finals and defeating the man, Jonathan Pinegar, who had earlier handed him his only loss.
Van Boening had cruised through the early stages of the event, handing defeats to star players like Frankie Hernandez, Mike Davis and Shawn Putnam. But he ran into a buzz-saw when he faced Pinegar for the first time. Pinegar had done some tall tree chopping of his own and had already beaten Dave Grau, Jason Klatt and Johnny Archer before taking on Shane.  After beating Van Boening Pinegar continued his hot hand and sent Corey Deuel left to take the hot seat and await the finals.
The losers bracket was a toss-up populated by many of the greatest players in the game today. To get to the final table Van Boening had to beat Dennis Hatch, then Thorsten Hohmann and then, finally, Corey Deuel. That done he then had to regroup and prepare himself to take on the only man in the field with enough stick to beat him, a fact that had been proven earlier in the day.
Pinegar would not be able to get past Van Boening again. Even though he had the momentum on his side Van Boening came with determined aggression and some fine safety finesses to take the crown and become the Players Champion for 2010.
By Jerry Forsyth – AzB Staff
Place            Playername                        Prize Money
1st Shane Van Boening            $10,000.00
2nd Jonathan Pinegar            $5,000.00
3rd Corey Deuel                        $4,000.00
4th Thorsten Hohmann            $3,000.00
5th Shawn Putnam                        $2,500.00
5th Dennis Hatch                        $2,500.00
7th Rodney Morris                        $2,000.00
7th Mike Davis                        $2,000.00
9th Al Lapena                        $1,700.00
9th Earl Strickland                        $1,700.00
9th Johnny Archer                        $1,700.00
9th Mike Dechaine                        $1,700.00
13th Shaun Wilkie                        $1,400.00
13th Ryan McCreesh                        $1,400.00
13th Marlon Manalo                        $1,400.00
13th Joseph Testa                        $1,400.00
17th Robb Saez                        $1,200.00
17th Ralph Eckert                        $1,200.00
17th Hunter Lombardo            $1,200.00
17th Ronnie Wiseman            $1,200.00
17th Chris Bartram                        $1,200.00
17th Charlie Williams            $1,200.00
17th Jason Klatt                        $1,200.00
17th Jamie Baraks                        $1,200.00