Williams Knocks Out #1 Seed Gomez
Williams Knocks Out #1 Seed Gomez
By Sally Lee
Event promoter and host Charlie Williams has made time out to eliminate the best playing pro Roberto Gomez of the Philippines. Gomez was the #1 seed with only 3 total games lost in the entire tournament thus far, while Williams made it through to this stage with 26 games total lost at #32 seed. Ozone Billiards presented the 112 top players from around the globe along with top sponsor JBETpoker.net on the Dragon Promotions production at the Riviera Hotel & Casino May 11-16,2009 during the BCAPL's National 8-Ball Championships. The 9th Annual Predator International 10-Ball Championship features live scoring of the entire event on www.Predator10ball.com .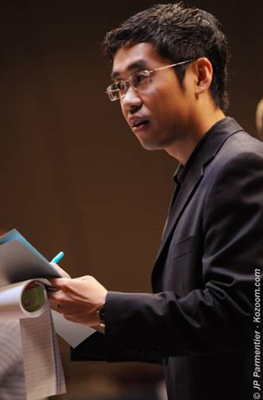 Williams puts away his producer disguise to transform into The Korean Dragon
The match started out with Gomez taking a 3-1 lead. A foul by Gomez gave Williams an opening and he took the next 3 racks to lead 4-3. Game 8 was crucial as Gomez ran out but left himself no shot on the 10-Ball. He played a great safety leaving Williams at the top rail with a long bank on the 10Ball. Williams fired in the bank to lead 5-3 and never looked back as he swung all the momentum his way for a 11-5 win.
"He looks more like a "Charlie Drago" the way he was speeding around the table firing balls in. Charlie fires in the last ball like how Cornbread Red used to", said Jay Helfert, author and co-tournament director.
Williams has now eliminated three Filipinos from the event. Santos Sambajon, Ramil Gallego, and Roberto Gomez have all fallen to the Korean Dragon.
When asked, Williams just chuckles. "I have a pretty good track record against Filipino players and Taiwanese. I don't know why. I really do enjoy playing them. Maybe they're surprised that a promoter and part time player can play this level."
In other matches, Alex Pagulayan comes back from behind a 7-2 deficit to win 11-9 against Vincent Facquet of France. Johnny Archer cruised through Portugal's Manuel Gama, and the great Jasmin Ouschan was stopped by England's Karl Boyes 11-6. Rodolfo Luat also eliminated Steven Folan who had a great tournament with notable wins over Hundal and Van Boening.
JBETpoker.net is offering bonus money to the top woman's finisher of $1000 and $500 for the second highest in addition to the regular prize money.
Players or fans wanting info please email world10ballchampionships@gmail.com or call 1-407-782-4978 www.dragonpromotions.com
For more info on The Predator International 10-Ball Championships goto www.predator10ball.com
Ozone Billiards www.ozonebilliards.com is also joined by www.Jbetpoker.net, Simonis Cloth, Diamond Tables, Aramith Balls, Laser Rack, Uni-Loc, and the event host BCA Pool Leagues in this Dragon Promotions production.
Predator Group, an international billiards industry leader, is focused on bringing constant innovation and game-improving equipment to billiards players worldwide. Headquartered in Jacksonville, Florida, USA, Predator Group's core brands include Predator Cues – high-end (professional level) cues with revolutionary technology to enhance performance, Poison Billiards – recreational cues with cutting-edge designs and Predator engineering for best-in-class playability, and Uni-Loc® – precision billiards equipment manufacturer. For more information regarding Predator Group's products, visit www.predatorgroup.com.
Dragon Promotions is one of the leading producers of billiard programming in the world today. Dragon produces over 40 events a year airing on networks in the Philippines, USA, Korea, India, and Europe such as ABS-CBN, ESPN, MBC ESPN, XTM, XPORTS, and Euro Sport. Events include The Women's World 10-Ball Championship, The World 14.1 Championship, The Predator International 10-Ball Championship, King & Queen of Carom, Empress Cup, Pro Pool Schools, Women's Trickshot Challenge, World Junior 10-Ball Championships, Korea vs USA, and many more. Dragon also manages some of the world's best players including Mika Immonen, Shanelle Loraine, Mike Davis, Yu Ram Cha, Raj Hundal, , Rodney Morris, Charlie Williams, and many more.
Visit www.dragonpromotions.com or www.dragonpromotions.co.kr