2015 Derby City Classic Master of the Table Alex Pagulayan
2015 Derby City Classic Master of the Table by Ricky Bryant
The Master of the Table points are earned in the three main events of the DCC. The three main events are 9-Ball Banks, One Pocket and 9-Ball. The higher you finish the more points you receive. By Thursday there was a short list of players in the hunt for the Master of the Table and prize of $20,000 dollars.   In the hunt were Shannon Daulton, John Brumback, Justin Hall, Efren Reyes and Alex Pagulayan. Hall eliminated himself when we over slept to miss his 9 ball match and also missed the buy-back. Imran Majid stopped John Brumback's run for the title and Warren Kiamco stopped Efren Reyes. Shannon Daulton's 55th place finish in the 9-ball eliminated him.
Before the start of the 9 Ball finals it was announced that Alex Pagulayan had secured his first Master of the Table. This also adds another mile stone accomplishment for Alex making him the First to hold all four of the Derby City Titles, having won the One Pocket earlier in the week and the other 2 in previous years. Congratulations Alex, Efren Reyes took second for $3,000 and John Brumback third for $2,000.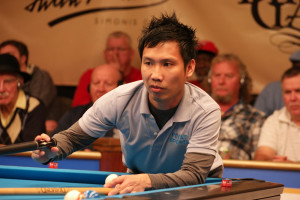 After five days of play the 2015 DCC One Pocket was crowned in the 14th round of play. Alex Pagulayan had to defeat Mike Dechaine twice to take the crown. This also makes Alex the only player to have won all 3 of the events at the DCC over it's 17 years.
The 2015 Derby City Banks started on Friday with 207 players in the banks.
Shannon Daulton wins The Banks John Brumback 2nd place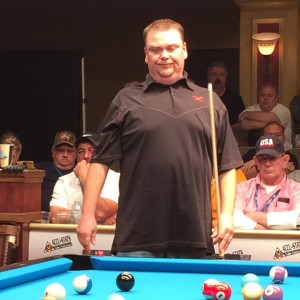 SHANE VAN BOENING WINS BIG FOOT 10 BALL CHALLENGE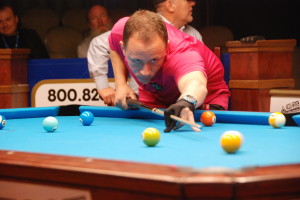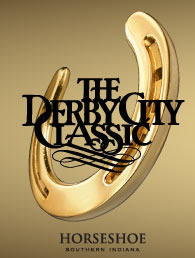 2015 Derby City One Pocket Mini results from Tuesday night:
1st  $800  Rob Hart
2nd  $400  Dave Krenzel
3rd/4th  $200 ea  Marc Vidal / Lee Brett
5-8th  $50 ea  Corey Eulas / Cal Smith / Dave Grossman / John Neels
One pocket, race to 2, single elimination, 32 players
$25 entry with $1000 added
Thanks to our sponsor:  Cyclop Pool Balls
Steve McDonald, Tournament Director
2015 Derby City Banks Mini results from Saturday night:
1st  Tony Mougey  $800
2nd  Josh Lewis  $400
3rd/4th  Kaelin Conkright / Marco Teutsher  $250 ea
5-8th  $125 ea
9-16th  $50 ea
9-ball banks, race to 2, single elimination, 64 players
$25 entry with $1000 added
Thanks to our sponsors:  Diamond Billiard Products, Simonis Cloth, Master Chalk
Steve McDonald, Tournament Director