Day Two Complete at World 8-Ball Championships
Day Two Complete at World 8-Ball Championships
-Jerry Forsyth-
WPA Press Officer
Our second day of competition at the Etisalat World 8-Ball Championships in Fujairah, UAE, began with a round of winner's side match-ups. The Russian powerhouse, Ruslan Chinakhov, got his day underway with a satisfying 8-6 victory over David Alcaide after Alcaide had led the match early at 3-0.  Ronnie Alcano also trailed early in his match against Mohammed Hosani and at one point trailed 5-1 only to dig down deep and rally to an 8-6 win.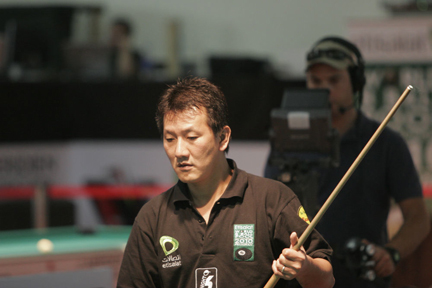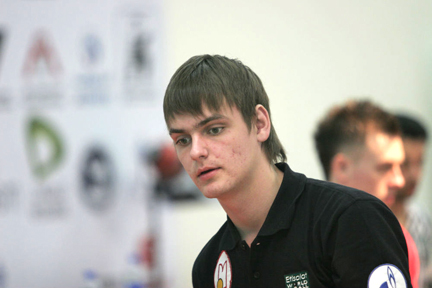 Ruslan Chinakhov
Ricky Yang made t look easy as he trampled one of the strongest players in the world, Pei-Wei Chang, 8-2 and in a match that saw a lot of its time consumed with racking issues Karl Boyes ate up Won Sik Ham 8-3. Yukio Akakariyama easily handled Mehdi Rasheki 8-4 and Joven Alba never broke a sweat as he dominated Scott Higgins 8-3. Raymond Faraon then beat Vincent Facquet 8-3 and Lee van Corteza finished the round by defeating Dennis Orcullo 8-5.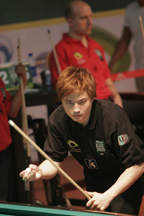 Pin-Yi Ko
The second round, also winner's side, had some great match-ups. Pin-Yi Ko vs. Shane van Boening, Thorsten Hohmann, vs. Andreas Roschkowksi, and Huijdi See vs. Antonio Gabica among them. Van Boening was the first to finish, cruising past Ko 8-4 in a marvelous display of position play.  Shortly later Jalal Sarkesi booked his seat into the final 32 with an 8-5 win over Mustafa Hassan in a match that was tied at 5 games apiece before Sarkesi found his high gear.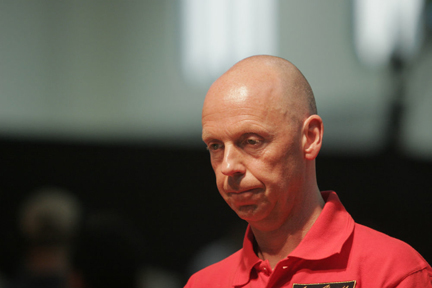 Ralf Souquet continued his winning ways with an 8-1 victory over Reuben Batista while Antonio Gabica kept it a bit closer in his 8-5 win over Huidji See. Niels Feijen bested Shaker Wahdan 8-5 while Stephan Cohen ended his match with an 8-4 win over Basher Hussein.  Andreas Roschkowski came back from a 6-5 deficit against Thorsten Hohmann to win his match 8-6. Darren Appleton closed the round out with an 8-2 victory over Kenny Kwok.
This brought us to the do or die rounds on the one-loss side. Any loss here means your efforts are over and you can only look forward to being a spectator for the remainder of the event. The nerves begin to cook your arm. Marcus Chamat seemed impervious to the heat. He destroyed Ali Nashi 8-0 to begin the round. Neither did Mika Immonen break a sweat as he easily got past Lee Chen Man 8-2. Oliver Medenilla had more of a struggle then the score shows but took advantage of the opportunities when they came and won 8-3 over Majid Sultan.
Other matches were closer. Ismail Yaqob defeated Moein Khefri 8-5 and Saeed Al  Mutawe beat Mohamed Al Assel by the same margin.  Vincenancio Tanio slid by Khaled Sebata 8-6 while John Morra escaped a match that had seen many ties to win 8-5. Finally, Sandile Madlala lived for at least one more round when he inched past Hussin Sayeem 8-7.
The last group of the evening found Matteuz Sniegnocki defeating Sumit Talwar 8-4, Magid Al Azmi over Kang Lee 8-2, Kim Aquino beating Abdulatif Fawal 8-4, Francis Crevier over Abdullah Yousef 8-2 and Jeff de Luna besting Lu Hui Chan 8-6.  Finally, Takhti Zarekani defeated Amin Fekry 8-6 while our last two matches went hill-hill. Marlon Manalo took Salah Al Remwy 8-7 and then Masaaki Tanaki defeated Omran Salem, also 8-7.