Tiger Products, Inc. signs WPBA Pro Cristina DeLaGarza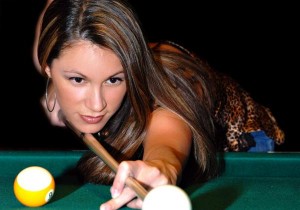 Tiger Products, a manufacturer of fine pool and billiard products, announces their sponsorship of WPBA pro pool player Cristina De La Garza. "I am extremely happy that we have teamed up with Cristina to promote the Tiger® brand. She is very professional & classy woman player who will be a great representative for us and for the game of pool. We have lot of new stuff in works and look forward to working with her for the years to come," said president of Tiger Products, Inc., Tony Kalamdaryan.
DeLaGarza, 2009 National BCA 8-ball Champion, recently took a year off from competition while she was on maternity leave. She has relocated to Zurich, Switzerland with her son and boyfriend, Swiss Champion Marco Tschudi, and will return to competition in 2012 beginning with the Paris Open in January. The pair will plan and promote events in their region of Europe throughout 2012 and 2013 and have teamed up with Tiger Products for sponsorship of these events.  Additionally, DeLaGarza will represent Tiger Products at upcoming billiard events in the U.S. and Europe.
"Tiger makes great quality products and I am excited to be working with them. The popularity of their products is growing across the globe so I look forward to helping promote Tiger both in the United States and my new home in Europe, " said DeLaGarza.  Born in Austin, Texas, Cristina turned pro in November 2008. In addition to her career as a player, she is a recognized writer/reporter and presenter and has worked with top promoters in the industry including Matchroom Sports, American Poolplayers Association, Kozoom, Dragon Promotions and InsidePool Magazine.
Tiger Products, Inc. is a recognized name in the industry, proudly manufacturing pool and billiards products made in the USA. Tiger began with laminated cue tips and now offers a variety of products including cues, shafts and multiple accessories. For more information about Tiger Products, Inc. visit www.tigerproducts.com.