USSA NATIONAL SNOOKER TOUR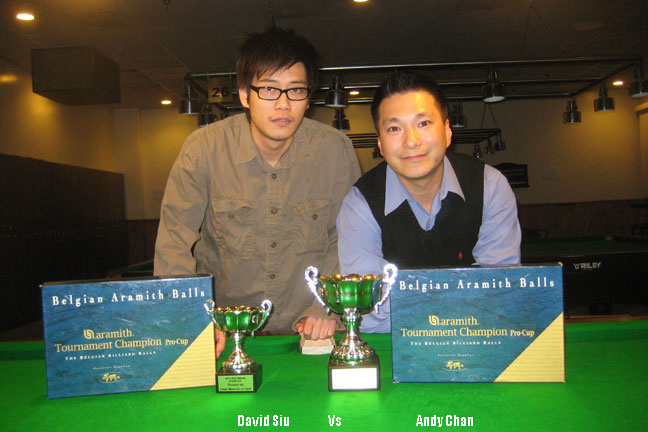 SIU SHINES IN FIRST TOUR EVENT ON THE 2010 USSA NATIONAL SNOOKER TOUR AT EMBASSY CLUB
The United States Snooker Association (USSA) initiated its 2nd Annual USSA National Snooker Tour with the first stop on the Tour at Embassy Billiards Club – directed by USSA director Richard Ham – in San Gabriel, CA, February 16-19. The event enjoyed a 12-player field. A handicap format was adopted for this Tour Event played as a single-elimination knockout competition, which featured the winner of last year's Tour Event at the Embassy Billiards Club, Mei Yi Fei. Yi Fei had the lowest handicap at -45, indicating that he was the favorite for the event. A former United States National Snooker Champion also in the competition, Paul Kimura, had a handicap of -23.
However, in this event David Siu with a handicap of 15 throughout the event took the best advantage of the spot throughout the competition, gaining the Tour stop finals where he faced Andy Chan who was also on a handicap of 15. Both players started each frame with level point scores, and Siu had a comfortable run to victory, as he went on to claim a 3-0 success.
Previously Siu started with a 20-point advantage each frame during his 3-1 semifinal win over Harry Kon, and also scored an excellent 3-0 quarterfinal defeat of Kimura who was yielding 38 points per frame.
Andy Chan played Yi Fei Mei in the semifinals, with the defending champion giving away a huge 60 points per frame which ultimately proved too much even for a player of his ability, and Chan came through a 3-0 winner.
Chan also competed against one of the Embassy Billiards Club's top players in the quarterfinals, as he received a 40-point advantage each frame from Sim Lim, and Chan secured a 3-1 victory.
The USSA National Snooker Tour is sponsored by Aramith Billiard Balls and Strachan West Of England snooker cloth, and the 2010 Tour will feature its second stop (of the six-stop Tour) at Prince Snooker Club in Brooklyn, NY during the dates of February 27-28 (contact Raymond Fung at 917 923-5118 / rayfung196956@yahoo.com). Full Tour schedule and entry details are available at www.snookerusa.com.
Final Results:
1st David Siu (San Gabriel, CA) – $250
2nd Andy Chan (Rancho Cucamonga, CA) – $120
3-4th Mei Yi Fei (San Gabriel, CA) – $60
Harry Kon (Arcadia, CA) – $60
High Run – Truman Wu (Hacienda Heights, CA) – 48
The USAA National Snooker Tour is sanctioned and produced by the United States Snooker Association (USSA) [established in 1991], which is recognized as the USA governing body for snooker by the world-governing body – the International Billiard & Snooker Federation (IBSF) – and which produces the annual USA National Snooker Championships to determine the representatives from the USA to the annual IBSF World Snooker Championships.
– Remaining 2010 USSA National Snooker Tour Schedule –
– Brooklyn, NY – Prince Snooker Club – Alan Morris (USSA rep. – alanmorris@snookerusa.com)
February 27 -28, 2010
– Mountain View, CA – California Billiard Club – Bob Jewett (USSA rep. – Tel. 408-615-7479)
March 13-14, 2010
– New York, NY – New York Athletic Club – Tom Kollins (USSA rep. – Tel. 847-740-6296)
March 20-21, 2010
– Brooklyn, NY – Top 147 Snooker Club – John Lewis (USSA rep. – Tel. 920-662-1705)
April 10-11, 2010
– Mountain View, CA – Shoreline Billiards – Ajeya Prabhakar (USSA rep. – Tel. 408-203-6721)
May 8-9, 2010