ACS Presents Pure X All American Tour Results from Inland Reef in Virginia Beach, VA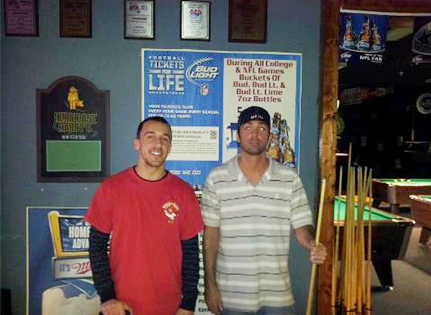 Winners (L) Chris Futrell (1st) and (R) Nick Turner (2nd)
The 2012-2013 Pure X Cues All American Tour – presented by the American CueSports Alliance (ACS) – offered its sixth stop of the Tour year at Inland Reef in Virginia Beach, VA, Saturday, November 10. The $500-added 8-ball tourney on 7-foot Valley bar boxes drew 20 players.
Chris Futrel (Virginia Beach, VA) and Vern Steinke (Virginia Beach, VA) raced to the A-side finals [Futrel clipping Mike Curley (Virginia Beach, VA) 4-2, and Steinke escaping Solomon Chesson (Chesapeake, VA) 4-2], with Futrel taking the hot seat by a 4-1 margin. On the B-side, Solomon Chesson eliminated Joe Hughes (Virginia Beach, VA) at 5th place by a 3-1 margin, while Mike Curley tied with Hughes due to a loss to Nick Turner (Virginia Beach, VA) 3-1. Turner then ousted Solomon Chesson at 4th place via a 3-0 score. Turner continued on to make the tourney finals with a win over Vern Steinke 3-1. The tourney finals were all Chris Futrel, as he claimed the set 4-2 over Nick Turner for the crown.
By virtue of Joe Hughes being the highest-finishing ACS member in the event, he qualified for a free 9-Ball singles entry into the 2013 Pure X ACS Nationals at the Tropicana Las Vegas – courtesy of the ACS. The ACS wishes to thank sponsors Pure X Cues, Championship Billiard Fabric and Nick Varner Signature Cases for their support in donating "Value-In-Kind" product for this and all stops on the Pure X All American Tour. Sponsorship opportunities and tour stop openings are still available for the 2012/2013 All American Tour by contacting the ACS.
The Tour moves to Davenport IA, on Saturday, December 15, with a $500 added 9-Ball Tourney at Sharky's Billiards (contact Terry Stevens at 563-359-7225). Further information, entry details and schedules for the 2012/2013 Pure X Cues All American Tour are available at www.americancuesports.org.