Seoul World Cup 2023 Eddy Merckx: almost invincible in World Cup Finals.
by Paul · November 12, 2023
By Bert Van Manen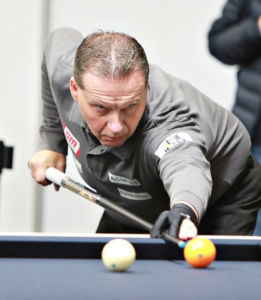 Eddy Merckx: almost invincible in finals.
How do you defeat Eddy Merckx in a World Cup final? Even the greatest talent on the planet couldn't do it today: Myung Woo Cho lost 50-43 in 21/20. The only player who knows is Dani Sánchez, who did it in Hurghada in 2008. Merckx was in twelve more finals in his life, before this one in Seoul, and he won them all.
That incredible record, now 13 out of 14, will make it even harder for his opponents in the future. It's the mark of a great sportsman, to bring their A-game when it's about gold or silver.
In a Korean semifinal, Myung Woo Cho got the better of his even younger and equally talented countryman and friend Ye Sung Jeong. A run of 9 by Cho put some distance between the two, and another 9 took him from 41 to 50. The 50-23 in 24 was disappointing for Jeong, but he played a sensational event, eliminating Blomdahl, Jaspers and Horn.
In the other semi, Zanetti was quickest out of the blocks (18-11 after 5 innings) but Merckx ran a 9 to close the gap and ran away with a 13 a few minutes later: 50-30 in 17 to the Belgian. The Italian maestro could do no better than add yet another bronze medal to his long resume.
Merckx opened the final on a high level (20-4 after 5 innings) but a stretch of 7-5-5 brought Cho back into it. Merckx kept making threes and fours, and in the end the pace was just too much for Cho: 50-43 in 21/20.
The high run in Seoul was shared by Roland Forthomme and Marco Zanetti: 18.
The high tournament average was played by Myung Woo Cho: 2.426.
The best match was shared by Ye Sung Jeong and Myung Woo Cho: 3.333.
In the race for the overall World Cup win of 2023, the situation at the top is very tight: Merckx on 162 pts, Cho on 162 as well, Horn on 160, Jaspers on 152 and Tran on 150. All will be decided in Sharm El Sheik in December.
The new world ranking still has Cho as the number one, and he is followed by Zanetti, Jaspers, Blomdahl, Tran, Merckx, Sidhom, H.J. Kim, P.V. Bao, Tasdemir, Horn, J.T. Kim, J.H. Heo and Bury in the fourteen seeded spots.