Kronos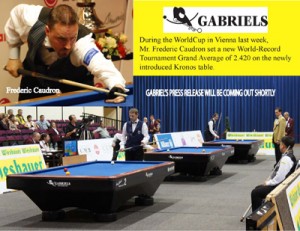 Call now to find out prices.
Contact:   901 756-2594 or Cell 901 210-7251
Professor-Q-Ball Promotions is proud to announce
Champion of Champions
Dedicated to Promoting the Sport
Champion of Champions is once again going to be at the Allen Hopkins Super Billiard Expo on March 8-11, 2012. This 3-Cushion event will again make history for the 2nd time as 11 champions come together to battle it out to see who will become the next Champion of Champions winner.
This event will be played on 3 newly designed Kronos Gabriels Tables.
 The Super Billiards Expo has become the largest consumer orientated show in the history of billiards and I am proud to have again the opportunity to hold this prestige event and hope you will join me in making this historical event come to life.