Veghel World Cup – Dick Jaspers is still king of the hill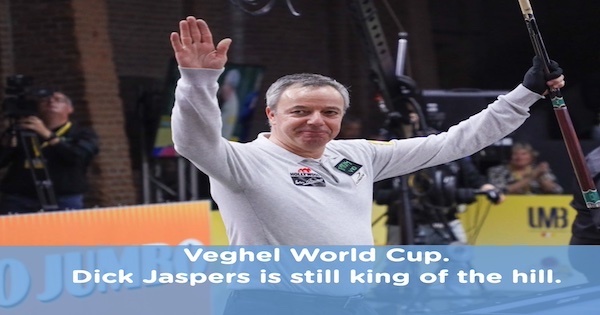 By Bert Van Manen:
He may be fourth on the world ranking list after "Veghel", but in the eyes of many, Dick Jaspers is still the best player in the world. After a somewhat disappointing season, the Dutchman re-established himself with a superior display in the fourth World Cup of 2023. Martin Horn got beaten in a one-sided final of great quality: 50-22 in 12 (!) innings. It was the best World Cup final ever to 50 points.
A Belgian – German encounter in the semifinal saw Eddy Merckx take a 10-point lead against Martin Horn, but Merckx suddenly froze, added just a single point in nine innings and the mentally strong German took full advantage: 50-45 in 28/27.
The other semi was a Dutch affair, with Jean Paul de Bruijn taking on Dick Jaspers. De Bruijn did not do a lot wrong, but he simply got outclassed and outscored: 50-25 in 19. A difficult bank shot by de Bruijn just missed and Jaspers ran a 12, at the right time, then cruised to the win.
Martin Horn, who can look back on a great week, had the worst possible start to the final. He won the lag but made just a single point and saw Jaspers reply with 10. The tone for the final had been set, and it wouldn't change. Jaspers treated the crowd to several of his signature short-long-short shots, a line he controls better than anyone. (He has completely forgotten how to miss those, said Torbjörn Blomdahl). In the 12th inning he made sure of his 28th World Cup victory.
The best tournament average in Veghel was played by Dick Jaspers, an astonishing 2.480.
The high run was made by Nikos Polychronopoulos, with 25.
The best match average was played by Dick Jaspers: 4.166.
Myung Woo Cho takes over from Marco Zanetti as the world number 1. Zanetti is now 2nd, Blomdahl 3d.
The 2023 season has two more World Cups, first in Seoul (November), then in Sharm El Sheik (December).
For full results of Veghel, check the pages of Five & Six (or the UMB).