Hohmann & Archer Hammering at Mezz Classic 14.1
Hohmann & Archer Hammering at Mezz Classic 14.1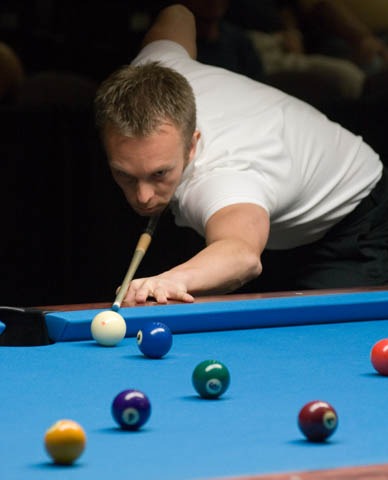 Hohmann, the heavy favorite
Orlando, Florida- Thorsten "Hitman" Hohmann and Johnny "Scorpion" Archer both put up dominating straight pool performances on the first day of the Mezz Classic. Hohmann stayed undefeated as the #1 seed and defending champion as did Archer, #3 seed in the event. The Mezz Classic features both 10-Ball and 14.1 titles. Pros and amateurs from around the country and the world will come to Orlando August 5-9,2009 for all the events taking place at Corner Pocket Billiards. The Dragon Promotions productions are presented by sponsors Ozone Billiards, Mezz Cues, Brunswick Billiards, Simonis Cloth, Aramith Balls, Master Chalk, Laser Rack, Gambler, On the Snap Cue Repair, and House of Billiards.
Hohmann started out with a 125 to 42 win over Tommy Najar. Then he trailed early on but ended in dominant fashion over Korea's Yu Ram Cha 125-67. He ended the night with another commanding lead 125-73 against Rodney Morris, putting Hohmann into the semi-finals. Morris had some superb matches in his 14.1 debut with a 125 to 52 win over the more experienced Mike Davis, then 125-70 over his World Cup partner Van Boening, and then he finished his match in 3 innings against former Mosconi Cup team partner Charlie Williams 125-91.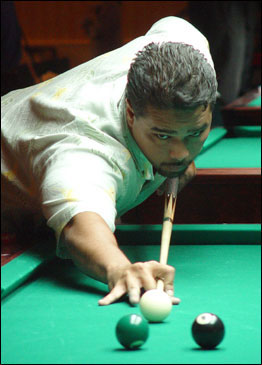 Morris showing his versatility playing successfully well in his 14.1 debut
Archer also earned his semi-final berth with wins over Bill Dunsmore 125-26, 125- 71 over Swiss Champion Marco Tsudi, and finally he defeated #2 seed and last year's runner-up Mika Immonen 125-54.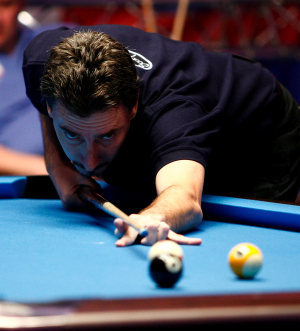 Archer is performing at his peak
Shane Van Boening won a thrilling 125-123 match against Stevie Moore, with Shane making a kickshot to goto 124, then playing safe. Moore tried a re-safe but scratched leaving VanBoening one ball open that he made.
Mike Davis was down 116-35 to Yu Ram Cha, the only female in the event. Cha was playing strong and gave Davis little chance. Davis at his next turn ran 90 and out to win an incredible 125-116. Davis then had to play Williams to make it to the money and the next day. Davis trailed 56 to -2 and later 80-35 before mounting another late charge and eventually won 125-102.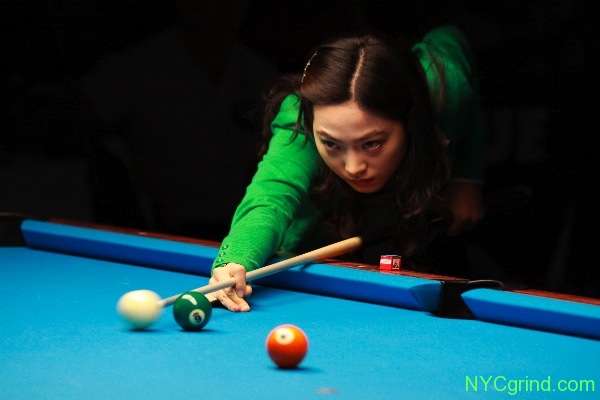 Cha took a close but tough 125-116 loss to Davis
Today's matches will feature Morris/Van Boening re-match and Immonen/Davis. The winners will face either Hohmann or Archer.
Matches will be live streamed on http://hotticket.tv/ starting at 11am, 1pm, 3pm, 7pm. DVDs will be available after the event.
Spots are still open in the pro events and players wishing to enter pro events can email mezzclassic@gmail.com . Amateurs can email dpamateurevents@gmail.com Fans can purchase tickets at the door at Corner Pocket Billiards during the Pro Straight Pool event and the Pro 10-Ball event . There are limited number of VIP seats available. All info on events please call 1-407-782-4978 Corner Pockets at (407) 282-5894 All info and fliers can be found on www.dragonpromotions.com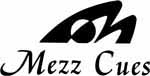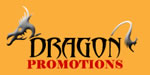 Ozone Billiards has been providing pool players with top quality billiard products for more than eight years. Its commitment to customer service has helped Ozone Billiards grow to be one of the largest retailers of billiard supplies in the United States. For more information about Ozone Billiards and its product lines, visit www.ozonebilliards.com
Miki Co., Ltd. has been making pool, snooker and carom cues since 1960 from their very own factory in Japan. The final product today is the testament of 50 years in the art of cue making. It's no surprise that Mezz Cues is the #1 brand in Asia. Mezz is happy to be able to offer the Mezz line of products in the US, Europe, and Asia. Mezz translates into "something that is loved and treasured", and that is exactly what every person that owns a Mezz feels. Mezz Cues are used by a variety of international professionals such as World Champion Mika Immonen of Finland, World Champion Kunihiko Takahashi of Japan, World Champion Alex Pagulayan, European Champion Marcus Chamat of Sweden, and American pros Jennifer Barretta, Hunter Lombardo, Sarah Rousey, and Caroline Pao. For the latest news and information of Mezz products and players, visit www.miki-mezz.com and www.mezzusa.com