Predator TriState Tourr Results at Shooters Billiards – 8-Ball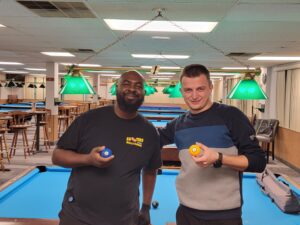 23 Players came out on a windy and wet day to play 8 ball at Shooters Billiards in Wayne NJ. At the end of the day Artur Trzeciak a tour regular would face off with Kervans Francois a newcome on the tour in a tough fought battle to the trophy. Arthur's path to the finals would include victories over Patrick Meyers 5-1, Qian Chen  5-2, Jay Chiu 5-3 and Luis Jimenez 7-6 to get to the hot seat match. Meanwhile Kervans would have just as long as a battle matching cues with Ewa Swzed 4-1, Tom Cran 5-4, Quintin Chen 5-2, and KC Clayton 5-4 to meet with Artur in the hot seat match that he would come out with a dominate 5-2 victory sending Artur to the one loss side.  Shooter's local player Hunter Sullivan whose game has grown in leaps and bounds over the last year would begin a uphill slog. After losing to Bud Robideau 6-0, most players would be demoralized but Hunter Sullivan just reset and started again. He would defeat Ronald Oulette 6-4 and Jason Blanchard 6-0 to get back to a rematch with Bud Robideau and this time the score would be reversed with Hunter  coming out on top 6-0.
Right to Left – 2nd Place Kervans Francois – 1st Place Artur Trzeciak

He would then face Jay Chiu 6-3, Luis Jimenez 6-2 and Rick Rodriguez 6-2. He would then meet up with Artur Trzeciak who smarting from his loss to Kervans who hit a gear and stop Hunter's charge 6-2 leavingå Hunter again just out of the reach of a Predator Tristate Tour victory. Artur due to the late evening would offer to make it an earlier night with Kervans Francois but Kervans decided to play it out.  Kervans would manage to get two games marked up before the evening would come to a close with some exceptional safety play in the third rack giving him a ball in hand easy out for the win and a failed runout by Artur in the 5 Rack would get him to the table and he would maintain control until the 8 ball dropped. Despite some unforced errors by Artur, his ability to maintain control of the table would see him reach 5 first thereby extending the race to 7 and two more racks would seal the deal giving Artur Trezciak another win in the 8 ball category of the Predator TriState Tour.

The next Predator Tri-State event will be at Steinway on December 18th and 19th.  Please provide a thank you to  Predator Cues, Ozone Billiards, Sterling-Gaming, Kamui Tips, Phil Capelle, BlueBook Publishing, Human Kinetics , Pool & Billiards, Romer Trophies and Professor Q Ball for their sponsorship leading to this event.