26th Annual Allen Hopkins Super Billiards Expo – by Ricky Bryant
The 26th annual Allen Hopkins Super Billiards Expo, SBX, was held at the Greater Philadelphia Expo Center in The Oaks, Pennsylvania, which is in the Valley Forge area. This was the fifth time the event was at this venue, and keeps improving. The four day event was Thursday April 12th through Sunday April 15th. There were two Pro events, Open 10-Ball and Women's 9-Ball. There was one Pro Arena for these events, which was a paid venue with VIP and General seating, all of the other events were open to general admission. Again this year the Expo had over a hundred great vendors, American Cuemakers Association Show and the TAP League Rally in the Valley, plus the following Pool and Billiards events:
Pro Pool Diamond Events: Open 10-Ball, Women's Open 9-Ball
Professor Q Ball 3-Cushion Qualifier for Nationals – Challenge Matches
Open Pro-Am Bar Box 9-Ball
Amateur Events: Open Amateur, Women's Division, Seniors Division, Super Seniors Division
Juniors 17 & Under and Juniors 12 & Under – Pennsylvania Juniors Championships
The Pro-Am, Amateur Events and Junior events had almost 1900 entries and a waiting list of players that wanted to play. As with all SBX events a player can enter multiple events but due to time constraints if there is a conflict the player will select the match to forfeit. Missing this year from the Pro events was the 1-Pocket event which had been a fan favorite.
PRO EVENTS
The two Pro Championships were directed by Tournament Directory Doug Ennis and Frank Del Pizzo, both with numerous years running this and other events. These events were played on 9 foot Diamond tables with Simonis 860 Cloth and Aramith Tournament balls.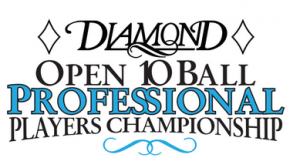 DIAMOND OPEN 10 BALL PROFESSIONAL PLAYERS CHAMPIONSHIP
The matches for the event were scheduled over the full four days and was open to men and women. There was a full field of 64 pleayers with a $500 entry fee. The format was non-call shot 10 ball, lag for the break then rack your own alternating break. If the 10 is made on the break it was not a win but spoted. The race was to 10, double elimination, until the final 16 players. The final 16 would play single elemination format, race to 13. There was no redraw in the final 16, the 8 on the one-loss side and 8 on the no-loss side played out to one payer.
There was a full field of 64 players which consisted of 3 previous Champions, Johnny Archer (03 & 04, 9-Ball), Shane Van Boening ((08, 9-ball – 12, 13, 14, 17, 10-Ball) and John Morra (16, 10-Ball)
Johnny Archer was eliminated in the Double Elimination rounds loosing to Mika Immonen then Danny Olson on Saturday night just missing the round of 16. John Morra lost to Jayson Shaw but rallayed against Donny Mills to move to the round of 16 in the one-loss bracket. Shane Van Boening would move to the round of 16 in the no-loss bracket with wins over Nick Charette, James Keegan and Johnathan Hannessee.
The single elimination round started with the first round at 9:30 pm on Saturday night. The race was now 13. The match ups for the one-loss bracket has Michael Dechaine over Thorston Hohmann, Earl Strickland over Alex Pagulayan, Skyler Woodward over Mika Immonen, Jayson Shaw over Shane Van Boenining. The four eliminated finished 9th-12th each receiving $2200, The one-loss bracket was Lee Van Corteza over Roberto Gomez, Oscar Dominguez over Zion Zvi, John Morra over Johnathan Hannessee and Danny Olson over Martin Daigle. The four eliminated finished 13th-16th each receiving $1800.
Sunday the field was down to 8 playes, 4 in the no-loss bracket and 4 in the one-loss bracket. In the no-loss bracket, Dechaine defeated Strickland 13-1 and Shaw defeated Woodward 13-8. Strickland and Woodward finsished 5th-6th each receiving $2750. In the one-loss bracet, Dominguez defeated Corteza 13-12 and Olson defeated Morra 13-3. Corteza and Morra finished 7th-8th each receiving $2250.
The 2pm Sunday semi-finals were Michael Dechaine vs Jayson Shaw on the no-loss side and Oscar Dominguez vs Danny Olson on the one-loss side. Dechaine was playing almost flawless defeating Shaw 13-9.   The Dominguez vs Olson watch was tighter and took more time, finally being put on the shot clock. Olson survived 13 to 10 over Dominguez.   Shaw finished 3rd recieveing $4000 and Dominguez finished 4th receiving $3000.
The final was set between Michael Dechaine and Danny Olson. Dechaine had been waiting but was still in stroke. Olson was also in stroke after his win over Dominguez. The battle was a back and forth with Michael Dechain prevailing 13 to 10. Dechain was the 2018 Champion receiving $10,000 and Olson received $5000 for his 2nd place finish.
DIAMOND WOMEN'S OPEN 9-BALL PROFESSIONAL PLAYERS CHAMPIONSHIP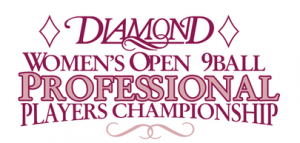 The Women's Open event was scheduled for four days, Thursday through Sunday, played in the Pro Arena. The field was extended this year to a max of 64 players and had 56 players. This is done by sanctioning the event with the NAPT, the North American Pool Tour. There was a $300 entry fee with a guaranteed $5,000 first prize. The event was women only, double elimination format race to 9 until the final 8, which would be single elimination race to 11. As with the 10-Ball event there would be no re-draw for the final 16, the 8 players in the no-loss bracket and the 8 players in the one-loss bracket would play to one player, with the two meeting in the finals. This was rack your own, alternating break and the 9 on the break was not a win but spotted.
The field of 56 contained 4 previous Champions, Allison Fisher (02 & 09), Dawn Hopkins (2015) , Karen Corr ( 03, 14, 16) and Defending 2017 Champion Loree Jon Hasson. Loree Jon won her first 2 matches over Cheryl Pritchard and Ada Lio. Kaylin Wikoff sent her to the one-loss side on Saturday and eliminated by Rhio Anne Flores. Dawn Hopkins suffered a similar fate winning her first two matches over Tina Malm and Rhio Anne Flores. Hopkins went to the one-loss side with a loss to Heather Cortez and eliminated by Brittany Bryant. Allison Fisher defeated Jenn Sylvester, Aryana Lynch and Bernie Store to move in the round of 16 in the no-loss bracket. Karen Corr was following a path with wins over Sonya Chbeeb, Rachel Lang and Veronique Menard to join Fisher in the round of 16 no-loss bracket.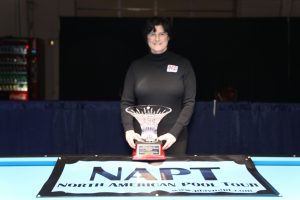 The no-loss bracket first round had Karen Corr eliminating Janet Atwell, Vivian Villareal eliminating Kaylin Wikoff, Denise Belanger eliminating Briana Miller, and Allison Fisher eliminating Heather Cortez. In the one-loss bracet Jia Li eliminated Rhio Anne Flores, Jennifer Barretta eliminated Veronique Menard, Brittany Bryant eliminated Bernie Store and April Larson eliminated Amy Yue Yu. The players eliminated in the no-loss bracket finished 9th-12th and each received $1050. The players eliminated in the one-loss bracket finished 13th-16th and each received $900. The quarter final round had Corr eliminating Villareal 11-9 and Fisher eliminating Belanger 11-4. The other quarter final round in the one-loss bracket had Li eliminating Baretta and Bryant eliminating Larson 11-9. Villareal and Belanger finished 5th-6th with each receiving $1500. Larson and Barretta finished 7th-8th with each receiving $1250.
This set the two semi-final matches where Karen Corr eliminate Allison Fisher 11-8. And on the one-loss side Brittany Brayant eliminate Jia Li 11-9. Fisher finished 3rd recieving $2250 and Jia Li finished 4th receiving $1800.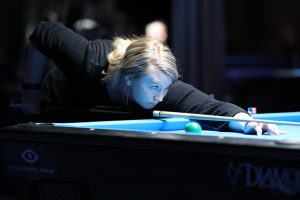 The final was set between three time SBX Champion Karen Corr and Brittany Bryant. Corr was in stroke and determined to add another SBX Championship to her long list of Hall of Fame wins. She took the 2018 Womens 9-Ball Championship 11-6 with a payday of $5,000. Bryant got 2nd with a payday of $2,800. Congratulations to Karen Corr!
More about the NAPT Sanctioning body from their website:
The North American Pool Tour (NAPT) was formed in early 2016 to provide an additional opportunity for regional tour amateurs and professional women players to participate in highly competitive billiard events across North America.
Currently, the NAPT is comprised of some of the most respected and longest running regional tours across North America, that reach an estimated 600 female players in both US and Canada.
Initially, the NAPT's focus will be on women's events, but will soon expand the program to include men and junior events.
The NAPT is committed to providing an open forum for players of all levels to participate and compete in tournaments at both the regional and national levels, while striving to expand the sport of billiards within North America