Kids Pool Camp Peaks Interest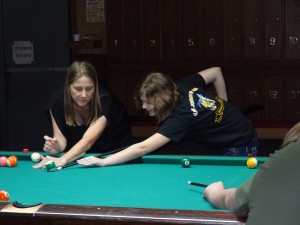 Children and parents gathered at Bogies Billiards in Houston this past Tuesday, September 25th, 2012 to enjoy a Kids Pool Camp hosted by WPBA Billiard Pros Melissa Little of Denver, CO and Kim White of Houston, TX. The Kids Pool Camp concept, designed by Little, was created to spark an interest in pool for children, ages 17 & under.  The program also aids in building character, self-esteem, and confidence, in a social atmosphere, through billiards.  The fee is $49 and each child receives a brand new cue and case to decorate in their own personal style, plus a group lesson from the pros. At this particular camp, stickers, gems, and paint pens were just a few tools used at the craft table where kids bedazzled and personalized to their hearts content. This element of the camp allows kids to show their creative side", says Little. With cues in hand, the kids made their way to (2) 9 Brunswick Gold Crown pool tables where they were schooled by the pros. They learned about bridges, stance, and the correct position for their stroking arm. The lesson also included pool table etiquette, equipment care, and how to rack properly. There is nothing like watching a child pocket a ball for the first time, ever. The look on their face is priceless; an instant feeling of accomplishment for them and us, says White. The camp wrapped up with a group photo and each child received a camp completion certificate, a goody bag filled with gifts donated by Str8-Shots.com and the APA of North Harris County, including an online gift certificate and a signed pool ball.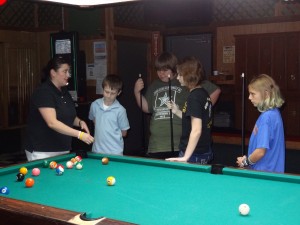 Little plans to host camps all over the U.S. thanks to program sponsors Marc and Kimberly Griffiths of www.Str8-Shots.com , an online pool and dart supply company, and fellow pros across state lines who have offered to pitch in and do their part. Taking a page from their own WPBA history book (the 35 year old governing body of womens professional pool) Melissa and Kim understand all too well about cultivating at the grass roots level. This program is important because our sport depends on the next generation of players says Little. Based on its reception thus far, this pool camp experience is destined to reach many children, carrying with it a positive message and leaving behind a memorable impression of the billiard world.
For ways YOU can get involved and keep billiards thriving through today youth, visit www.str8-shots.com  or www.melissalittle.com.