VNEA Begins New Chapter At The Westgate Las Vegas!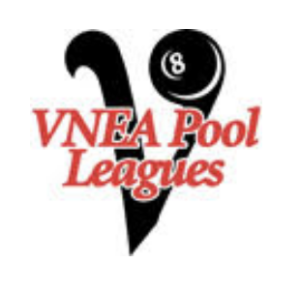 The Valley National 8-Ball League Association (VNEA) is excited to announce its new partnership with the Westgate Las Vegas! This incredible property will be the new home to the VNEA World Championships for the next several years beginning with our 2022 Championships scheduled for May 26th through June 4th!
With over 100,000 square feet of event space, the Westgate will be the largest venue by far that we have ever had the opportunity to use for our tournament. We will be setting a record number of spaciously placed Valley tables, over 300, and will have plenty of room for Practice, Mini's, our numerous Vendors, Professional Entertainers/ Teachers, etc. The Westgate is also a primary stop on the popular Monorail which provides affordable transporta- tion up and down the Strip! There is also a complimentary Shuttle service which goes to the Strip or Downtown which is only a few minutes away. The resort also provides
Complimentary Parking, Fitness Center and Wireless Internet to its guests. But maybe the best benefit of staying at the Westgate is its incredibly low room rates! We have locked in a rate as low as $75/night for 2022 and beyond. With so many impressive amenities at our disposal, this hotel is sure to be a hit.
2022 Championships
Our event scheduled for May 26th through June 4th, 2022 is going to be the most incredible event that the VNEA has ever produced. With anticipated prize money to reach historic lev- els, we expect our turnout for this event to be record-setting. The fact that our Canadian friends and many of our regular international players were unable to attend in 2021 due to COVID, ensures us that these loyal players will be eager to get back into the action and soak up the VNEA/Vegas Experience! With more Tables, Players, Charters, Vendors and Higher Payouts across the board, the 2022 Championships will turn the pool world upside down and set new standards for leagues across the globe!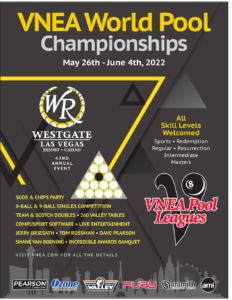 Visit VNEA.com for complete details and find out how to become a VNEA Member so your players will have the opportunity to experience all of the excitement that is sure to ensue with our new partnership with Westgate Resorts & Casino!
Contact Information: Brian Elliott – Director of Marketing & Promotions "¢ info@VNEA.com "¢ 800.544.1346