3 Cushion USA Invades Million Dollar Billiards
Fifty players entered 3 Cushion USA's second event held at the beautiful Million Dollar Billiards in North Hollywood, California the weekend of April 13th-14th to compete for a $10,000 prize fund. The event had five master level players, along with several "A" and B+ players. The field was diverse and all who participated loved the format. It was stated several times by the players that, "this is fun, it gives everyone a chance." The tournament format was 10 groups of five, with the top two from each group moving on, along with the top four third place finishers. The finals would be a 24-person single elimination event. The top eight finishers from the preliminary rounds would receive a bye in the first round of the single elimination event. The payouts went to the top twelve finishers, as well as a high run and best game prize.
The draw took place on April 12th. With no players being seeded, there were some worries the Master level players would all draw the same bracket, which did not happen, however, Javier Vera and Pedro Piedrabuena did end up in the same group. With the entry of the master level players, the games were played to 40 points. When the preliminary rounds were completed, there were a few notable players not moving on. California "A" players, Vicky Pineda, Ricky Carranco, and Gilbert Najm all did not make the cut. Paul Feltman Jr, the winner of the inaugural 3 Cushion USA event held at Amazin Billiards only two weeks prior, also failed to move on. All five master level players moved on finishing first or second in their group. Also moving on were several "B+" and "B" players, along with the fields only "C+" player, John Fleming.
Once the dust settled and the elimination bracket was set, play began Sunday afternoon. Pedro would receive the #1 seed and received a first round bye. Cho Kim and Arturo Velazquez bounced master level players Luis Avila and Guillermo Sosa in the first round respectively. Jesus Quinones, the tournaments #2 seed, received a bye in the first round, however, ran into a buzz saw in Javier Vera in the second round, losing in 22 innings. Vera would run into a buzz saw himself in the next round, as Isaias Andrade played a remarkable 16-inning game to reach the semifinals, where he would have to face Master Luis Aveiga, who dispatched of the tournaments #3 seed, Khalil Diab. Mr Diab (83 years young) finished the tournament in 5th-8th place, and ended the six games with a .887 average. Ramon Meza was quietly moving his way into the semifinals with wins over Cho Kim and Fernando Dominguez. Ramon found himself in a semi-finals matchup with Piedrabuena. Ramon put his ten on the wire and started out fast, holding leads of 19-2 and 29-6. Pedro being Pedro grinded his way back and squeaked out a 40-36 victory in 26 innings to earn his place in the finals. Luis Aveiga and Isaias Andrade matched up in the other semifinals and put on a good show, with Aveiga winning 40-32 in 31 innings.
This set up a final of two of the tournaments master players. Pedro grabbed control of the match early and Luis never really threatened as Pedro went on to win 40-29 in 24 innings.
Javier Vera, who went 3-1 in the preliminary rounds, played the tournaments best game (40 points in 10 innings), while Pedro Piedrabuena, who was undefeated in the preliminary rounds, had the best overall tournament average at 1.739 (8 total games). The high run of the tournament went to Pedro and Luis Aveiga who both had runs of 12.
Breakdown of top twelve players by ranking:
Master Level: 3
"A" Level: 2
"B+" Level: 6
"B" Level: 1
3 Cushion USA continues its season with an event April 25th – 27th in Morton Grove, Illinois at the brand new 5000 Years Carom Billiards, where there will be 40+ players competing for the $2,000 added prize fund.
Also, the Summer Shootout at Casino Del Sol is right around the corner (May 26th – June 1st), so get your entries in and rooms booked, as this event and rooms are sure to sell out. Contact Mazin Shooni for entry information (248-910-4466), and contact Casino Del Sol for your room reservation (888-337-8340) and be sure to let them know you are with 3 Cushion USA to reserve your room at the player rate of $89 per night. Rooms will go fast, so get your reservation in to participate in this $5,000 added event.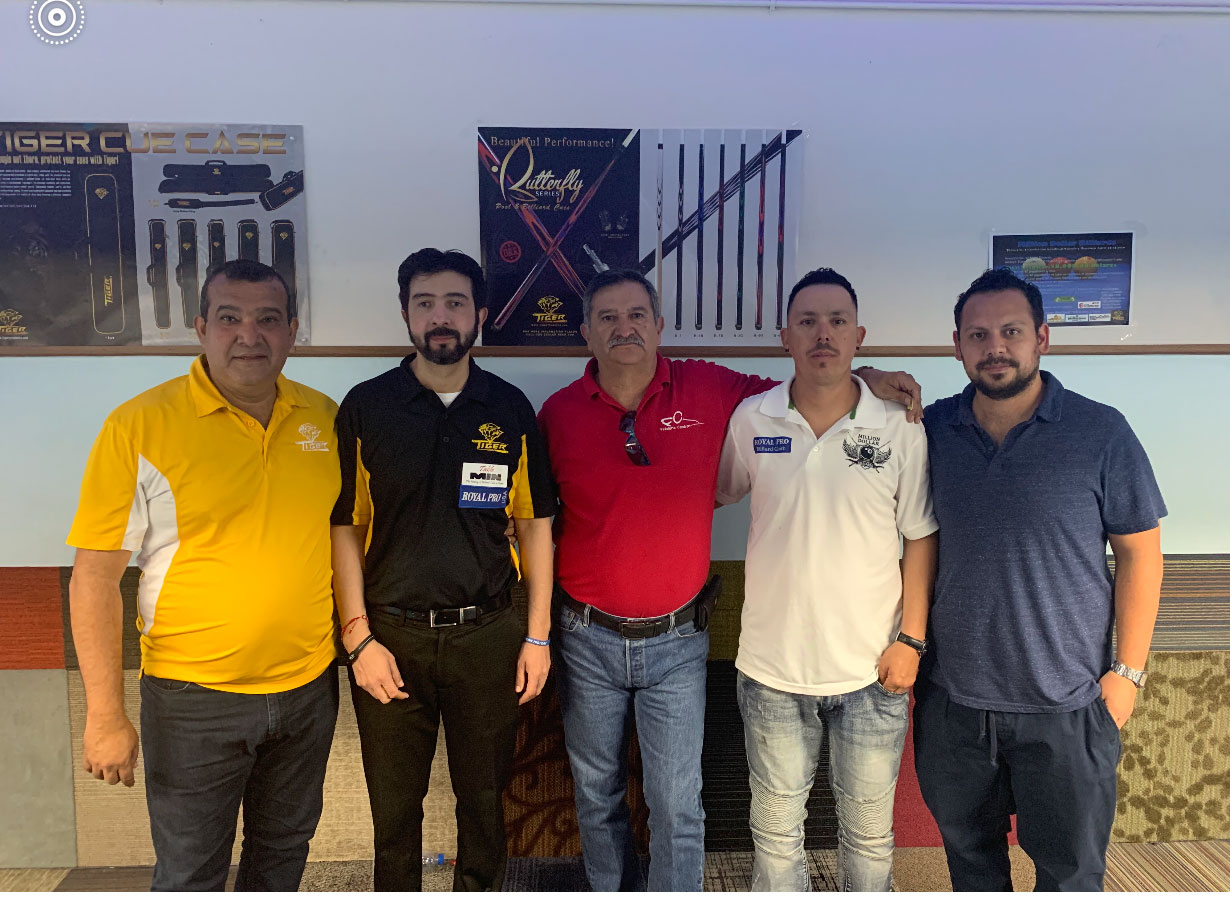 Photo left to right    
2nd Luis Aveiga,   1st Pedro Piedrabuena, 3rd Ramon Meza , 4th Isaias Andrade, Tourn Dir. Ricardo Carranco
Payouts:
1st Pedro Piedrabuena $3,000 + 2 nights and $125 Resort Credit @ Casino Del Sol
2nd Luis Aveiga  $2,200 + 2 Nights and $75 Resort Credit @ Casino Del Sol
3rd/4th   Ramon Meza / Isaias Andrade   $1,000 + 1 Night and $50 Resort Credit @ Casino Del Sol
5th / 8th $400 each Fernando Dominguez,Javier Vera,Khalil Diab,Chang Pyun
9th / 12th  $200 each Bilal Khalifa, Cho Kim, Arturo Magana,Arturo Velazquez
High Run-12 points    $200 ($100 each)  Pedro Piedrabuena and Luis Aveiga
Best Game  $200   40 points in 10 innings   Javier Vera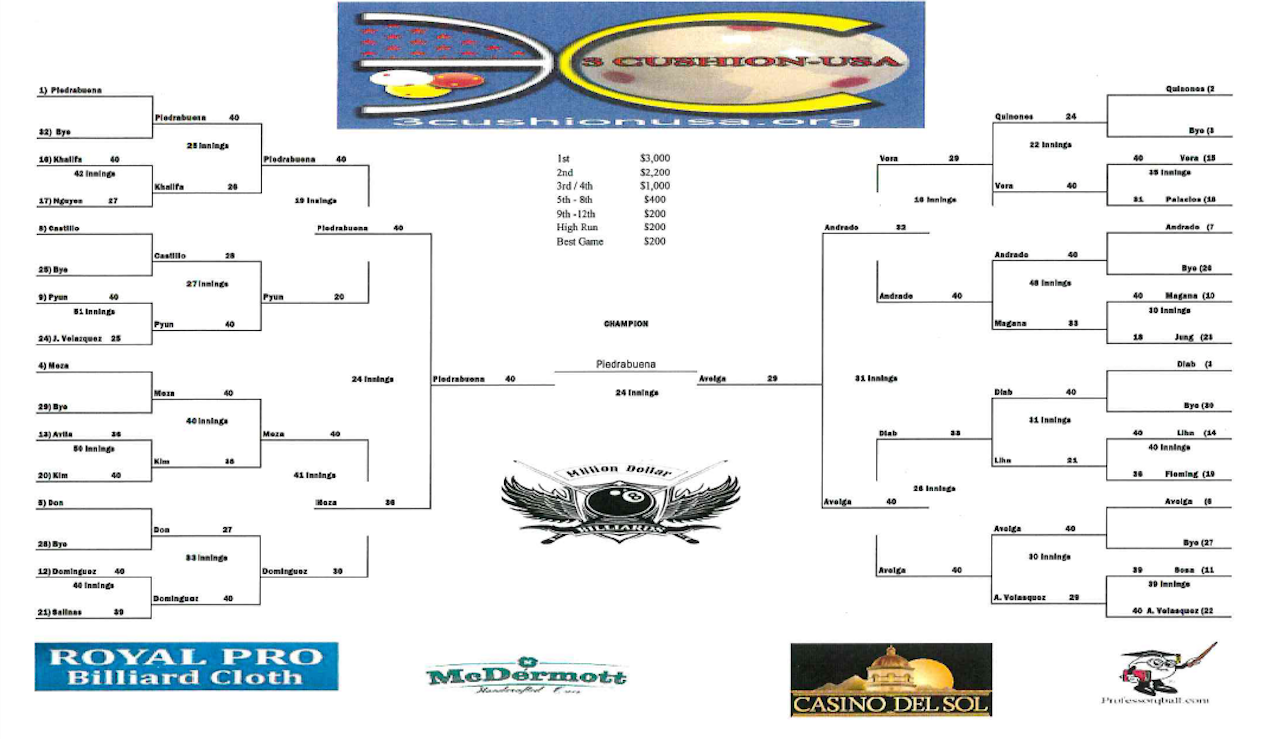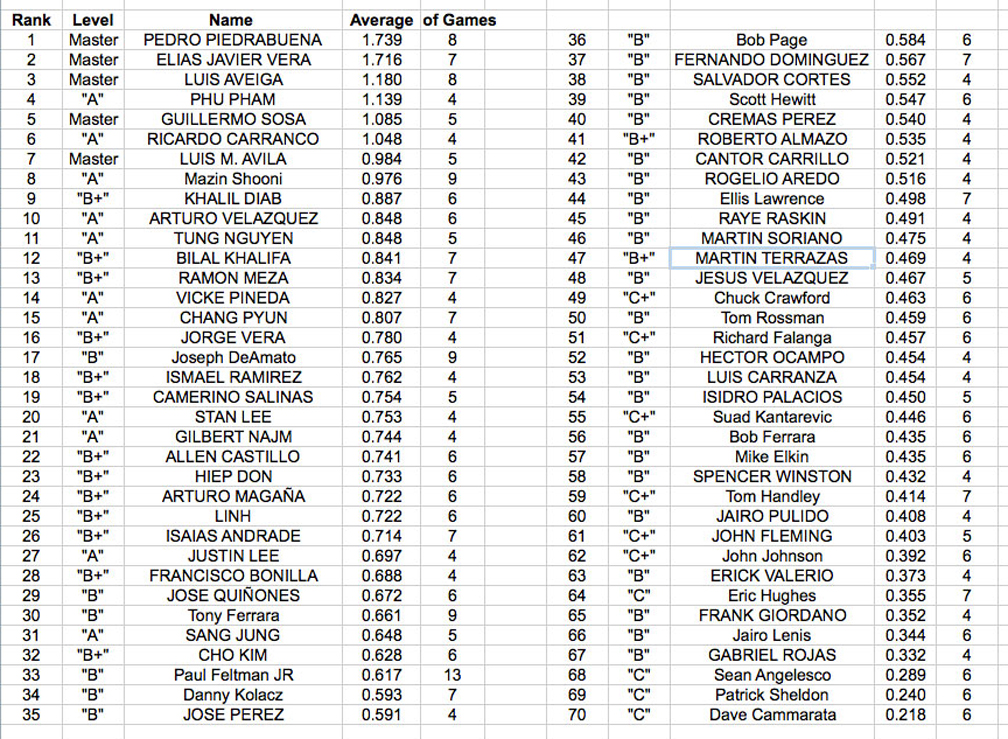 CLICK ON LINK BELOW TO SEE ALL BRACKET RESULTS