JPNEWT Stop 8 (Season Finale')
Cheryl Sporleder Comes Out of Hiatus to Win JPNEWT Stop 8
~by Keith Paradise, December 9, 2018
Cheryl Sporleder doesn't get to play as much pool as she would like. With a full-time job and three children at home, she has to squeeze the game in whenever she can. "I am a vey part-time player," she said. "I have small kids at home, so, if I have time, I'll sneak out and play at a tournament."

She had time during the first weekend of December, and made the most of it, fighting back from the one-loss side of the bracket, to win the season finale' of the J. Pechauer NorthEast Women's Tour at Triple Nines Bar and Billiards, in Elkridge, Md.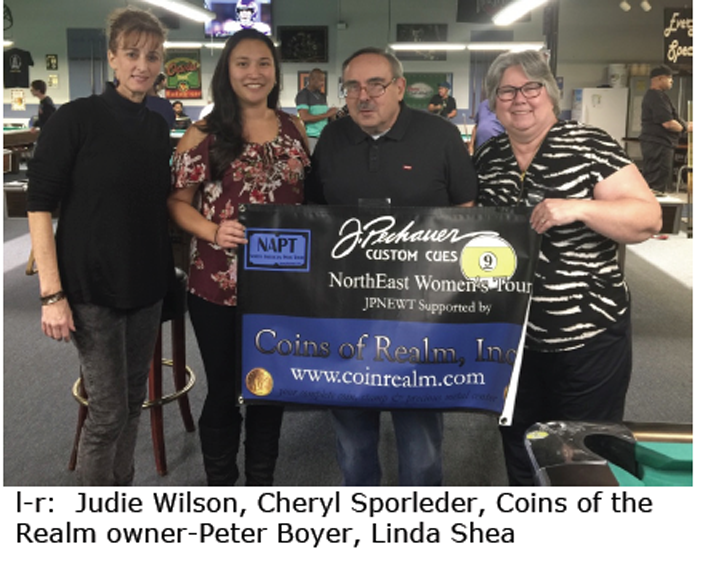 Sporleder bested a field of 20 competitors, and overcame some early mistakes in the championship match, to outlast Linda Shea 9-6. It was her second event of the season, placing in the top six at the tour's first event, also held at Triple Nines in March.
Sporleder opened the two-day event with a 7-4 takedown of Carol V. Clark, and then surviving a hill-hill match against Kim Whitman. She then squeaked past Nicole Christ 7-5, before falling to Shea 7-3, in her final match on Saturday. Now, on the one-loss side of the bracket on Sunday, Sporleder continued to play focused while attempting to not place any pressure on herself. She cruised by Sharon O'Hanlon 7-2, and then took advantage of a handful of unforced errors by opponent Judie Wilson, to coast into the finals 7-1.
Shea was able to capitalize on a pair of misses and a scratch by Sporleder, to jump out to an early 3-1 lead in the modified race to 7/9 finals match (if the player from the one-loss side reaches 7 first, the race goes to 9). Taking advantage of a foul and missed 8-ball on ball-in-hand by Shea, Sporleder tied the score, then capitalized on missed shots by Shea in the seventh and eighth games, as well as a foul in the ninth game, to build a 6-3 lead. "I had played back-to-back matches, I felt I had momentum, and she started making mistakes," Sporleder said. "Linda is a hard person to beat."
Shea twice cut the lead to one game, but was never able to overcome her opponent. Trailing 7-6, she looked poised to even the score, but missed a cut shot on the 6-ball. Sporleder finished off the rack, then capitalizing on a scratch on the 9-ball by Shea in the 15th game, to end the match.
Taking third place overall was Wilson, who fought some shaky play in the early stages of the tournament to win her first three matches against Anita Sowers, Ada Lio and Bethany Sykes. Like Sporleder, Wilson was sent to the one-loss side by Shea, who was in stroke, and easily defeated Wilson 7-1. "I worked my way through three tough match wins on Saturday and was feeling confident on Sunday, but then I ran into a hurricane named Linda Shea," Wilson said. Wilson then faced Sporleder on the one-loss side, where she struggled with avoiding scratches and was again defeated.
With a victory at last month's event in Dickson City, PA, and two-second place finishes, Shea finished the season in first place for tour points, accumulating 980 points over the course of the nine-month season. Nicole King placed in second with 865, and Kia Sidbury tallied 725 for third. Rounding out the top four was Wilson, who used a third-place finish in Elkridge, as well as four top five finishes throughout the season, to secure 650 overall points for the season. "I think overall I had a good year, especially with the level of competition we have," Wilson said. "We have a really deep tour."
JPNEWT would like to thank all of their sponsors for 2018: Tour Sponsor, J.Pechauer Custom Cues; local event sponsor, Coins of the Realm; Livestream sponsor, Brit Rapp-angle aim Art; Turtle Rack sponsor, Mezz Cues; and finally Eagle event sponsor, Billy Ray Bunn.
JPNEWT STOP #8 RESULTS

December 1-2, 2018

Triple Nines Bar & Billiards

Elkridge MD

1st  $700   Cheryl Sporleder

2nd $400 Linda Shea

3rd $300 Judie Wilson

4th $125 Sharon O'Hanlon

5/6th $ 80 Bethany Sykes

$ 80 Kim Whitman

7/8th $ 50 Elaine Wilson

$ 50 Nicole King

JPNEWT 2018 FINAL STANDINGS (top 12)

1st  Linda Shea           980 points

2nd Nicole King         865

3rd Kia Sidbury         725

4th  Judie Wilson       650

5th Karen Corr         600

6th Elaine Wilson       525

7th Sharon O'Hanlon   440

8th   Melissa Jenkins     400

9th   Bethany Sykes       390

10th Erica Testa             360

11th Kim Whitman       345

12th Cheryl Sporleder   280

Lynn Richard           280