Shaw and Alcaide complete defending champion's line-up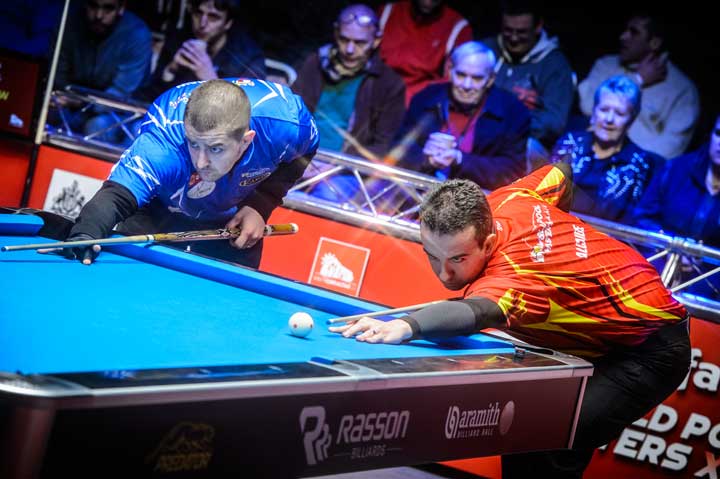 WITH JAYSON SHAW and DAVID ALCAIDE taking the final two wildcard spots on Team Europe, the sides are now set for the 24th annual partypoker Mosconi Cup which takes place at the Mandalay Bay Resort from 4-7 December.
With Ralf Souquet, Josh Filler and then Nick van den Berg qualifying for the team via the ranking system, it was left to Euro skipper Marcus Chamat to pick the final two players to make the team.
Jayson Shaw, a superb winner at the recent US Open and flying high in the World Rankings, was an obvious choice as leader of the contending pack. Then, after much thought, Chamat went for Spanish veteran David Alcaide, who has enjoyed an outstanding 24 months including multiple Euro Tour wins as well as victory at the 2017 World Pool Masters.
Commented Chamat; "It was a very hard decision to make and is testament to the fact that there are so many great players in Europe.
"Jayson was the easier pick with his amazing win at the Open, but the second spot was a difficult decision. I went for David in the end as I feel he's really moved up a notched this year to the very highest level and will have something big to prove in Vegas.
"There can only be five players in the team and I believe that we have a very strong squad to go to Vegas and make a successful defence of the Mosconi Cup."
Tickets for partypoker Mosconi Cup XXIV are available now at www.mosconicup.com  Tickets start from $48 per session with season tickets comprising all four sessions from £161. Premium and VIP packages are also available.
2017 partypoker MOSCONI CUP is sponsored by partypoker, the number one name in online poker, Rasson Billiards who supply the Official Table; the cloth is supplied by Iwan Simonis and the Official Balls are Super Aramith by Saluc. Predator is the Official Cue and Chalk of the event and Ultimate Team Gear provide all Mosconi Cup apparel.