2018 World Cup of Pool Down to the final eight in Shanghai
18th May
Round Two
Finland 5-7 USA
Spain 7-3 Sweden
Australia 4-7 China A

The quarter final line up at the 2018 World Cup of Pool is now complete as the remaining three second round matches concluded at the Luwan Arena, Huangpu District in Shanghai. The USA, runners-up at last years event, made it through as they got the better of a Finnish pair who won the event in 2012.
In the second match Spain eased through ahead of Sweden while the final game saw home favourites China  put paid to the hopes of the final non-seeded country left Australia.
The $250,000 tournament originated in 2006 and has since moved around the world before touching down in Shanghai. The World Cup features 32 pairs from across the globe including two from host nation China. Running from 15th to 20th May, the event is on live TV in over 100 countries around the world.
Having tripped up at the final hurdle at the York Hall last June, Shane Van Boening and Skyler Woodward are two matches away from another crack at the title following a 7-5 win over Sweden, Petri Makkonen and Mika Immonen.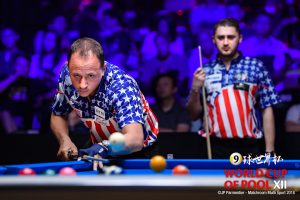 Commented Van Boening, We felt uncomfortable at the beginning but at the end of the match we battled out the safeties and we won from there. I love playing with Skyler, we have been friends for ten years and have played a lot of tournaments together. We always have fun and that is the important thing.
Woodward was looking ahead to their last eight match against Chinese Taipei; doesn't matter that Chinese Taipei have played well because they are playing us next. We played better than in the first match and we will get better and better.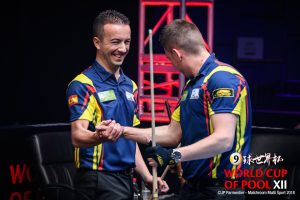 In the second match, Spain beat Sweden 7-3 and never really looked under any pressure to complete the win. David Alcaide has had a consistent career in the World Cup of Pool but this year, in the company of Francisco Sanchez Ruiz, they look to be real dark horses.
It is the first time Spain have reached the World Cup quarter-finals. We did a good job against Sweden, it wasn't an easy match. We have a good feeling at the table but now the most important thing is we focus on the next round, said Alcaide.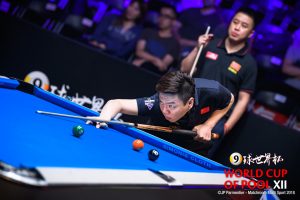 In the final match, China (Wu Jiaqing and Liu Haitao) strolled to a 6-0 lead over unseeded Australia before staging a mini collapse as they missed everything possible to let the Australians back in. The Australian pair of Justin Sajich and James Delahunty took the opportunity to claw it back to 6-4 but the bridge was just too far as Wu ended proceedings with an 8/9 combo.
Play continues on Saturday afternoon with the first two quarter-final matches. The remain two last eight matches continue in the evening session.
Saturday 19th 13:00
Quarter-Final 1  Austria v Holland
Quarter-Final 2  China B v Philippines
Saturday 19th 18:00
Quarter-Final 3  Chinese Taipei v USA
Quarter-Final 4  Spain v China A