2017 Mosconi Cup Souquet: I'm overwhelmed to be back on Team Europe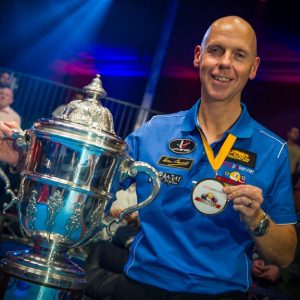 Ralf Souquet says he is overwhelmed to have earnt a dream return to Team Europe for this year's Mosconi Cup after a four-year absence.
'The Kaiser' will enter the Guinness Book of World Records this December, equalling Johnny Archer's all-time Mosconi Cup appearance record of 17 having qualified at the top of the European Rankings with two Euro Tour wins.
 Souquet has seen first-hand the wonders new USA captain Johan Ruijsink can perform having been part of the European team whose fortunes the Dutchman reversed when he took the reins in 2006 but is excited to work under Swede Marcus Chamat, who leads Europe for a third time at Mandalay Bay.
 "I am overwhelmed that I have made the team again, especially after not playing for three consecutive years," said Souquet. "I don't really think much about the record, but I take it as it is and it shows that I must have done some good things over the years.
 "I can't wait to get back into the arena for the Mosconi Cup after my last match in 2013. I am looking forward to working with our new captain Chamat, which will be my first time since he became the coach. I try to be in best shape, physically and mentally, and hope to be a strong part of the team because we can only be successful as a TEAM.
 "Unfortunately, I have been on the losing side too often – 10 times – and therefore my first win with team Europe in 2002 was one of the best moments in Mosconi Cup history. We came close several times before and after, with sometimes even tears in my eyes.
 "Every Mosconi Cup had its special thing, winning or losing, and therefore it's really hard to pick out one moment or year in particular. But the best moment was probably making the winning 9-ball in Las Vegas 2007."
 Souquet's European team-mates will be determined after this month's US Open. The top two players on the 'World' ranking list will automatically qualify, before captain Chamat names his two wildcard picks. China Open champion Joshua Filler and seven-time Mosconi Cup player Nick van den Berg currently occupy the final two automatic qualifying berths with one event remaining.  
Tickets for partypoker Mosconi Cup XXIV are available now at www.mosconicup.com  Tickets start from $48 per session with season tickets comprising all four sessions from £161. Premium and VIP packages are also available.