2018 American Cuemakers Association (ACA) Awards by Ricky Bryant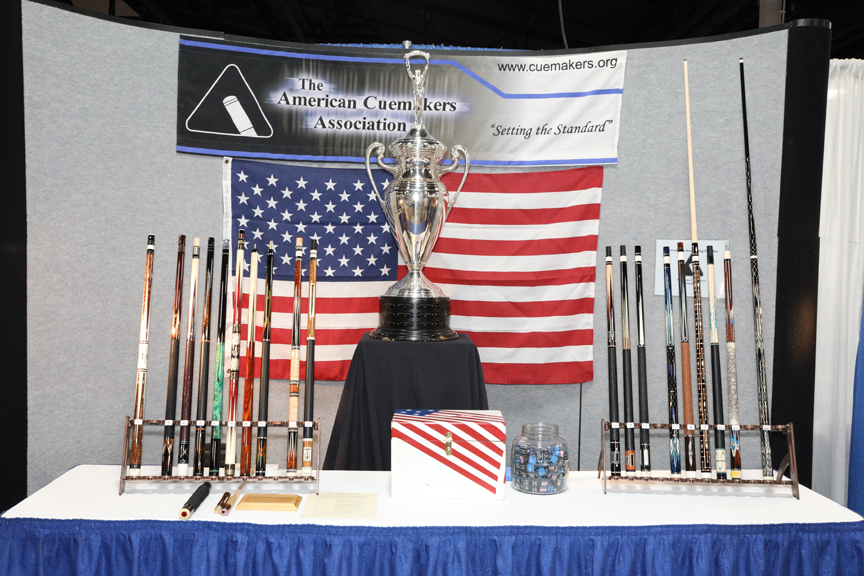 Photo's by Ricky Bryant
This marked the 26th year of the Super Billiards Expo and the 24rd year for the ACA (The American Cuemakers Association) event. There were four presentations at the annual member's dinner which was held on Saturday night at the Super Billiards Expo. Besides the Membership the ACA has two main sponsors from the pool community, Diamond Pool Tables and Simonis Cloth. The dinner is attended by the members who are some of the best Cuemakers in the United States and the World and their guest. The annual membership meeting following the dinner is for members only.
The first presentation was a recognition award for retiring ACA Treasurer Steve Klein of Klein Custom Cues of Trophy Club, Texas. Steve had been the treasurer for over 10 years.
The second award was Cue Maker of the Year which was presented to Chris Nitti of Nitti Custom Billiard Cues, Orlando, Florida. (see photo below).
The third presentation was the Annual People's Choice Cue Award which is actually three awards. This is the 11th year for this award first conceived in 2008. This is presented for 1st, 2nd and 3rd place or as the emcee says Win – Place – Show or Second Runner-Up, First Runner-Up and Winner! The cue makers that enter each year make a special cue to put on display for this computation. Typically the maker of the cues is not revealed to the voting public until the voting is closed. Anyone that has entry to the show can go to the ACA booth, where the cues are on display, to cast their vote. This year there were 630 votes cast for the nineteen cues entered.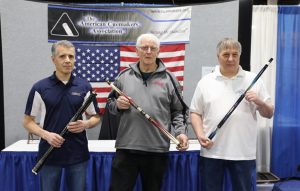 Left to Right: Second Runner-Up (3rd Place) – J. Pechauer Custom Cues
2018 Winner  (1st Place) People's Choice Cue of the Year 
Jacoby Custom Cues
First Runner-Up (2nd Place) – Tonkin Custom Cues
About the Winner:

The Ronin is a wandering samurai without lord or master. This cue features the inlayed face of the Japanese samurai warrior. It contains more than 3,900 pieces of ebony, holly, silver, brass, copper, abalone, and blacklip mother of pearl. The Joint and butt cap are crafted from Mokume-Gane, translated wood grain metal, a tradition blended metal often used to accent the samurai sword. The forearm features bridged veneered points. This masterpiece took more than 200 hours to create. The Ronin comes with 2 Ultra Shafts, Matching Joint Protectors, and custom butt and shaft extensions with joint protectors.
The fourth presentation was Cuemaker's Cue Choice Award. This was the third year for this award. The voting was done by the ACA members based on the same cues displayed in the People's Choice competition.   The award went to Pete Tonkin of Tonkin Custom Cues, Willow Creek, California. This cue was named Poseidon.
Congratulations to everyone and to learn more about the ACA visit the web site www.cuemakers.org