Boyes Named for Mosconi Cup Team
31st August
Boyes Named for Mosconi Cup Team
Debut for World Champ and Euro No.1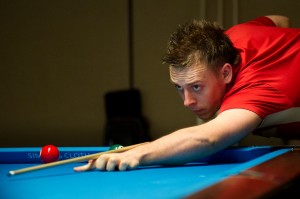 MATCHROOM SPORT canannounce that England's Karl Boyes, the current European No.1 ranked player, is the first man named to take part in this year'sPartyCasino.com Mosconi Cup.
For the 27 year-old it crowns a remarkable run that saw him switch codes from the small table English 8 Ball game to 'American' pool in 2005. Since then he has established himself at the highest level, winning a host of titles along the way.
'The Mosconi Cup is my ultimate ambition and I can't wait. Getting a place in the team is even better than winning the World 8 Ball Championship as the atmosphere is electric,' said an ecstatic Boyes.
Taking place at East London's famous York Hall, following an eight year absence, the PartyCasino.com Mosconi Cup features two five man teams representing Europe and the USA competing over four days from Thursday 9th to Sunday 12th December.
Based in Blackpool, but originally from Manchester, Boyes won a bronze medal at the 2007 World Pool Championship as a relative unknown and since then has picked up a succession of titles including the Portuguese and Italian Opens on the Euro Tour, the World Team Championship and the World 8 Ball Championship which he won earlier this year, beating Niels Feijen 13-12 in a classic final.
'Even before I played 9 Ball I used to love watching the Mosconi Cup. It'll be amazing to be actually involved in it this year rather than watching it on telly,' added Boyes.
'I've had such a good year and playing in the Mosconi Cup especially with it being in London is the icing on the cake. Now I'm in the team, I so want to be in the winning team – it would be the best feeling ever.'
First, Boyes travels to Manila where, alongside Daryl Peach, he will represent England in the fifth annual PartyPoker.net World Cup of Pool which starts on Tuesday 7th September.
All tickets for the 2010 PartyCasino.com Mosconi Cup are available exclusively from www.seetickets.com/mosconicup
Luke Riches, Matchroom Sport: luke.riches@matchroom.com
www.matchroompool.com
Notes: Matchroom Sport are one of the world's leading producers of televised sport and are responsible for over 1,000 hours of original programming across a range of nine sports. Based in the UK and chaired by charismatic founder Barry Hearn, the Mosconi Cup is one of a stable of pool events that include the World Cup of Pool and the World Pool Masters.
The 2010 Mosconi Cup is sponsored by PartyCasino.com, the world's leading online casino. Tables are supplied by Brunswick Billiards, cloth by Iwan Simonis, Super Aramith balls by Saluc and the Official Cue is Predator.