2018 MansionBet World Pool Masters- Final four set for Masters showdown
Final four set for Masters showdown
 Quarter-Finals
Niels Feijen 8 – 6 Dennis Orcollo
Shane Van Boening 8 – 4 Darren Appleton
Alex Pagulayan 5 – 8 Jayson Shaw
WE HAVE THE FINAL four players to contend the 25th anniversary Mansion Bet World Pool Masters after the remaining three quarter-final matches completed at the Victoria Stadium, Gibraltar. Karl Boyes, fully recovered from his Saturday night heroics, will face Niels Feijen, the 2013 champion and Shane Van Boening, a winner in '14 and '15 will be up against Jayson Shaw, who overcame Alex Pagulayan.
In the opening match, Niels Feijen upset the odds to beat Dennis Orcollo who had looked so good in his first-round match on Saturday. The Dutchman, who had been out of the game for six months, dug deep to come back and take the victory.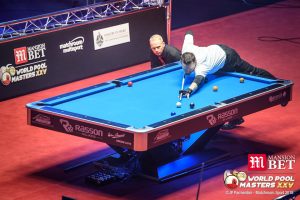 "It was a shaky start, I was 4-2 and 5-3 down but I clawed back into it and got a lead. I was surprised Dennis missed the 1 and I think I closed the match with three racks from there. I will mellow down now, get some food and come back later on," said Feijen.
The second match saw Shane Van Boening overcome Darren Appleton 8-4 to keep on track for his third Masters title.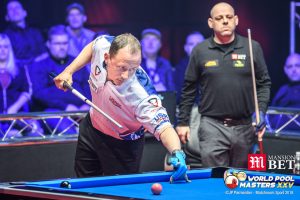 "I felt comfortable but Darren missed the 2-ball in the first game and I got the early lead, so that was a big turn for me. If it wasn't for that, maybe Darren would have the big lead. I took advantage of his mistakes and I think that's why I won. 
"I like when you play winner breaks – I won five US Opens playing winner breaks, and two World Pool Masters with this format. It is more exciting to see players put the package together and maybe someday a player will run the set out, who knows." 
The final quarter-final match Jayson Shaw put paid to Alex Pagulayan's hopes in an error-strewn match that the Scotsman won 8-5. In fact, Shaw scratched four times over the course of the match but his superior shot-making carried him across the line.
Play continues at 19.00pm local time the two semi-final matches followed by the final.
Boyes epic comeback seals semi-final spot
Round One
Chris Melling (England) 3 – 8 Dennis Orcollo (Philippines)
Jayson Shaw (Scotland) 8 – 5 Joshua Filler (Germany)
Quarter-Finals
Karl Boyes 8 – 7 Ralf Souquet
THE FINAL TWO first round matches concluded at the Victoria Stadium, Gibraltar and then Karl Boyes overcame a 7-1 deficit to overturn Ralf Souquet to become the first player to reach the last four of the 25th annual Mansion Bet World Pool Masters.
First out, in front of a big, enthusiastic crowd was Dennis Orcollo, who put in the most impressive performance of the tournament thus far as he dominated Chris Melling to win by 8-3. The Englishman was a late call up as he replaced Wu Jiaqing, arriving in Gibraltar in the early afternoon.
The much-anticipated clash between Mosconi Cup team mates Jayson Shaw and Josh Filler lived up to pre-match expectations as the Scotsman ran out an 8-5 winner. Filler moved into an early 4-2 lead and was looking good before Shaw took over in the winner-breaks format to win 8-5. 
Said Shaw, "I am feeling good. It was a bit cold out there but I got settled in the match. My body is warm but my hands are freezing so it is weird. It is hard to feel the cue and feel my shots, so I am trying to heat my hands up when I can. 
"The table is racking difficult. The refs are doing what they can but you just have to get up there and hit them as hard as you can.  
"I had Joshua over at my house for ten days in January before the Derby City and we practiced and we drew each other in the first round there and the same happened here. We are both great players and either of us can win that match so I am happy to win because he is such a good player – he is the next star in the game."
In the final match of the evening, Ralf Souquet looked all set to continue his quest for a seventh Masters title before Karl Boyes launched a huge comeback to dash his hopes in a hill-hill thriller.  
When Souquet went into 4-0 and then 7-2 leads, it looked all but over but in winner-breaks 9 ball all things are possible. Boyes maintained the initiative to claw back the racks but at 7-4 down, he came as close to scratching without doing so and carried on to make it 7-5.
It became 7-7 and Boyes was breaking for the match. It was no road map and Souquet got back to the table but Boyes was always in control and he held on admirably to take the win.
 Boyes was stunned by his performance and the outcome of the match; "I didn't know I could perform that well under pressure, I was shaking on that last rack. I under hit the 7 ball and thought I was going to miss that 9.
 "It was one of those crazy matches I suppose, but it was nice to come back and get the win and book my spot in the semi-finals. After that I don't care if I play Ronnie O'Sullivan, it doesn't matter after that match.
 "Obviously I got a last-minute spot, but I didn't come here to lose. I want to win and now I'm in the semi-finals so who knows.
 "I played a bad kick shot in the first rack, and I didn't get out of my seat until the fourth rack and had a real go at the table. I don't really know what was going on with the break shots, I was just deciding to smash them as hard as I could and managed to get a bit of luck at the end. I wanted to attack the table rather than going out playing stupid safety shots."
Play continues at 13.30pm local time on Sunday 4th March with the final three quarter-final matches.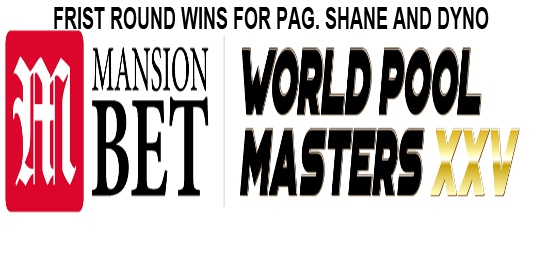 First round wins for Pag, Shane and Dyno
Alex Pagulayan (Canada) 8 – 4 Alex Lely (Holland)
Shane Van Boening (USA) 8 – 2 Daryl Peach (England)
Darren Appleton (England) 8 – 6 Earl Strickland (USA)
 THERE WAS MORE first round action at the 25th annual Mansion Bet World Pool Masters and there were wins for Alex Pagulayan, Shane Van Boening and Darren Appleton, who came from behind to beat Earl Strickland in a thrilling encounter.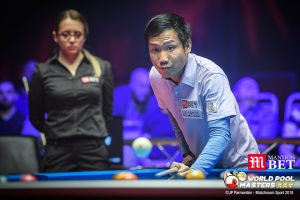 In the opening match, Alex Pagulayan, a winner in Las Vegas in 2008 beat 1999 champion Alex Lely in a confrontation that saw both players struggle to get to grips with the conditions. With a high level of humidity currently in Gibraltar, the Rasson table was running a little slower than usual. That said, Pagulayan had a little too much for his veteran opponent.
He said, "The table is fine, we just aren't used to it yet. I was a bit lost at the beginning but towards the end I got the table a little bit. When you make a mistake, you can't put yourself down, you have to keep fighting hard, keep your composure and do the best that you can.
"I am fortunate to get through because Alex Lely didn't play his game and I got a few rolls towards the end of the match and a little bit in the middle."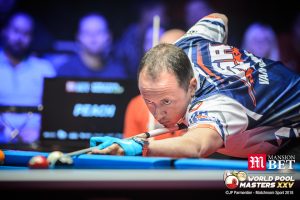 In the second match, Shane Van Boening, a two-time winner of this event, made light work of England's Daryl Peach, champion in 1995, back when the tournament was known as the European Pool Masters.
8-2 was the scoreline but Peach didn't do a whole lot wrong as Van Boening took advantage of the winner breaks format to assert himself.
The final match was the best of the session as Earl Strickland and Darren Appleton faced off for the chance to play Shane Van Boening in the quarter-finals. It was a match of two halves as Earl the Pearl pulled away into a 6-2 lead, rolling back the years with his rapid-fire play.
It unravelled though in the ninth game, when Strickland missed a 5 ball and Appleton took the rack against the head to go 3-6. Not playing his best, 'Dynamite' held it together, rode his luck and took the next five racks for the win.
Said Appleton, "Things went against me after the second rack and he was playing really well. I missed an easy 8-ball to go 6-3 down and I thought that was me done. I relaxed a little bit then and started to play well. I got a couple of rolls at the end to get over the line.
"I have been a bit quiet over the last 12 months because of some personal issues, so I haven't played as much as I would like so I'm not as competitive as I should be. At the end there I was starting to feel it but I held myself to get over the line.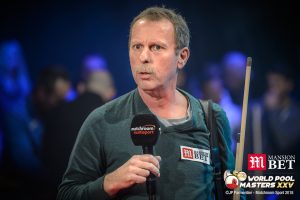 "It is tough playing against Earl. He is a great player but he can be quite intimidating when he gets going – it can be hard to keep up with him."
Strickland was disappointed to lose from such a strong position, "He is very fortunate. He can talk all he wants about how great I am and how good he played but he had a lot of luck there.
"He is fortunate I missed the 5-ball. But he is a good player. How lucky was he when he left his cue ball down here? He is like a leprechaun. He made some good shots but I can't believe I missed that match."
Play continues with the final two first round matches plus the first quarter-final.