Carom Cafe-Verhoeven Open
Click above link to see results after two days of Qualifications.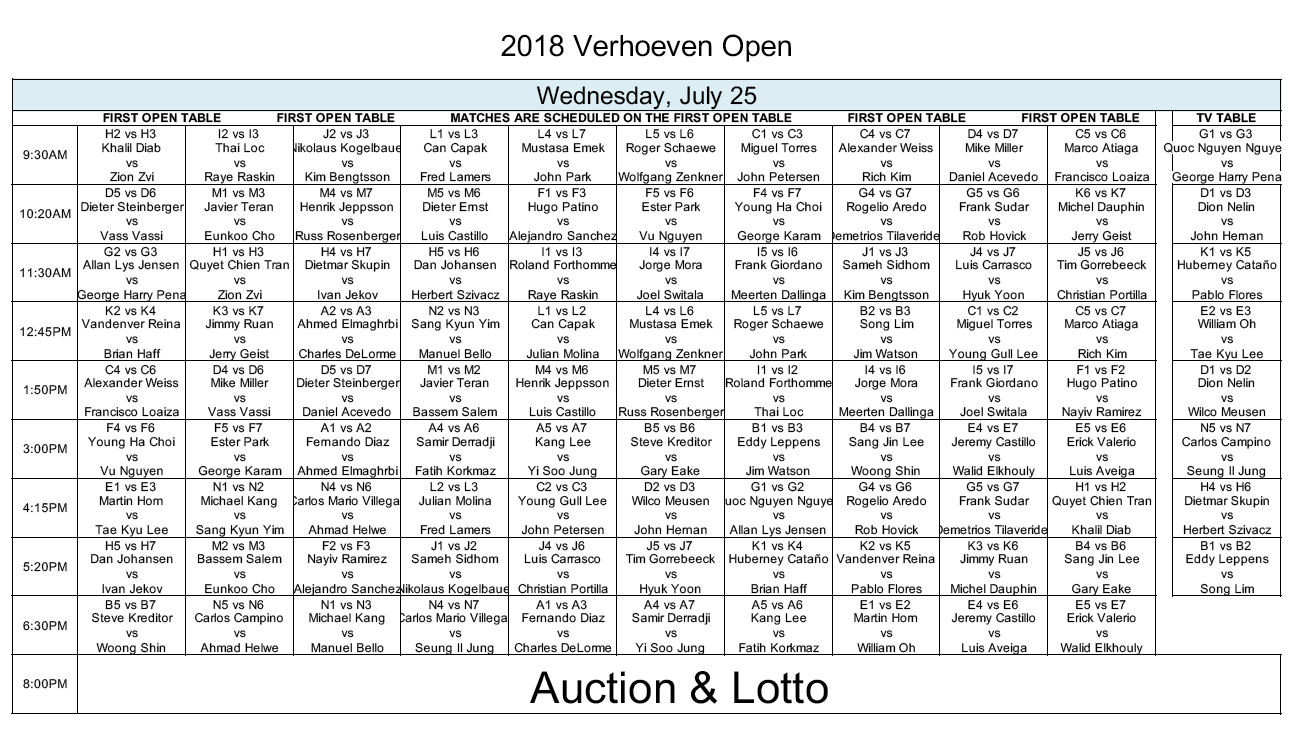 NEW YORK – The Open Verhoeven in New York is still inextricably linked to the legendary American/Korean billiard player Sang Chun Lee. The New Yorker, who died in 2004, was one of the world's top players and for many years the namesake of the tournament in the summer with around 100 billiard players from all over the world at the Carom Cafe in Flushing. The Verhoeven Open, as the tournament is now called for several years, is starting with the pre-rounds today (Monday). Five world class players later join the semi-finals: Frédéric Caudron, Eddy Merckx, Dani Sánchez, Torbjörn Blomdahl and Semih Sayginer. The winner of last year, the Korean Jae-Ho Cho, was on the list of participants, but will not play.
Kozoom reporter had an interview with Charles Brown, the tournament director in the Carom Café for many years: about the tournament format, the past, the future and the schedule.
Kozoom/Frits Bakker: How many times have you done the New York tournament as the tournament director?
Charles Brown: I have been running tournaments in New York since 1998, so there have been many over the years, too numerous for me to guess a number.
Kozoom/FB: Did you play yourself in one of the editions?
Charles Brown: Yes, I used to play in all the tournaments. When Sang Lee was around, we had a team of seven, eight people who were very involved in promoting three cushion in the USA. We all worked diligently to organize tournaments. And we all played in all editions. It was really crazy, so much work and so much fun. I stopped playing a few years ago, because it became too much work and as the tournaments became more prestigious. I felt I should only function as a tournament director.
Kozoom/FB: Was the format and the schedule always like it is now?
Charles Brown: The format has always been 'round robin' in the qualifications (groups of 7 or 8 players). With smaller tournaments, we played then a final with 10 or 12 players round robin. Eventually, as the number of entrants grew, we stated to play with three stages: qualifying round (round-robin, usually to 25 points), semi-final round (30 or 35 points-games) and finally knock-out with 8 or 16 players .
Kozoom/FB: What was, in your view, the best (most attractive) tournament in all those years?
Charles Brown: That's very difficult to say, but I cherish a tournament that we once did, called 'The Hoppe Cup'. It was a team tournament and we had teams from many countries.
Kozoom/FB: Does the formula still work? Never thought, for example, about organizing a World Cup with ranking points?
Charles Brown: Yes, because I am also open to all new formats as well. The USBA organized three World Cup tournaments 15 to 20 years ago and there has always been talk about doing more. But it is difficult here to find the proper sponsorship. Nevertheless, I am hopeful for the future.
Kozoom/FB: This year's list of players is about 100, last year 140. Do you know the reason?
Charles Brown: I am sure there are many reasons, but last year was quite exceptional to have such a high number of players. Around 90 to 110 is more normal, so this year's edition fits the norm more.
Kozoom/FB: The winner of last year, Jae-Ho Cho, will not play? What is the reason?
Charles Brown: When we first contacted Jae Ho Cho, he said that he was obvious very interested to play again this year to defend his title. But then, as the situation with the UMB and the KBF developed, we never confirmed his participation. And when the conflict was resolved, it was too late for Jae-Ho Cho to make the necessary arrangements to come to New York. I had always kept his name on the players list as a courtesy, but he has never confirmed. I am very happy that the situation has now been resolved and I hope that we will again see many Korean players in New York.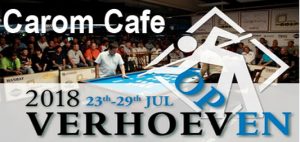 Kozoom/FB: What is the schedule for now? How many groups and players at the start, how many players for the semi-finals and the knock-out?
Charles Brown: We start with 98 players in qualifying, 14 groups of 7 players, round-robin, 25-points matches. Then 40 players in the next round, 4 groups of 10 players, round-robin, 40-points-games. Next comes a knock-out with 8 players. The semi-finals start on Thursday, the knockout with 8 on Sunday. But I am still planning. First let me get through the qualifications, then I'll know more about the finals.
The first rounds start today at 9.30 am American time (15.30 Europe), with among others Eddy Leppens and Can Capak. Kozoom will not broadcast on the first Monday due to problems with the flight from Paris. Starting Tuesday, all matches are broadcast live.
The total prize amount is $34.750 dollars, the winner takes $8,000, the number two $5,000, the number three $3,500, the number four $2,700 dollars.
The most known players in the qualification rounds (top two advance with four best numbers 3):
Flight A: Fernando Diaz, Charles Delorme
Flight B: Eddy Leppens, Jim Watson
Flight C: Miguel Torres
Flight D: Dion Nelin
Flight E: Martin Horn, William Oh, Luis Aveiga
Flight F: Hugo Patino
Flight G: Nguyen Quoc Nguyen, Allan Jensen, Harry Pena
Flight H: Quyet Chien Tran, Dan Johansen
Flight I: Roland Forthomme,Raye Raskin, Meerten Dallinga, Joel Switala
Flight J: Sameh Sidhom, Luis Carrasco
Flight K: Huberney Cataño, Vandenver Reina
Flight L: Can Capak, Wolfgang Zenkner
Flight M: Javier Teran
Flight N: Michael Kang, Carlos Campino.
14 GROUPS OF 7 TOTAL 98 PLAYERS
2018 Verhoeven Open
Tournament Format
Qualifications
98 players
14 Groups of 7 Players
Round Robin
25 Point Matches
Top 2 from each group advance to the next round plus the 4 best 3rd place finishers
based on:
W/L, Total Points, Head to Head, Points Against (if needed)
Additionally, there will be 1 Lotto and 2 Auction spots
There will be 5 players seeded into the next round:
Frederic Caudron
Eddy Merckx
Torbjorn Blomdahl
Daniel Sanchez
Semih Sayginer
Semifinals
40 Players
4 groups of 10 players
Round Robin
40 point matches
Top 2 from each group advance to the Finals based on Win/Loss, Average
Finals
8 Players
Single Elimination (Knockout)
40 point matches